Pac-12 Women's Basketball Tournament to move to Las Vegas in 2019 and 2020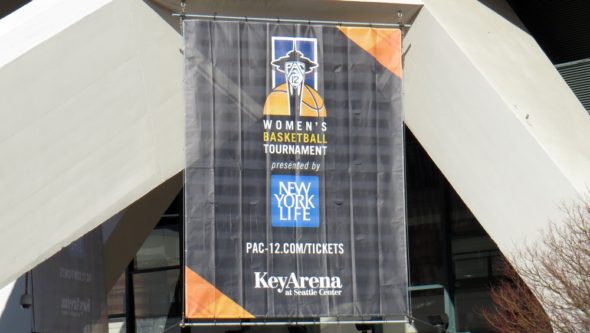 The Pac-12 Conference announced today that its 2019 and 2020 Women's Basketball Tournaments will be played in Las Vegas after a six-year run in Seattle. The men's tournament began a run in Las Vegas in 2013 and will continue its tenure in the city through 2020.
KeyArena, the home of the women's tournament for the past several years, will undergo renovations beginning next year. As a result, the league had to find a new home for the women's tournament during the construction period.
MGM Grand Garden Arena will host the women's tournament in 2019. The event will move to Mandalay Bay Events Center in 2020. In each year, the women's tournament will take place a week prior to the men's tournament. The men will continue to play at T-Mobile Arena, the 20,000-seat venue located on the Las Vegas Strip between New York-New York and Monte Carlo.
"We are very excited to make Las Vegas the home of the very best of Pac-12 men's and women's basketball," said Larry Scott, Commissioner of the Pac-12 Conference. "The quality of our women's basketball programs has driven increasing fan interest over the past several years and we look forward to continuing to build upon this success in Las Vegas, and to creating a true festival of Pac-12 basketball across our men's and women's events in March."
The women's tournament has been held in Seattle since 2013.