Chris Dailey "still passionate" about coaching, makes history as she enters the Women's Basketball Hall of Fame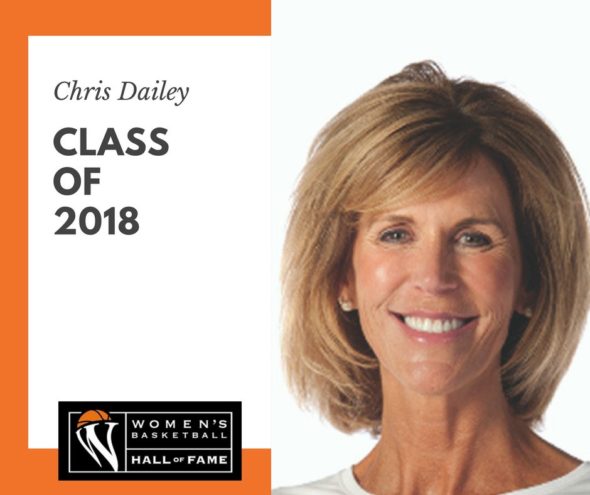 KNOXVILLE, Tenn. – Chris Dailey became a basketball coach because she wanted to impact lives. She wanted to help young women grow and reach their potential. She wanted to push them to limits maybe they didn't even realize were possible.
As a longtime assistant at UConn, Dailey found fulfillment in her role. She always felt valued and appreciated. She didn't need a bigger title to know her worth. But in a society that places importance on being at the top of every profession, Dailey knew people may not view her career as complete if she didn't ascend to the head coaching chair. Even she wrestled with some doubts early in her career.
"As I got older, I came to the realization that it is OK to be really good at what you do and love what you do and not be a head coach," Dailey said. "To be at one of the top programs in the country and be in my position, it is OK for me to enjoy that. I don't have to always think I have to be somewhere else to be happy."
Dailey's contributions to the sport are being recognized at the highest level this weekend. She is part of a decorated Women's Basketball Hall of Fame class that is being inducted on Saturday night at the Tennessee Theatre.
Joining Dailey in the class are Tina Thompson, Katie Smith, Chamique Holdsclaw, Mickie DeMoss, Ceal Barry and Rose Marie Battaglia. Dailey and DeMoss are the first contributors to earn spots in the Hall of Fame for their role as assistant coaches, providing validation to all assistant coaches.
Rather than being viewed as just a stepping stone to something bigger, assistant coaching can be a professional aspiration.
"We are in a world now where the grass is always greener on the other side. I think there is something to be said for truly enjoying what you do and being good at it and having an impact," Dailey said. "I am in a state that loves women's basketball and at a university that values women and in a program where the person I work with values women and what I do for our team and sees me as a strength of our program."
Dailey has been right by head coach Geno Auriemma's side from the very beginning, helping build UConn from a program with just one winning season into a juggernaut with a record 11 NCAA national titles.
Since they arrived in Storrs in 1985, Auriemma and Dailey have combined to lead the Huskies to a 1,027-135 overall record, including six undefeated seasons, in 33 years.
"I think it takes a special person like Geno to allow our partnership to flourish. To be honest, there aren't a lot of head coaches that would necessarily be as comfortable as he is with me getting the amount of attention that I get," said Dailey, a Rutgers graduate who helped lead the Scarlet Knights to the AIAW national title as a senior in 1982. "I think it's a reflection on him and a reflection of the way we work together and our friendship."
Dailey has recruited, coached against or competed against nearly every member of this year's Hall of Fame class.
Her first win as an assistant at UConn came against Iona when Battaglia was Iona's head coach. Barry used to attend UConn practices to talk basketball when she was coaching at Colorado. Dailey tried to recruit Holdsclaw out of Christ the King in New York, but lost the battle to legendary Lady Vols head coach Pat Summitt and DeMoss during the era when the UConn-Tennessee rivalry was one of the best in all of sports.
While DeMoss served as a head coach at Florida and Kentucky between assistant coaching stints, Dailey never made the jump despite overtures.
"It's really special for me to be able to be inducted with Mickie," Dailey said. "Something I always appreciated about Mickie was she was always willing to share her experiences. I would pick her brain about how you handle being at the top once you get there and how to approach recruiting because they had done it at Tennessee."
Dailey has always tried to pay it forward and provide advice to younger coaches entering the business. She reminds them that an assistant coach's schedule is based around everyone else's schedule in the program and that being selfless is a required character trait.
"What I find, and it's probably a reflection of society, is they want my job before they have to do everything that I did to get there. It's like they want to be president before taking all the steps it takes," Dailey said. "I would encourage them to be patient, encourage them to be loyal and encourage them to work hard and to challenge themselves to be a better recruiter and a better coach and learn from as many different people as you can."
Before UConn became a national power, Dailey's job was about more than just coaching, recruiting and mentoring. There were no fancy facilities on campus or a marketing team to help promote the team.
"There isn't anything I ask anyone in my office to do that I probably haven't already done, whether it's stuffing envelopes, sending emails, painting, taping boxes or sweeping the floor," Dailey said. "I have done all of that, and it really gives you an appreciation for all of those people."
On the recruiting trail, Dailey often observes how other coaches interact and communicate with players.
"I see coaches that I think work and I see coaches that I think talk and spend most of the time talking. I think one of the biggest things about being an effective assistant is having the ability to listen and being a good listener both as a recruiter and as a coach," Dailey said. "You need to be able to listen – listen to the head coach, listen to the players and listen to the people on the staff. I think some coaches think they have to be able to talk all the time, but I think you really have to be able to listen."
Although she's been at the same school for 33 years, Dailey guards against growing stagnant or resting on the program's laurels. She's always trying to learn new things and adapt to the changing generations.
"I think the great thing about coaching is that every year it is a different team and every team is different," said Dailey, her eyes lighting up with each word. "Every year the dynamic is different, and that is what keeps you motivated, challenged and excited. What is this year going to bring? Even if you return 10 out 12 players, every team has a different personality and figuring out how to get the best out of them is really fun."
Dailey's importance to UConn can be measured in numerous ways, but perhaps the most rewarding is the flowing praise from former players. From superstars to walk-ons, they credit "CD" with their growth and maturity on and off the court. They joke about her quirks and attention to detail that often had a deeper purpose.
Breanna Stewart and Sue Bird left the Seattle Storm to fly to Knoxville and witness Dailey being inducted in person. Hundreds of other former UConn players will be watching the ceremony on ESPN3 along with a legion of assistant coaches around the country taking pride in seeing their job get the recognition it rightly deserves.
"I am still very passionate about teaching and coaching basketball," Dailey said. "Having a chance to be around young people is fun. It doesn't feel like I have been doing it this long because I am around young people and doing what I love."