Lynx halt losing streak in Washington, Mystics drop rematch in front of season-record crowd of 8,587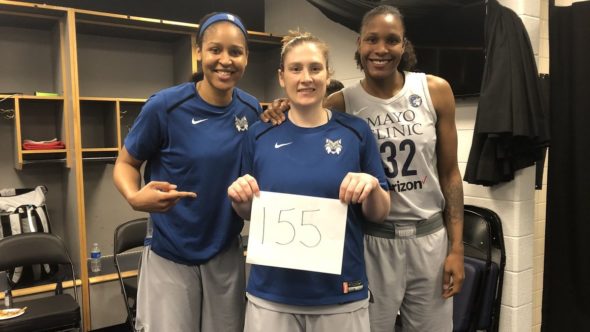 WASHINGTON — The Washington Mystics (5-4) and the Minnesota Lynx (3-5) met earlier this season on May 27 with the Mystics earning a victory and the Lynx beginning a four-game losing streak.
When the teams met again Thursday afternoon, the Mystics entered the contest with two losses behind them. Both teams were desperate for a win. The Lynx completed the mission successfully, winning the tight matchup 88-80 in front of 8,587 fans who were also eager for the postgame viewing party to watch the NHL's Washington Capitals fans compete in Game 5 of the Stanley Cup Finals against the Las Vegas Golden Knights.
"I thought early we were good but in the fourth quarter the championship Lynx played," Mystics head coach Mike Thibault said. "We're not quite there yet."
Both teams had balanced ball movement to start off the competitive game. The Mystics solved their problem of lopsided first quarters, exploding with a productive offensive effort. Guard Natasha Cloud and center LaToya Sanders earned their first starts of the season, accompanying forward Ariel Atkins, guard Kristi Toliver and forward Elena Delle Donne in her return from sickness.
Washington went 6-of-6 from the field in the first two minutes to build a 13-4 lead. Cloud took off early with seven points to fight off the usual first quarter lag. However, the Lynx left the first quarter leading 27-25 as forward Maya Moore marked her presence early with 11 points.
"I think our pace has been better when 'Tasha has played," Thibault said on the game tempo. "The balance of defense and offense of the starting lineup would help us. It worked but we didn't sustain it."
Minnesota defended their lead with a disruptive 8-0 run to begin second quarter. Lynx center Sylvia Fowles contributed 15 points in the first half while guard Seimone Augustus and Moore added 11 points each.
Foul trouble set the Mystics back, pulling the team away from aggressive defensive attacks. The Mystics had 11 team fouls at the intermission allowing space and field possessions for the Lynx.
After the break, Washington played a game of catch up, entering the second half with a gritty and dominant momentum to stunt the Lynx's 48-42 lead.
The Lynx relied on Fowles to help increase points in the paint while the Mystics guard play became more productive. Atkins and Toliver stepped up as offensive components to push the Mystics' momentum in the third quarter.
Both teams delivered a fantastic third quarter as Washington outscored Minnesota 27-20 to enter the final period with a meager 69-68 lead.
The fourth quarter began with shooting spurts until Toliver delivered a finger roll layup with 3:55 to go, tying the game at 77. After Lynx guard Danielle Robinson's jump shot at 2:49 and a steal from Moore, the momentum shifted to the Lynx. Minnesota took complete control after forward Rebekkah Brunson's three-pointer with 1:33 left in the game.
Three straight empty possessions from the Mystics sealed the game for the Lynx. Minnesota guard Tanisha Wright's seven fourth quarter bench points and Fowles' six rebounds helped their team down the stretch to break the losing streak.
Fowles maintained a dominant game for her fourth double-double of the season with 21 points on 8-of-15 shooting including a perfect 5-of-5 from the line, 12 rebounds and four steals. She contributed to most of the Lynx 20 second chance points and 32 points in the paint.
Minnesota outscored the Mystics 20-0 on second chance points. The Lynx also found a chunk of their points at the free throw line. They cashed in 18 of their 19 attempts at the charity stripe.
"You can't have that in a playoff-type game against a team like that," Thibault said. "That hurt us, we missed some layups, we had some execution errors and we had some fouling. We probably fouled – I don't know if we got the calls at the other end in getting fouled ourselves — but we've gotten into this mode the last 10 days-or-so of reaching a little bit."
Cloud had a terrific performance guarding Maya Moore. She neared a double-double, capping 17 points, four rebounds and nine assists to showcase her agility in her first start.
"He called my number, so I was ready to start," Cloud said. "I just had to bring my energy that I tend to bring off the bench to the starting group."
Moore's superstar performance could not be contained. She was not far behind Fowles with 19 points and five defensive rebounds.
In her return for the Mystics, Delle Donne played in five to six minute increments for an overall 26-minute performance to tally eight points, one assist and two rebounds.
"It was decent," Delle Donne said on her return. "I'm just trying to listen to my body each day, try to build it with vitamins [and] supplements. As long as I don't over-exert too much, I'm hoping I'll be able to continue to go on the incline and feel better and better every day."
Thibault said the team's progress is evident but the Mystics' young chemistry was hard to depend on against the solid and strong chemistry the Lynx used to close out the game. It wasn't long before the "championship Lynx" arrived to close out the game, reverting to a regular pattern of winning.
"They have a team that's been together for nearly seven years," Thibault said. "They have that mindset."
Moore said her team's dependency on chemistry to close games worked in their favor. With 18 assists, the Lynx's fluid ball movement helped the Mystics ease up on their shots, making it easier for them to cash in on perfected offensive plays.
"It felt like us to be able to overcome the hard moments in the game," Moore said. "[It helps us] overcome mistakes, adversity together and know we always give ourselves a really good chance to execute what we want to do when we are together like that with energy."
Lynx head coach Cheryl Reeve said she was proud of the team's growth and motivation to snap the losing streak.
"Obviously we were pretty desperate," said Reeve. "We had dropped four in a row. The most in this team's time together, the four or five who have been together. We had a level of desperation. We had a level of want to which was necessary. These guys are hard to guard. Washington is hard to guard. I thought we were pretty gritty, we held them to 11 in the fourth quarter. That was obviously the key to the game."
Minnesota looks to continue a winning on the road as they head to the Connecticut Sun for a June 9 contest.
Lynx guard Lindsay Whalen attributed her team's win to how they practiced in the days leading up to the game.
"I felt like the last couple of days of practice and the last week or so even in the games, I felt like we were getting close," Whalen said. "You could feel like the momentum was shifting for us, and at some point we knew that we were going to break through and have a really good game together and now it is building on it and making sure we are staying focused, and it was a really good road win for us, tough environment, great team and just happy we were able to come out with the victory."
Washington has now dropped their third straight game and fall to 5-4. They look to faceoff in their second matchup against the Sun at the Mohegan Sun Arena on June 13.
Notes
With the Lynx victory, the trio of Rebekkah Brunson, Maya Moore and Lindsay Whalen (155 wins) passed Tamecka Dixon, Lisa Leslie and Mwadi Mabika (Los Angeles Sparks, 1997-2005) for the most wins in league history as a trio of teammates.
Maya Moore finished with 19 points tonight on 6-of-15 shooting, including 6-of-6 from the line. Moore has scored 15+ in six straight games.
Seimone Augustus had 16 points on 6-of-11 from the line and grabbed four rebounds. With her 16 points, Augustus (5,573) passed DeLisha Milton-Jones for 11th all-time on the WNBA scoring list.
Mystics rookie guard Ariel Atkins (10 points) scored in double figures for the sixth-straight game, shooting 5-12 (.416) from the field.
Washington outscored 

Minnesota

, 42-32, in the paint, but was outrebounded, 34-20, and lost the second-chance-points battle, 20-0. 20 total rebounds were a season low for Washington.
Points in the Paint: Lynx 32, Mystics: 42
Second Chance Points: Lynx 20, Mystics: 0
Fastbreak Points: Lynx 13, Mystics: 10
Biggest Lead: Lynx 8, Mystics: 10
Lead Changes: 11
Times Tied: 5