When Seattle visits Los Angeles, it is home sweet home for Jordin Canada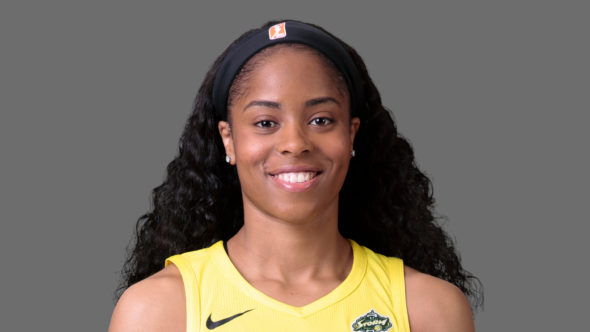 LOS ANGELES – The nationally televised game between the Seattle Storm (5-2) and the Los Angeles Sparks (4-1) at Staples Center on Thursday night features two of the top teams in the league and serves as a homecoming for Jordin Canada. The rookie guard, selected by Seattle as the fifth pick in the first round of the 2018 WNBA draft, is the definition of a home-grown baller having played travel ball, high school and college hoops right here in the City of Angels. We had a chance to have a quick Q&A with Jordin before the game.
PB: When did you first start playing basketball?
JC: I started playing basketball when I was six years old. I got involved with basketball because of my older cousins. They would be playing basketball in the backyard of our grandmother's house and at the time I was too young to play with them so I told my parents to sign me up with a park and rec team.
PB: First organized team and coach?
JC: I was six when I started with my first organized basketball team. The team was called GBL Lady Rebels and my coach was Sherri Pegues, who is a phenomenal woman.
PB: For basketball role models who did you pattern your game after?
When I was younger, I really enjoyed Ivory Latta when she was at North Carolina. Her game inspired me to be better and grow my game. I loved her passion, intensity and her aggressive nature when she played in college
PB: Favorite WNBA players? Favorite WNBA team growing up?
JC: My favorite WNBA Player, ironically enough is Sue Bird. I love her game and the way she makes things look so easy. Her ability to pick things up quickly and her IQ is something I have never seen before and I'm honored to witness it firsthand. The way she's able to change things on the fly and her passing ability is amazing. I love the way she can lead the team and put her teammates in positions to be successful and that is something I want to grow in.
My favorite team growing up was the L.A. Sparks. Since I am from Los Angeles and I played with my AAU team, we would go to a lot of their games and I remember as kid watching Lisa Leslie, Chamique Holdsclaw and even Candace Parker play which was awesome to see live.
PB: Favorite NBA player and team?
JC: No favorite NBA team, but I did grow up watching the Lakers a lot. When I was around six or seven, my dad had the Lakers Dynasty DVDs and I would watch all the games back to back to back. I loved watching Magic, Kareem and Chamberlain. Obviously, Kobe and Shaq were a big part of my love for the Lakers during my elementary years, but as of right now I do not have a favorite NBA team.
PB: What travel teams did you play for?
JC: Throughout my whole AAU career I played for GBL Lady Rebels until I got to high school. GBL and Cal Sparks combined as one team and from ninth grade on I played on the Cal Sparks Top Team.
PB: When did you realize you would be a pro?
JC: I realized I would be a pro at the age of 10, when I was in fifth grade. I was really good for my age group and had been labeled as one of the best in my class at the time so I knew at that point that if I continued to work hard and put the time in I knew that I could become a pro.
PB: How is your first year going? Any lessons learned?
JC: My first year in the league has been great. I've learned so much especially from Sue. She's been teaching me the different terminology and what to look for on the offensive and defensive end. Everyone has helped me in their own way and has contributed to my learning success. Everyone has been teaching me and helping me develop my game and that is why I love being here. Everyone is so welcoming and caring and everyone looks out for one another. The thing I'm learning in the league is that spacing and moving off the ball is key, strength and size is something that is different for me and obviously the talent level is unbelievable.
PB: Any advice for upcoming players?
JC: My advice to upcoming players is never settle. Always want to learn and grow because every level requires you to step up and become better than what you were before. Use your strengths to the best of your abilities and always have the mindset to grow as well. The process takes time, but it will come but consistency and adaptability are somethings that has helped me grow within this past month and a half.
PB: How many family and friend will you have at the game?
JC: I will have a bunch of people at the game, too many people to count. I just know from my list of friends I have put down 17 people but I know my club organization will be there, my UCLA team and staff will be there and coaches that I know from high school will be there too. So, it will be a lot of people at the game I am just not sure exactly how many.
PB: Are you more nervous or excited to play at home for the first time? Or both?
JC: I'm excited and nervous to play at home, just because this is my first time being back in L.A. and not playing for an L.A. team. The exciting part is I get to see all my friends and family and obviously be back at home but the nervous part is playing against a team and players I always grew up watching and it being my hometown it's kind of nerve-racking but in a great way.