Elena Delle Donne leads late rally for buzzer-beating 80-77 Washington win over New York, Mystics improve to 10-5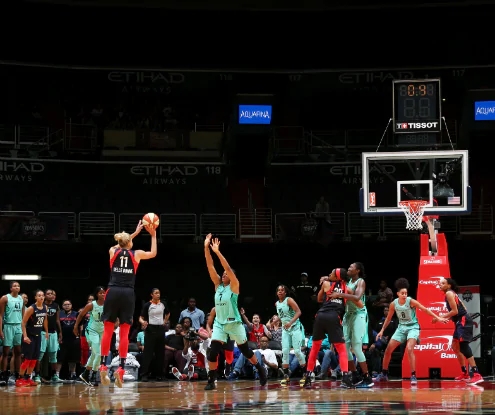 WASHINGTON – Seven seconds remained in the game as the Washington Mystics and New York Liberty were knotted up at 77 Thursday night at Capital One Arena. The first win attempt was thwarted when New York Liberty defender guard Sugar Rogers contested Kristi Toliver's three. It was still Washington's ball with six tenths of a second remaining. They had time for one last buzzer-beating shot.
"The way we ran the play, they had to help on Kristi [Toliver] and that bought Elena [Delle Donne] some space," Washington head coach Mike Thibault explained. "It was just one of those [plays] where you are actually trying to pick on good defense."
With that space, a play designed for the best option ended up going to the best player for the Mystics. In 0.6 seconds, Delle Donne separated from a screen center LaToya Sanders set, solidified her feet and released a game-winning three that drained at the buzzer for an 80-77 triumph.
"There's days where I work on quick releases," Delle Donne said. "This is a big one though. Don't think it ever had to be so quick."
The 4,473 fans in attendance roared in excitement while her teammates jubilantly jumped with her as the Mystics topped the Liberty to defend home court after they struggled to stay afloat throughout the game.
A 35-minute delay from clock malfunctions did not slow down New York's start. A fierce defense kept the Mystics on their toes with Toliver as the main target. It opened up most of New York's points in transition while Liberty forward Tina Charles' strong presence kept her team in front for majority of the first half. Charles focused on getting the ball down the court quickly while forward Shavonte Zellous spearheaded the defense and team's ball movement.
"Scoring the basketball is key in this league and we have to find ways to get easy buckets," New York head coach Katie Smith said on transition baskets. "[We need to] put pressure on the defense. We have a deep team so any chance we can get to get easy layups, early post-ups, we will take them before the defense sets."
Thibault put his active 12-man roster to the test. Guard Shatori Walker-Kimbrough was swapped into the starting lineup after rookie guard Ariel Atkins suffered a head injury in practice, causing her to follow concussion protocol. Walker-Kimbrough took the opportunity in full stride setting screens, bringing energy and direction to the Mystics' offense. She led with seven first quarter points as Washington fought for a skinny 23-22 advantage at the end of the quarter.
"I just wanted to stay ready and be ready when my number was called," Walker-Kimbrough said. "My number was called and I hope coach saw my performance."
The defense stirred problems for the Mystics' clunky offense, distancing the team from clean looks and scoring. New York made a 7-2 run mid second quarter which kept them in front until Washington caught them in transition trading a run to end the quarter.
Walker-Kimbrough tied for the team-high at halftime with Delle Donne at 10 points apiece. Washington fought back against New York and seven lead changes to stay in front 44-39 into halftime. Thirty of New York's points were found in the paint.
A slow start full of fouls and turnovers slanted momentum as both teams were stagnant in the third quarter. Washington's foul trouble brought New York to the line six times but a Mystics backcourt performance kept them in charge of their withering lead. Kia Vaughn's meaningful eight points kept New York in range, but Washington ran out for a 21-18 quarter performance leaving the third leading 65-57.
Mystics forward Myisha Hines-Allen helped take Charles off her game but it allowed Zellous and Prince to take control of open shots and drive down the lane.
"I just wanted to be more aggressive," Prince said. "Katie [Smith] and her coaching staff have all been on me to be more aggressive and stop passing up shots and that is what I tried to focus on."
New York found rhythm on the perimeter while the overzealous Mystics went cold. The battle of the bigs between Delle Donne and Charles unfolded while guards followed their sustained intensity. Delle Donne maintained her game in the paint but her meager three out of five attempts mattered most.
A Sanders rebound with 39 seconds remaining and two free throws were critical but the icing on the cake was Delle Donne's clutch end-of-game shot that improved the Mystics 10-5 and continued the Liberty's four game skid, dropping them to 4-10.
Delle Donne finished the team high 22 points and five rebounds. Walker-Kimbrough contributed 12 points and assists for her first start of the career. Toliver came out with 10 points though she was a highlight of the Liberty's defensive strides.
Prince's performance earned her New York's team high with 21 points while Charles went 8-of-15 finishing with 18 points and team-high six assists.
"[We have to] just try to take it one game at a time and keep building on what we have," Vaughn said on the team's growth. "We still have a lot of season left."
Washington looks to continue their homestand against the West's top team Phoenix Mercury Saturday night. New York will look to snap their four-game losing streak against the Chicago Sky Friday night.
Notes
With the win, the Mystics have now recorded two separate streaks of 4+ wins for the first time since 2010, when they recorded three. Washington opened the 2018 season with wins over Indiana (twice), Las Vegas and Minnesota.
Mystics guard Shatori Walker-Kimbrough made her first start of the season, scoring 12 points on 3-9 (.333) from the field and 4-4 (1.000) from the free throw line. The second-year guard also tied for a team-high three assists. The double-digit scoring performance was Walker-Kimbrough's first of the season.
Mystics guard Kristi Toliver scored 10 points and has now scored in double figured in six of her last seven outings.
Despite losing the total rebound battle, 34-33, Washington outdid New York on the offensive boards, 10-7, leading to an 18-10 advantage in second-chance points.
Points in the Paint: Mystics: 32 Liberty: 42
Second Chance Points: Mystics: 18 Liberty: 10
Fast Break Points: Mystics: 7 Liberty: 12
Bench Points: Mystics: 20 Liberty: 14
Biggest Lead: Mystics: 10 Liberty: 5