Led by Griner and Bonner, Phoenix snaps Washington's four-game winning streak, 84-74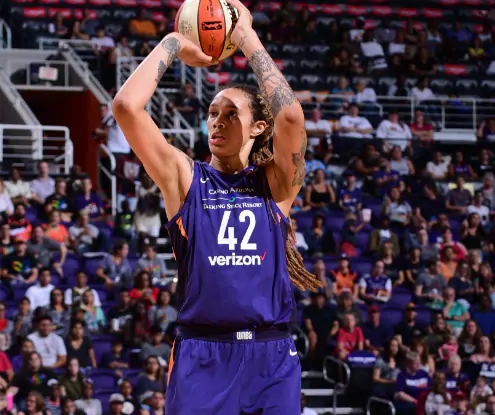 WASHINGTON – Brittney Griner and DeWanna Bonner led the Phoenix Mercury in an 84-74 win over the Washington Mystics Saturday night at Capital One Arena in front of 6, 218 fans.
"The little things kind of cost us tonight a little bit," Washington head coach Mike Thibault said. "We missed some layups tonight. We made a couple mistakes, and they're good enough and have great players that'll make you pay for it if you make mistakes. I thought [Brittney] Griner was terrific. [DeWanna] Bonner was good, and I thought [Yvonne] Turner off the bench gave them a big lift tonight — she might have been kind of the difference in some ways. I like that we hung in, but we made too many mistakes."
Griner worked the post early, sinking ten first quarter points to help her team outscore the Mystics 23-16 in the first quarter. Defenders were lost in translation while Griner showcased mobility around Washington centers LaToya Sanders and Krystal Thomas.
Mystics forward Elena Delle Donne emphasized her presence on the perimeter, switching to the three position while battling Griner and Sancho Lyttle as post players. Mystics forward Tierra Ruffin-Pratt tackled the task of limiting legendary guard Diana Taurasi early.
"Ruffin-Pratt and Natasha [Cloud] are two of the better defenders in the league," Thibault said. "We tried to get the ball out of her hands as many times as we [could], and try to frustrate her, but they have some other weapons that just took over."
Washington was able to rely on the line to find points. They made 9-of-10 free throw attempts to help balance the faulty shooting. The Mystics finished with a 35 percent shooting percentage, anchoring them in first quarter.
The Mystics turned up the heat in the second quarter to match the Mercury's energy.Tayler Hill came in to keep Washington within close range. Delle Donne's hit a shot to put Washington in front for the first time with 3:33 remaining before halftime. This allowed the Mystics to pick up pressure on defense and focus but Bonner was able to infiltrate the post defense for eight first half points while Washington stopped with three minutes left. Shooting droughts kept teams from earning big leads/ Phoenix lead 39-34 at halftime. Delle Donne and Griner  had 13 points each at the break.
It took Washington time to find points but Delle Donne four straight tied it at 39 at 8:17 in the third quarter. Bonner and Griner tag teamed the Mystics post defense, taking charge and sharing 15 of the 23 third quarter points for Phoenix to run away with a 62-54 lead. Taurasi was able to take the backseat with seven points, dishing out nine team assists to spread the ball where it needed to go.
Washington wasn't able to keep momentum and scoring from different places of the floor but two late turnovers and finishing 6-of-22 beyond the arc helped keep them in a hole.
"I felt like a couple times in the game there'd be a shift in momentum," Delle Donne said. "We'd be coming back like, 'alright, we're going to take the lead' and then just something little would happen and we'd have a mental lapse. [Phoenix] is just too good for that."
Griner finished with 24 points, five seven rebounds and three blocks while Bonner added 23 points plus eight rebounds. Taurasi still contributed with a team-high nine assists aling with her seven proints. Performing in diverse roles is what keeps Taurasi and Phoenix at the top of the league.
"You have to be well rounded," Taurasi said. "You have to know when it's not you night, acknowledge that and do other things to help your team. [Brittney Griner] did amazing, the bench did a great job today. You have to find a different way to help the team."
The Mercury's big three continue to dominate the league as they continue to shape and shift into roles to get the job done. Yvonne Turner also came off of the bench for 12 late points. Delle Donne finished with a double-double of 27 points and 13 rebounds. Mercury forwards Lyttle and Camille Little left the court with injuries in the fourth quarter. Mystics guard Ariel Atkins did not play again. as she under concussion protocol
"It was a great win. Just hopefully my two four-men are are not seriously injured.," Mercury head coach Sandy Brondello said. "To win on a back to back, a four-game road trip, that is not easy, especially against a team as good as that one. I thought we did a good job executing the scouts, so I am very happy with the win."
Both teams will take a break from their condensed scheduling and return to the floor next Thursday. Washington will host the New York Liberty for the second time this season. Phoenix will host the Connecticut Sun.
Notes
The Mystics lost to the Phoenix Mercury 84-74, snapping their four-game winning streak and pushing their record this season to 10-6.
Delle Donne's 20.5 points per game this season currently sits third in the WNBA, trailing only Seattle's Breanna Stewart (22.6) and Las Vegas rookie A'ja Wilson (20.7).
Points in the Paint: Mercury 38 Mystics: 30
Second Chance Points:Mercury: 7 Mystics: 13
Fast Break Points: Mercury: 9 Mystics: 5
Biggest Lead: Mercury: 13 Mystics: 4