2018 WNBA All-Star Saturday Notebook: The league president speaks, post All-Star impressions and looking forward to Vegas!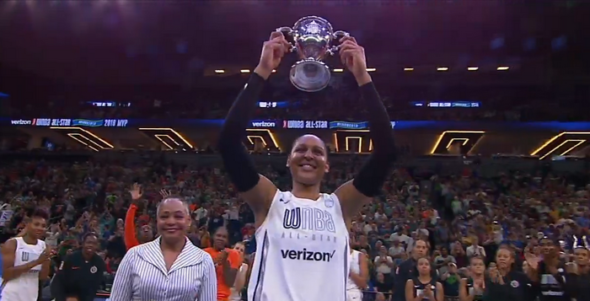 Full transcript of Lisa Borders' Press Conference 
MINNEAPOLIS – The WNBA's "Take A Seat, Take a Stand" program gives $5 of each ticket sold to charity but there is some concern about how this fits in with players wanting more in regards to league revenue sharing.
Before Saturday's All-Star Game, league president Lisa Borders explained that there is a "two-generation gap in terms of building the brand, building the fan base, building equity around who we are and what we're trying to do" between the 72-year-old NBA and the WNBA, now 22 years old and still growing.
Borders pointed out that the program "would give money to six organizations….these nonprofits who are doing work in our local communities. It's really about not just talking about what we care about; it's about taking some demonstrable action."
"But let me be perfectly clear," she said. "Our incentives are aligned here with the players. There is no room for light between the league, the teams and the players. We all believe that the players should make as much money as they possibly can make, and we're here to enable that and support that. But this is a business, and the economics today don't allow us to pay more. But when it does, we will. So, no disagreement between the league, the teams and the players. We are completely aligned."
The third-year president also touched other subjects:
"We want a team in New York. (The current owners) are committed to selling the team," she said on an update of the New York Liberty, which is up for sale
On the rash of technical fouls this season: "There's a lot of intensity and a lot of emotion….We will take a look at the end of the season how many technicals did we have, and did it look like they were all warranted. If not, we'll make the appropriate adjustments." Borders promised.
On fan complaints via social regarding a lack of merchandise: "Yes, I read them, and I'm not the only person that reads them….Some of the feedback that we get or all of the feedback is very helpful."
I don't know that every single person has gotten every single jersey or whatever they asked for, but I know that the lion's share of the merchandise issues have been addressed. So, what we tell folks is thank you for letting us know, and we're on it, and then we close the loop just as soon as we can.
Post All-Star Impressions
Repeat, repeat, repeat. Maya Moore won All-Star Game MVP honors for the third consecutive season. "You can't get MVP if you don't win the game," the Lynx star said after her Team Parker's 119-112 victory. Moore finished with a team-high 18 points along with eight rebounds and six assists. Moore is the second player to earn the award three times and the only athlete to win it in three consecutive years. Lisa Leslie was MVP in 1999, 2001 and 2002.
The All-Star Game was sold out with 15,922 fans in attendance.
The Chicago Sky's Allie Quigley successfully defended her Three-Point Contest title at halftime Saturday, and outshined Kayla McBride in a shootout 29 to 21 – both players were tied at 18 before the tie-breaker round. "It was a little bit more interesting than I thought it was going to be with the tiebreaker," Quigley, whose $10,000 prize goes to the Patrick Quigley Memorial Scholarship, said afterwards.  "I was able to get in the zone."
Vegas, baby! The WNBA announced Saturday that Las Vegas will host the 2019 All-Star Game. It will be played July 27 at the Mandalay Bay Events Center, home of the Las Vegas Aces, and the first game played at a casino since 2015 in Uncasville, Conn at Mohegan Sun.
"Oh, oh, it will be a lot of work," Aces Coach Bill Laimbeer said matter-of-factly about hostsing. Vegas rookie A'ja Wilson predicts, "It's going to be a dope time in Las Vegas."
Role reversals – Sue Bird and Sylvia Fowles did an inside-outside switch, with the point guard posting up and the center shooting threes. Fowles missed on both her three-point attempts, however.  "I normally knock threes down…in practice," the Lynx center, who finished with two points, points out.   Bird joked afterwards, "We should never do these things."
Wilson, the Rookie of the Year front runner, enjoyed her first-ever All-Star experience: "It was great. They packed the house. We love our fans, especially here in Minnesota, this is where they hold all the championships and I would expect nothing less for them to come out and show out how they did. It's a lot of fun. I'm glad I got the opportunity to come out here. I'm here when we play during the regular season, but I never get a chance to really get involved, so the opportunity to help the community with the Jr. NBA Clinic was a lot of fun."