Washington Mystics coach Mike Thibault's win milestone this season represents his past, present and future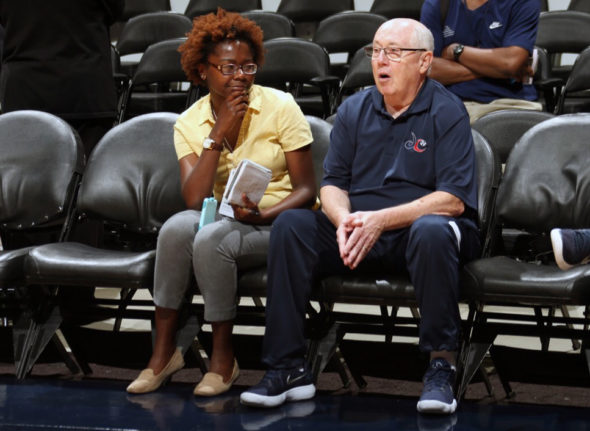 WASHINGTON – It's game day for the Washington Mystics. Head coach Mike Thibault arises around 7:30 a.m. and arrives at the coaches meeting at 8:45 a.m. He attends a player's film session at 9:45 a.m. then visits the court at around 10 a.m., writing out individual notes and reminders for Washington's opponent.
He goes home and exercises then eats a light pregame light to keep his nerves cool and to stay focused.
"It used to be a sandwich and fruit of some sort," says Thibault about his diet. "I'm a peanut butter or turkey guy. I eat a little bit in the morning when I get up and read."
He returns to Capital One Arena two hours before game time and prepares for the upcoming battle.
This routine has kept Thibault at the top of his game as a head coach in the WNBA for 16 years. Recently, it helped him earn a milestone in the league.
Thibault added to his legacy on July 7 becoming the first coach in league history with 300 wins, notching the team's 12th win of the season. The Mystics topped the Los Angeles Sparks 83-74 at Staples Center. He is the winningest coach in WNBA history.
The historic journey to 300 wins is more than 40 minutes on the court for Thibault and the company he keeps.
"Number," Thibault commented on the milestone. "I don't have any numerical goals. I don't mean to make light of it but it's a little bit of survival and getting up and enjoying what I do every day too."
Passion for coaching has driven Thibault to do more than win. It's commitment beyond the game of basketball.
"I'm one of the lucky ones that gets to do what I love as a career," Thibault said. "Being in that mode makes life better and I feel like I'm lucky."
His transparent coaching style and hard work has carried him since he stepped onto the WNBA scene. He began as head coach the Connecticut Sun from 2003 to 2012. He led them to back-to-back WNBA Final appearances and was named Coach of the Year twice, in 2006 and 2008.
He served as the assistant coach of USA Basketball's senior national team when they won gold in the 2008 Beijing Summer Olympics. He left Connecticut for the nation's capital filling the Mystics' head coach and general manager vacancy in 2012.
Thibault described coaching as an umbrella title which takes on many aspects of life. He's maintained presence in the WNBA, producing a positive impact on the league professionally and personally.
"You should see the progress in people you coach." Thibault said as Mystics forward Tianna Hawkins exemplified his message warming up her new three-point weapon before a game against the Atlanta Dream. "You should see improvement. That's our most important job: We're teachers. Hopefully by how you do it, you teach about the game and life."
Thibault's ongoing success through passion manifests in his coaching staff and environment he has built with each team.
"As a coach or general manager, you have a long-term vision, but you have a day to day schedule to that plan," Thibault said. "They know our staff is genuine about what we do everyday. We like what we do. We like coming to work. Your long-term vision never works unless you work on day-to-day progress. It has to be a good mix of the two."
Someone who can attest to Thibault's historic impact first hand is his son Eric. The younger Thibault, who wanted to pursue journalism after earning a Bachelor's in communications from Missouri, has served as an assistant coach for Washington beside Mike since 2013. He tested the waters as an assistant for Missouri men's basketball in college.
Mike didn't want his son to give up his journalism dreams, but a strong coaching presence and impact from Mike was demonstrated well in his thesis about the Connecticut Sun.
"I said 'alright, I get it.'" Thibault said about Eric's thesis. "He wrote it well enough because of his love and passion of coaching. He always wanted to do it since he was in college."
Eric's thesis not only solidified his degree and his assistant coaching position, it expressed the passion his father brought to work. It became more than a bring-your-child-to-work tradition.
"It was always fun to go to work with Dad when you were a kid," Eric said. "That's how I've shaped how I see the game. He makes a consistent, enjoyable atmosphere. It's somewhere you want to go to work every day."
Eric has seen the highs and lows of Mike's career by his side as assistant coach, including the 300th win. They had a small celebration after the game and refocused on different achievements at a critical time where the Mystics must maneuver through season hardships to rise to the top.
"He would tell, it's not a big deal but it's really cool to see his longevity with a lot of teams in different seasons and plenty of success." Eric said. "I think when it happens in the middle of the season like this, you're so focused on the next thing."
Washington straddles on the fence of dominance in the league while All-Star captain and MVP candidate forward Elena Delle Donne leads the team. Shooting droughts and lackluster defensive performances allow teams to pull away.
Thibault grows into his vision step-by-step as Washington shows will power in close games but still falls short as they sit in seventh place before the All-Star break.
The elder Thibault and Washington's staff will practice what he preached, using rest of the season to build a pathway to success.
"The only personal milestone I have left is to win a WNBA Championship." Thibault said.
The goal is not far-fetched.