2018 WNBA Playoffs Bracket and Officials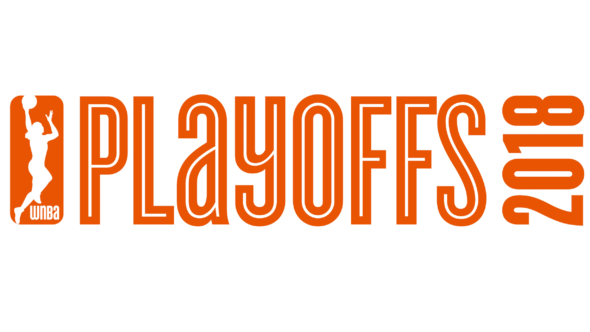 Officials for the Playoffs || Standings at End of Regular Season
Finals Schedule
Game 1 — Seattle 89, Washington 76
Game 2 — Seattle 75, Washington 73
Game 3 — Seattle 98, Washington 82
Playoffs Schedule
LOCAL
ET
TV
First Round
Tue.
Aug. 21
Phoenix 101, Dallas 83
Tue.
Aug. 21
Los Angeles 75, Minnesota 68
Second Round
Thu.
Aug. 23
Washington 96, Los Angeles 64
Thu.
Aug. 23
Phoenix 96, Connecticut 86
Semifinals
Seattle vs. Phoenix
Sun.
Aug. 26
Seattle 91, Phoenix 87
Tue.
Aug. 28
Seattle 91, Phoenix 87 OT
Fri.
Aug. 31
Phoenix 86, Seattle 66
Sun.
Sep. 2
Phoenix 86, Seattle 84
Tue.
Sep. 4
Seattle 94, Phoenix 94
Atlanta vs. Washington
Sun.
Aug. 26
Washington 87, Atlanta 84
Tue.
Aug. 28
Atlanta 78, Washington 75
Fri.
Aug. 31
Atlanta 81, Washington 76
Sun.
Sep. 2
Washington 97, Atlanta 76
Tue.
Sep. 4
Washington 86, Atlanta 81
Schedule subject to change
Playoff Format (per WNBA.com)
Effective with the 2016 season, the WNBA implemented changes to playoff seeding and qualification procedures as well as the postseason format.  Under the new postseason structure, the eight teams with the highest winning percentages regardless of conference qualify for the playoffs and are seeded based on their record.
Additional features of the reconfigured playoff structure are as follows:
The number of playoff rounds increased from three to four.  The top two seeds receive a bye to the semifinals (third round), and the third and fourth seeds receive a bye to the second round.
Teams will be re-seeded after each postseason round.
The semifinals feature a best-of-five format, with the No. 1 overall seed playing the lowest remaining seed and the No. 2 overall seed meeting the remaining team.  The Nos. 1 and 2 seeds will host Games 1, 2 and 5, and the lower-seeded teams will host Games 3 and 4 in their respective series.  The WNBA Finals remain best-of-five and follow the same 2-2-1 format
2018 Playoffs Officials
Sixteen referees earned spots to officiate in the 2018 WNBA Playoffs.
According to the WNBA, officials for the postseason are selected by the WNBA Referee Operations management team based on three specific criteria throughout the season:
WNBA Referee Operations' graded rankings
Play-calling accuracy
Team feedback.
Officials will be evaluated after each round of the playoffs to determine future advancement in the 2018 postseason.
Individual game assignments for referees are posted at NBA.com/official at approximately 9 a.m. ET each game day.  Each game crew consists of three on-court officials and one on-site alternate.
Isaac Barnett (2 WNBA seasons)
Tiffany Bird (5)
Eric Brewton (17)
Tiara Cruse (5)
Cheryl Flores (6)
Maj Forsberg (10)
Janetta Graham (7)
Tim Greene (8)
Roy Gulbeyan (20)
Byron Jarrett (11)
Brenda Pantoja (7)
Michael Price (19)
Billy Smith (8)
Jeffrey Smith (17)
Kurt Walker (19)
Jeff Wooten (7)
Standings at End of Regular Season
W

L

PCT

GB

HOME

AWAY

PPG

OPP PPG

DIFF

STRK

L10

x –

Seattle Storm

26
8
.765
–
13-4
13-4
87.2
79.7
+7.6
W3
8-2

x –

Atlanta Dream

23
11
.676
3
13-4
10-7
81.8
79.5
+2.3
W1
8-2

x –

Washington Mystics

22
12
.647
4
12-5
10-7
82.0
79.0
+3.1
L1
8-2

x –

Connecticut Sun

21
13
.618
5
13-4
8-9
87.6
81.7
+5.9
W4
9-1

x –

Phoenix Mercury

20
14
.588
6
9-8
11-6
85.8
83.2
+2.5
W4
5-5

x –

Los Angeles Sparks

19
15
.559
7
11-6
8-9
78.9
77.0
+1.9
L2
5-5

x –

Minnesota Lynx

18
16
.529
8
9-8
9-8
78.9
78.3
+0.7
W1
4-6

x –

Dallas Wings

15
19
.441
11
10-7
5-12
86.6
85.4
+1.3
L1
1-9

e –

Las Vegas Aces

14
20
.412
12
8-9
6-11
81.9
84.4
-2.5
L2
3-7

e –

Chicago Sky

13
21
.382
13
7-10
6-11
83.8
90.1
-6.3
L1
5-5

e –

New York Liberty

7
27
.206
19
4-13
3-14
77.7
84.8
-7.1
L13
0-10

e –

Indiana Fever

6
28
.176
20
2-15
4-13
76.4
85.7
-9.3
W1
3-7
W: Wins
L: Losses
PCT: Winning Percentage
GB: Games Back
HOME: Home Record
AWAY: Away Record
PPG: Points Per Game
OPP PPG: Opponent Points Per Game
DIFF: Average Point Differential
STRK: Current Streak