Gonzaga tops 2018-19 WCC preseason poll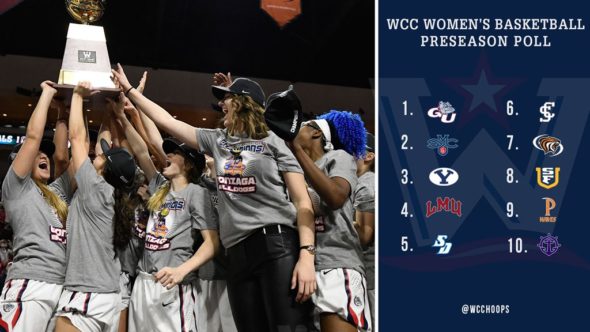 WCC coaches selected Gonzaga as the favorite to repeat as the 2019 WCC champions in the annual preseason poll. The Bulldogs claimed seven of 10 first place votes while also placing a league-high three student-athletes on the Preseason All-WCC team.
Gonzaga (27-6, 17-1) claimed 79 points to finish atop the preseason poll after taking the double in both 2017 and 2018 with the WCC regular season and championship crowns both years
The preseason poll and All-WCC team were selected solely by a vote of the conference's 10 head coaches.
2018-19 WEST COAST CONFERENCE WOMEN'S BASKETBALL PRESEASON POLL
Team (First Place Votes)         Points
1. Gonzaga (7)                          79
2. Saint Mary's (2)                     73
3. BYU (1)                                66
4. Loyola Marymount                 52
5. San Diego                             49
6. Santa Clara                           35
7. Pacific                                  32
8. San Francisco                       31
9. Pepperdine                           24
10. Portland                              9
2018-19 ALL-WCC PRESEASON WOMEN'S BASKETBALL TEAM
Name                                  Institution                 Yr.       Pos.
Brenna Chase                      BYU                           Jr.        G
Gabby Green                       Loyola Marymount      Sr.        G
Sara Hamson                       BYU                           Soph.   C
Megan McKay                      Saint Mary's               Sr.        F
Myah Pace                           San Diego                  Soph.   G
Sydney Raggio                     Saint Mary's               Sr.        F
Zykera Rice                          Gonzaga                    Sr.        F
Yasmine Robinson-Bacote    Pepperdine                Sr.        F
Chandler Smith                    Gonzaga                    Sr.        G
Laura Stockton                     Gonzaga                    Sr.        G