Social media recap: 2018 West Coast Conference Women's Basketball Media Day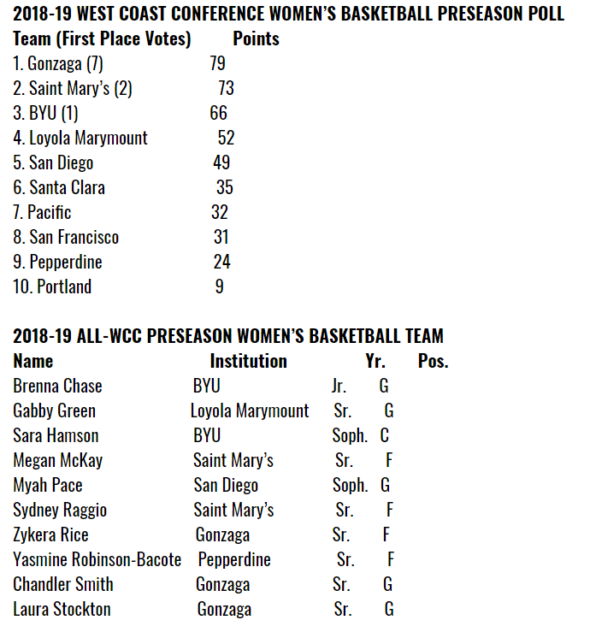 LAS VEGAS – The West Coast Conference held its annual women's basketball media day Wednesday at Orleans Arena in Las Vegas with the announcement of the league's preseason poll leading off the event. Coaches tabbed Gonzaga to win the 2019 WCC Championship.
League commissioner Gloria Nevarez greeted the teams and media before interviews and live TV studio segments began.
Below is a social media recap of the day's events.
Good morning Las Vegas, it's time for @WCChoops West Coast Conference Media Day! pic.twitter.com/oddCayI5OP

— Hoopfeed.com ? (@hoopfeed) October 17, 2018
Gonzaga tops 2018-19 WCC preseason poll https://t.co/bjUKmzE8Xt #ncaaw 2. Saint Mary's 3. BYU 4. Loyola Marymount 5. San Diego

— Hoopfeed.com ? (@hoopfeed) October 17, 2018
The Santa Clara women went to Costa Rica in August, where they went 3-0 in two games vs. the national team and a club team. The Broncos also enjoyed beach time, rode on zip lines and sailed on a catamaran. Coach Bill Carr said it was a great experience in team-bonding.#WCChoops

— John Crumpacker (@RiverRatJC70) October 17, 2018
.@Santaclarawbb RS junior Emily Wolph is back in action after an ACL tear last season. Her take on sitting out & watching teammates play: "You learn how to be a leader, not only for yourself, but for your team. You really grow up." #ncaaw #WCCHoops #WCCMediaDay pic.twitter.com/QkK9nm6q5r

— Hoopfeed.com ? (@hoopfeed) October 17, 2018
.@ZagWBB coach Lisa Fortier @FortZagWBB says conference preseason polls are "fun" after being voted as the fave to win the WCC championship. She emphasizes that "there's so much work between now and that actually coming to fruition." Gonzaga plays Notre Dame Nov. 22. #ncaaw pic.twitter.com/wWzID4uGqj

— Hoopfeed.com ? (@hoopfeed) October 17, 2018
Gonzaga's Chandler Smith, one of 3 seniors on the team along with Zykera Rice and Laura Stockton, said, "We're all at different positions. We all complement each other. We've been together the last four years, which is awesome. I think it will show this season.#WCChoops

— John Crumpacker (@RiverRatJC70) October 17, 2018
Gonzaga's Chandler Smith grew up on her family's cattle ranch in north-central Washington. "I loved it, every day being outside. It's the best childhood I could have asked for.''#WCChoops

— John Crumpacker (@RiverRatJC70) October 17, 2018
Learning all about Chandler Smith's childhood on a cattle ranch & that @FortZagWBB's skills on the Etch A Sketch are ???#WCCHoops #UnitedWeZag pic.twitter.com/vzQA87f9Qe

— Gonzaga Women's Basketball (@ZagWBB) October 17, 2018
Saint Mary's @GaelsWBB coach Paul Thomas devises tough schedules year after year. This season four Pac-12 teams are in the mix. His take on scheduling:
"Could you schedule easier games? Yes, but I don't think those are fun."#ncaaw #WCCHoops pic.twitter.com/vHgMAE0ItF

— Hoopfeed.com ? (@hoopfeed) October 17, 2018
Saint Mary's Megan McKay, an Aussie, signed with the Gaels after ex asst coach Tracy Saunders flew to Perth to watch her play. "She did all that travel to watch a basketball game. I decided if she was going to make that kind of commitment, I was going to go there.#WCChoops

— John Crumpacker (@RiverRatJC70) October 17, 2018
San Diego @USDwbb returns soph. guard Myah Pace who played in every game last season. She worked on her outside shot over the summer "to make it more consistent." The Toreros play at Minnesota under new coach Lindsay Whalen on 11/17, a game Pace "is excited for." #ncaaw #WCCHoops pic.twitter.com/hheGzP9TEz

— Hoopfeed.com ? (@hoopfeed) October 17, 2018
Ready to get the season started! ?#WCCHoops | #GoToreros pic.twitter.com/vfZbxsFQdq

— San Diego Women's Basketball (@USDwbb) October 17, 2018
"We always try to be our best and play our best basketball in Las Vegas."@USDWBB fell just short of being #WCCchamps last year. What was the secret, and what will the Toreros look for in 2018-19? #WCChoops

Watch: https://t.co/gojRXrBf27 pic.twitter.com/iIAauQqlCO

— WCC Network (@TheWCCNetwork) October 17, 2018
.@USFDonsWBB returns senior guard Shannon Powell who averaged 12.2 ppg last season. One of her goals over the summer was "to become a more vocal leader". The Dons play at Stanford early in the season (Nov. 15). #ncaaw #WCCHoops pic.twitter.com/jPDYBvgUwA

— Hoopfeed.com ? (@hoopfeed) October 17, 2018
Coach Goodenbour & Shannon Powell already getting into it with the media here at the #WCChoops Tip-Off event! #GoDons pic.twitter.com/AYa7Jjw9af

— USF Women's Basketball (@USFDonsWBB) October 17, 2018
USF women's roster of 13 includes 9 international players, including 7 freshman. Shannon Powell of El Paso said of the team's dynamic, "Me and the other senior are trying to learn their languages. We're only doing numbers. It's a fun environment.#WCChoops

— John Crumpacker (@RiverRatJC70) October 17, 2018
USF women's coach Molly Goodenbour asked San Diego's Myah Pace if the Dons' previous coaching staff recruited the Oakland native. "If I was there (then), you never would have ended up at San Diego,'' she said.

— John Crumpacker (@RiverRatJC70) October 17, 2018
.@BYUwbb returns 2 starters including jr. guard Brenna Chase who averaged 13.5 ppg last season. Her focus over the summer: "I really tried to work on my pull up game." BYU's schedule includes Cal, TCU, Utah & Colorado State. #ncaaw #WCCHoops pic.twitter.com/7OYM6beZ72

— Hoopfeed.com ? (@hoopfeed) October 17, 2018
BYU's Brenna Chase was up front on her team's goal this season: "As a team, we hope to win the WCC championship and get back in the NCAA Tournament.''#WCChoops

— John Crumpacker (@RiverRatJC70) October 17, 2018
.@PortlandWBB returns sr. forward Julie Spencer, the team's leading rebounder. She pulled down 18 rebounds vs. Pacific last season. Her offseason focus: "I tried to work on ball handling and attacking moves because I've been more of a catch and shoot player." #ncaaw #WCCHoops pic.twitter.com/4hnapkLPxW

— Hoopfeed.com ? (@hoopfeed) October 17, 2018
Portland's Julie Spencer is enthused by a new attitude on the team, saying there's a "culture shift on what our vision is as a team. Everyone is on the same page this year. That's crucial to having success. Change needed to happen.''#WCChoops

— John Crumpacker (@RiverRatJC70) October 17, 2018
A faster pace and a gritty style? Just how @PortlandWBB's Julie Spencer is looking towards 2018-19. #WCChoops

Watch live: https://t.co/gojRXrBf27 pic.twitter.com/LFw7OSwjIY

— WCC Network (@TheWCCNetwork) October 17, 2018
Fun day with @jujuspencer23 repping @PortlandWBB for #WCCHOOPS pic.twitter.com/c5f8QrV4Ad

— Cheryl Sorenson (@csor44) October 17, 2018
.@WavesHoops coach @DelishaMJones on sr. Yasmine Robinson-Bacote: "This year I want her to have extended minutes on the floor. I think she's in the best shape of her life….She has goals that are obtainable in terms of a life after Pepperdine on the court." #ncaaw #WCCHoops pic.twitter.com/ypxRvpp2pL

— Hoopfeed.com ? (@hoopfeed) October 17, 2018
Pepperdine's Yasmine Robinson-Bacote has a marine biology class that includes field work on local beaches and lagoons. In addition to birds, fish and shellfish, YRB also found a lot of washed-up trash. "It's unsettling,'' she said.#WCChoops

— John Crumpacker (@RiverRatJC70) October 17, 2018
It's not all interviews today. Between segments, @YRB25_ has a marine biology midterm to prep for. #WCChoops #StudentAthlete pic.twitter.com/9ekApn95A0

— Pepperdine Women's Basketball (@WavesHoops) October 17, 2018
.@Pacific_Hoops returns dynamic senior guard Ameela Li. Her focus this season: "I think the biggest thing for me is to stay composed on the floor…slowing down and looking to see what's given by the defense and not try to force anything." #ncaaw #WCCHoops pic.twitter.com/RZY1FRzsq4

— Hoopfeed.com ? (@hoopfeed) October 17, 2018
???????#WCCHoops pic.twitter.com/BQP9ctognQ

— Pacific Women's Hoops (@Pacific_Hoops) October 17, 2018
Pacific women's coach Bradley Davis said of his team, "It's the most mature group we've had. I'm excited about our basketball IQ.'' He called senior Ameela Li "an under-appreciated point guard. We're led by her. She sets the pace for us.''#WCChoops

— John Crumpacker (@RiverRatJC70) October 17, 2018
.@__itssmeeeeela had time to squeeze in a photo shoot today at #WCCHoops Tip-off. pic.twitter.com/FbyM1SwHdI

— Pacific Women's Hoops (@Pacific_Hoops) October 17, 2018
.@LMULionsWBB goes to Puerto Rico during the season for a tourney, a trip that excites senior guard Gabby Green: "It's cool that we're all going to Puerto Rico but also that we're playing teams that we wouldn't usually play [Indiana, South Dakota, Grambling St.]" #ncaaw #WCCHoops pic.twitter.com/0bj3Jm9kt1

— Hoopfeed.com ? (@hoopfeed) October 17, 2018
BYU coach Jeff Judkins, on LMU, "I think LMU is a very scary, dangerous team having (Gabby) Green as a Pac-12 transfer playing.''#WCChoops

— John Crumpacker (@RiverRatJC70) October 17, 2018

https://twitter.com/lmulionsWBB/status/1052630009322426368
Does this happen at your conference media day? @usdmbb head coach @CoachSamScholl & @WCCsports Commish @GloNevarez take on SlotZilla zipline! #WCCHOOPS pic.twitter.com/jhKuMKxLsW

— Jeff Tourial (@JeffTourial) October 18, 2018
Bye Las Vegas! Thanks for the hospitality @WCCsports #WCCHoops! pic.twitter.com/JSkC1VdYbV

— Hoopfeed.com ? (@hoopfeed) October 18, 2018