Oregon voted as favorite in coaches preseason Pac-12 poll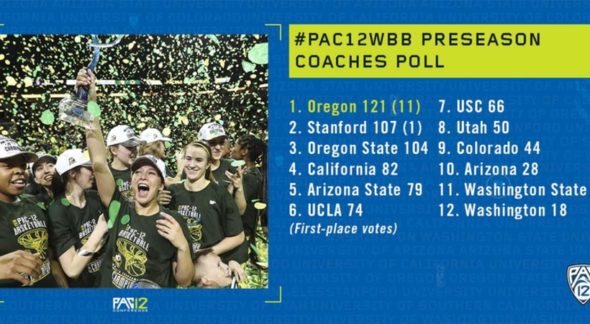 Oregon, the defending Pac-12 regular-season and Pac-12 Tournament Champion  was voted the preseason favorite to win the 2018-19 season The Ducks collected the maximum possible points (121) and first-place votes (11). Stanford voted to finish second, collecting 107 points and the only other first-place vote, and was just ahead of Oregon State in third (104 points). The poll was voted on by the league's 12 head coaches.
California  was picked to finish fourth with 82 points. Rounding out the top half of the polling is UCLA in sixth place with 74 points.
Below are the results of the 2018 Pac-12 preseason coaches' poll; coaches are not allowed to vote for their own teams.
2018-19 PAC-12 WOMEN'S BASKETBALL COACHES' POLL
Team (First Place)
Points
1
Oregon
121 (11)
2
Stanford
107 (1)
3
Oregon State
104
4
California
82
5
Arizona State
79
6
UCLA
74
7
USC
66
8
Utah
50
9
Colorado
44
10
Arizona
28
11
Washington State
19
12
Washington
18