Social media recap: 2018 Pac-12 Women's Basketball Media Day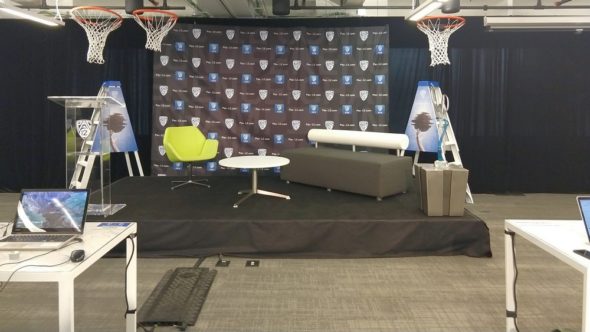 Early Wednesday morning, the day of the Pac-12's women's basketball media day, the league released the results of the 2018 preseason coaches' poll. While Oregon topped the poll, all of the league's teams came into media day with high hopes, bright eyes and enthusiasm.
The day was filled with a media press conference, television and radio interviews, taping for promo spots and Pac-12 colleagues enjoying each other's company.
The women's basketball campaign officially tips off on Wednesday, Nov. 7.
Social Media Recap
.@OregonWBB voted as favorite in coaches preseason Pac-12 poll https://t.co/LfTMReImMK #ncaaw pic.twitter.com/Sq8AOP2dA1

— Hoopfeed.com ? (@hoopfeed) October 10, 2018
Here we go! @Pac12 women's basketball media day on tap in downtown San Francisco! #ncaa pic.twitter.com/UOmAE0OhJe

— Hoopfeed.com ? (@hoopfeed) October 10, 2018
Pac-12 Commissioner Larry Scott opens media day. Hopes fans respond well to @Pac12 tournament moving from Seattle to MGM Grand Arena in Vegas: "We expect a big local market & effort from Las Vegas" and cites synergy with @LVAces owners, MGM. #ncaaw pic.twitter.com/pipI3qbKf1

— Hoopfeed.com ? (@hoopfeed) October 10, 2018
At @Pac12 media day, @UtahWBB senior Megan Huff on some of the key things she did in the offseason to improve her game, take note younger players: "Sleeping more, eating right, making sure I'm in the gym and recovering [properly]." #ncaaw pic.twitter.com/BSwxgJLJSF

— Hoopfeed.com ? (@hoopfeed) October 10, 2018
With three towering players that are 6-7 or taller on his squad this season, Oregon State @BeaverWBB coach Scott Rueck joked at @Pac12 media day that he is the "shortest coach with the tallest team." ? Rueck said he is "five four point five." #ncaaw pic.twitter.com/TCenbGfu2G

— Hoopfeed.com ? (@hoopfeed) October 10, 2018
.@ArizonaWBB coach @AdiaBarnes on the @Pac12 coaches' preseason poll and being ranked 10th: "I don't mind where we're picked at the beginning, it matters where you end….being the underdog is fine, I think it's more fun that way." Says her team is "hungry" this year. #ncaaw pic.twitter.com/5uBR5nkEId

— Hoopfeed.com ? (@hoopfeed) October 10, 2018
.@UW_WBB grad student player Jenna Moser, started out as a practice player, earned a scholarship & last season was the only team member to start all 30 games. Amazing story of will, determination & perseverance…expecting big things from her this season in the @pac12! #ncaaw pic.twitter.com/czL6FEzm4E

— Hoopfeed.com ? (@hoopfeed) October 10, 2018
.@SunDevilWBB coach @ASUCoachCharli gets the media laughing with her tradition of telling a hilarious joke in her opening comments. Excellent delivery and lots of laughter! The jokes has a good learning point. #ncaaw pic.twitter.com/3fTHHgWKbj

— Hoopfeed.com ? (@hoopfeed) October 10, 2018
At @Pac12 media day, @SunDevilWBB players Reili Richardson and Kianna Ibis wearing the team's version of the Harden Vol. 2 kicks. The pic doesn't do the shoes justice, the colors are look amazing in person, very nice colorway. #ncaaw pic.twitter.com/iWu5R9yDj6

— Hoopfeed.com ? (@hoopfeed) October 10, 2018
???@StanfordWBB head coach Tara VanDerveer hit the putting green in the #Pac12WBB Media Day game room and told us about the time @TigerWoods asked her if he was allowed to putt on their wood floor during his @GoStanford days (it was raining). pic.twitter.com/UqkzuzfQJ7

— Pac-12 Network (@Pac12Network) October 10, 2018
.@StanfordWBB coach Tara VanDerveer loves to water ski, something she did each morning this summer at 6am. ? @Kevo408 Danna asked her how she picked up the sport, her reply: "You know I'm a nut" ???We weren't expecting that reply. #ncaaw pic.twitter.com/ezvu6qp8vm

— Hoopfeed.com ? (@hoopfeed) October 10, 2018
.@USCWBB coach Mark Trakh on just missing the NCAA tourney last season: "We think we were one of the top 64 teams, but we're not motivated by saying we got cheated, we're motivated by saying, we're not going to give them an option next year." #ncaaw

— Hoopfeed.com ? (@hoopfeed) October 10, 2018
@OregonWBB's Sabrina Ionescu & Ruthy Hebard add recent USA Basketball experience to their arsenal. Ionescu on her stint in the World Cup team pool: "It was an eye-opening experience. The intensity was a lot different, & they really helped me get better in a lot of ways." #ncaaw pic.twitter.com/dZu2p3CrPD

— Hoopfeed.com ? (@hoopfeed) October 10, 2018
— UCLA W. Basketball (@UCLAWBB) October 10, 2018
@WSUWomensHoops's Chanelle Molina on playing with her sisters Cherilyn and Celena: "We're competitive so I'll get on them when they're not doing their jobs. I took them under my wing and it's been a lot of fun." #Pac12WBB

— Pac-12 Conference (@pac12) October 10, 2018
Fun day today with @Pac12Network Now it's time to get back to work! @arob032 & @ken_leonard_14 represented @CUBuffsWBB well today! #EarnedNotGiven #SKO pic.twitter.com/x4e7OZsQDT

— CoachJRPayne (@CoachJRPayne) October 10, 2018
Really dig the vibe from @CalWBBall & @CalCoachG at #Pac12WBB media. Coach G nailed it. "Our 1st game is 11/6. Go vote & then come watch us play!" #BackThePac pic.twitter.com/mv9yfeDZ31

— Cindy Brunson (@CindyBrunsonAZ) October 10, 2018
.@CalWBBall's @CalCoachG got married recently, the ceremony included her players, she said "it was beyond my wildest dreams, having the team there….it was just unbelievably special." Kristine Anigwe said she gasped when she saw coach in her wedding dress. #passthekleenex #ncaaw pic.twitter.com/ECBEyhYBad

— Hoopfeed.com ? (@hoopfeed) October 10, 2018
@CalWBBall Head Coach Lindsay Gottlieb on the day-to-day grind: "It's about doing the little things. I don't worry about our team's ability in big game situations, but I wanted them to know that it's the day-to-day grind that separates good teams." #Pac12WBB

— Pac-12 Conference (@pac12) October 10, 2018
And that's a wrap! Thank you for a great day at the office @Pac12Network ??????? #Pac12wbb #GoUtes #Elevate pic.twitter.com/XdJ1Y9dXaZ

— Utah Women's Basketball (@UTAHWBB) October 10, 2018