UPDATE: Bay Area game cancellations due to dangerous air quality caused by Camp Fire disaster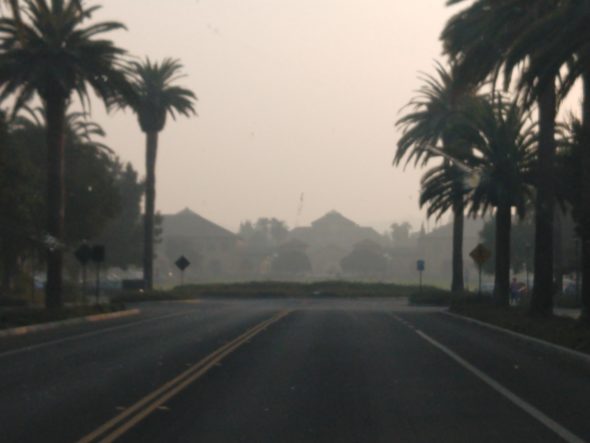 UPDATE 11-16-18:
The Ohio State game at Stanford has been canceled. Thursday night, the air quality in the Bay Area worsened and went from very unhealthy to hazardous.
Statement from Ohio State:
Ohio State's game at Stanford on Sunday, Nov. 18 has been cancelled due to poor air quality in Northern California. The two teams will work on a rescheduled date next season.

Ohio State's game with Sacramento State, which had been scheduled for Nov. 16 and was postponed, has also been cancelled. The teams will work on rescheduling that game next season as well.
---
Announcement from Ohio State:
Due to the unhealthy air quality index in the Sacramento, Calif., area, Ohio State has postponed its women's basketball game against Sacramento State on Friday, Nov. 16.

"With the current state of the air quality in and around the Sacramento area and in consultation with our medical staff, we determined that it was in the best interest of our student-athletes health and wellness to postpone the game," said Carey Fagan, Associate AD Sport Administration & Student-Athlete Development. "We have a responsibility to our student-athletes and parents to ensure maximum safety. We will continue to monitor the air quality and safety concerns associated with the wild fires in California over the next several days and determine if it is suitable for our team to travel to Stanford for the game on Sunday."

Sacramento State's campus has been closed for the past three days due to unhealthy air quality levels. The two universities are working together on potential dates to reschedule the game.
Camp Fire (named after Camp Creek Road, the location where the conflagration started) is the deadliest wildfire in California history. The disaster has claimed 56 lives with over 130 people missing. Smoke and ash from the fire are visible all over Northern California including the Bay area.
San Jose State and San Francisco State canceled classes Thursday due to the extremely poor air quality, a dangerous health hazard for people with respiratory issues and heart disease. It is also a threat to the health of children and the elderly. People are encouraged to wear N95, N100, or P100 respirator masks outdoors.
In addition, the air quality in the San Francisco area took a turn for the worse Thursday according to the San Francisco Chronicle.
You can donate money to help the victims of Camp Fire via the California Community Foundation's Wildfire Relief Fund. [Donate]