Mississippi State surges past Lamar in second half for 104-53 win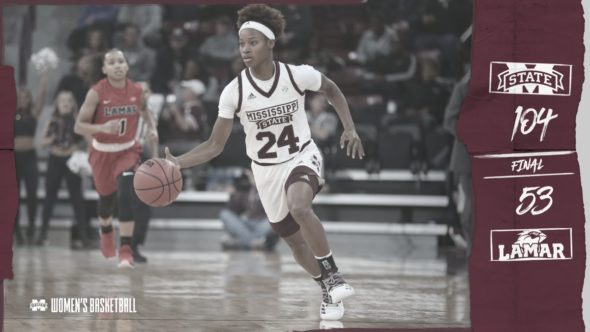 Image: Mississippi State Athletics.
STARKVILLE – Mississippi State hosted 2018 Southland Conference Champions Lamar University Cardinals Thursday night and earned a 104-53 victory. The Bulldogs had a wonky opening, beginning with back-to-back turnovers and three-straight empty possessions. The first field goal of the game came from MSU senior center Teaira McCowan at 6:32 left in the first quarter.
McCowan expanded her role as Anriel Howard served as a defensive decoy but the Bulldogs weren't as productive under Lamar's defensive schemes. Mississippi State had a 35-28 lead into halftime. McCowan continued her dominance after the break until contact in the paint penalized her with her fourth foul. MSU's 6-7 safety net sat with 5:06 remaining in the third quarter. She finished with 11 points and 16 rebounds, her ninth-straight double-double. In time of need, Schaefer's answers of team identity quickly came to light.
McCowan's absence served as a blessing in disguise. The Bulldogs were able to showcase their young talent and tenacity without McCowan. With the win, MSU improved to 3-0 after a dominating second half effort.
"Certainly wasn't a good first half but man, it was a special second half." Schaefer said.
Rhythm rolled for Mississippi State as they silenced Lamar with two double-digit runs. Shooting efficiency skyrocketed for the Bulldogs in the third quarter. Nine first half trips to the free throw line nearly doubled to 17 in the third quarter. Aggressive drives to the ball continued to take them to the free throw line. The 30 percent shooting turned into 70 percent.
The 12 turnovers were trimmed to just eight in the second half. Mississippi State transitioned from a frontcourt-heavy offense to an attacking perimeter. Shot selections improved and driving offense helped bring to them line.
Productive depth came in handy. The young guard depth had a successful night with all six guards adding in 48 points. Chloe Bibby's timely second-half threes created momentum while sitting in the four position. She one of the five Bulldogs to finish in double digits with 11 points and six rebounds.
Howard shined in the second half taking over for McCowan's absence. Her veteran IQ and two-way play created hardships for the Cardinals. She attacked the basket, drew fouls and defended the glass. She also finished with a double-double consisting of a team-high 24 points and 13 rebounds.
"The second half, we all did much better as a team,"Howard said about McCowan's absence. "Individually, I was looking to attack a little bit more. I had to help out a little bit more."
Freshman center Jessika Carter stayed true to the five spot and took over in McCowan's spots. Carter shined in the win. While Howard stayed at the four position and showcased her versatility, Carter took charge in place of McCowan in the front court. Carter's ability to take turnovers and kicking the ball out for points in transition gave the Bulldogs their momentum in the big quarter. She finished with ten points, eight rebounds and four blocks in 18 minutes. Schaefer said he's excited to watch the young freshman as she still has time to bloom.
"I thought she was special," Schaefer lauded about Carter. "Good thing for her is she's got some veterans at four and give that you learn from right now. What I'm excited about is that Jess can be the same disruptive defensive player."
Chastadie Barrs led Lamar with 16 points plus four rebounds. No other Cardinals players scored in double figures. They return home to host LeTourneau on Nov. 20.
Mississippi State hosts the Coppin State Eagles Sunday afternoon at 2 p.m. They will raise their 2018 National Finalist banner during the game.