Minnesota continues early season success, tops San Diego to move to 3-0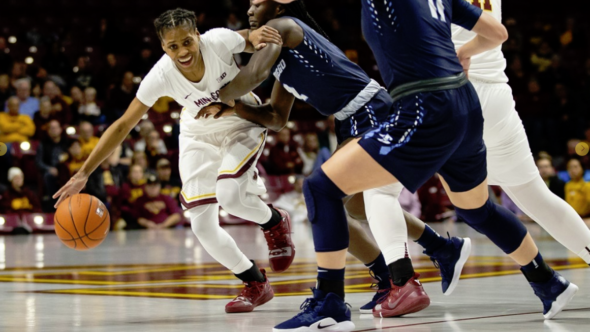 MINNEAPOLIS – Minnesota (3-0) continued its early season success as the Gophers topped San Diego (1-2) 53-48 Saturday night at Williams Arena. However, it was not easy going for the home team.
The Toreros night took a seven-point lead, the their largest of the game into the deciding fourth quarter against Minnesota but couldn't hold off their hosts' physicality
Both teams shot like they just got off the plane with jetlag:  Minnesota (.327 FG/.588 FT) and the Toreros (.333 FG/.417 FT).
"It thought it was a great game," San Diego Coach Cindy Fisher said afterwards in an upbeat mood.
Her team didn't score until nearly three or four minutes elapsed in each quarter but was only down 10-9 after one quarter. Sophomore guard Myah Pace's fast break layup at 6:51 of the second quarter gave the Toreros their first lead of the night at 15-13, and an 8-4 run took them into intermission with a 21-17 lead. San Diego outscored the Gophers 15-12 in the third quarter, led by junior reserve center Leticia Soares.
But Minnesota finally flipped the game back in their favor in the fourth quarter, thanks to junior forward Taiye Bello, and guards Kenisha Bell and Jasmine Brunson. Bello's putback at 9:26 sparked a decisive 14-1 run. Brunson scored five of her seven points, including a three-point play in that run and Bello later had a second putback go through the net to give Minnesota a 39-38 lead – its first lead since the opening period with 6:12 left.
Brunson (3-for-6) and Bell (2-for-2) finally finished off the Toreros with successful trips to the free throw line down the stretch. She finished with eight points, five in the fourth quarter.
Sydney Shepard led San Diego with 14 points and Soares added 12. Patricia Brossmann had seven points, nine points under her team-leading 16.5 ppg average. Madison Pollack scored seven points.
"I'm really proud how we competed," Fisher said of her team, which held Minnesota to its lowest scoring output of the young season – the Gophers scored 70 and 78 points respectively in its first two wins, and also was partly successful in keeping U-M's two top scorers in check.
"We try to keep the ball out of No. 23 (Bell) and No. 5 (Destiny Pitts) hands," the coach explained. The sophomore Pitts finished with five points (on 2-for-7 shooting) for the Gophers but Bell, despite a 6-for-23 shooting night, led all scorers with 21 points.
"Kenisha is so amazing off the dribble.  She is very good," Fisher said of the 5-9 senior speedster.
The Toreros couldn't keep Bello off the glass, something Fisher warned her squad all game to do, and stressed even more during timeouts.  Bello had 18 rebounds and 13 points – her third double-double in as many tries this season.
"There are players who have a knack for the ball.  She is one of them," the 14th-year San Diego coach said of Bello.  "Rebounding is all effort and heart.  Her first step and spins (to the basket) is quick, and she can get to the rim.  It's that effort.  She hurt us on the boards."
"I think rebounding is very important.  It's fun and real important part of the game," Bello said matter-of-factly when asked about that aspect of her game.
"We are a young team. I thought our kids competed really well," Fisher surmised.
Minnesota Coach Lindsay Whalen said afterwards the contest serves as one of those "watch and learn from" games for her players as they move forward.   She liked the way her Gophers "willed" their way to victory.  "We grind it out in the fourth quarter," she concluded.
Notes
San Diego is 1-2 all-time against Minnesota.
The Gophers are now 7-0 in games where Taiye Bello posts a double-double. Minnesota hosts Arkansas-Pine Bluff on Tuesday.
San Diego hosts California, Tulane and Cleveland State Friday and Saturday in their own Thanksgiving Tournament