Led by Teaira McCowan, Mississippi State opens season with a victory over Southeast Missouri, 88-53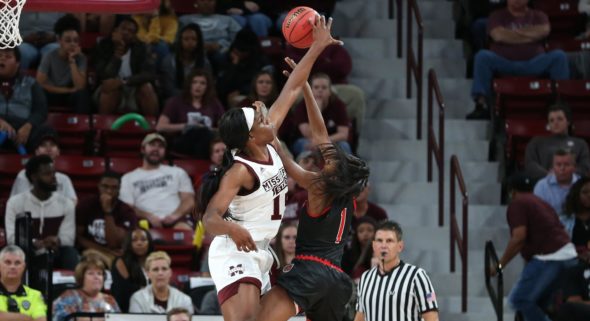 STARKVILLE – Before the onset of the regular season, Mississippi State head coach Vic Schaefer stressed that players needed to find their individual identities to help build a solid team product. Some of those identities emerged during the team's 88-53 season-opening win Tuesday night against the Southeast Missouri State Redhawks.
"I'm pleased," Schaefer said. "When you say roles, I think we're still trying to see what their roles are. Even our starters are trying to figure out 'How am I going to play and fulfill my role?' We're a working progress on both ends on the ball right now."
The Redhawks found weak spots early, attacking the Bulldog's young perimeter. Lackluster shooting allowed Southeast Missouri to stay in range. The Bulldog's 20 in-the-paint points kept them steady but fouls, turnovers and low efficiency were culprits that blocked Mississippi State momentum.
Strong defensive stops still rang true to Mississippi State's identity. The home team held Southeast Missouri State to 27 percent shooting in the first half. Notable defensive efforts from senior guard Jordan Danberry helped provide stops as Mississippi State led 19-12 after the first quarter.
Though senior center Teaira McCowan had problems at the free throw line, she still dominated in her defensive role. She secured her first double-double of the season in the second quarter. The Bulldogs found 13 points from turnovers and 10 on the fast break. The stop-and-go momentum did not stymy the Bulldogs as they earned a 45-25 halftime lead.
More role players emerged as players found their sweet spots in the second half. Danberry played to her strengths, flexing with a short-range jumper while giving the Bulldogs an edgy defense. Chloe Bibby, a dynamic sophomore forward found hers beyond the arc.  She converted three of seven three pointer attempts.
Redshirt freshman guard Myah Taylor and senior guard Jazzmun Holmes dished out 11 of the team's assists, giving the Bulldogs a spark on fastbreaks. They combined for just three turnovers while bringing down the ball.
"The past few years have prepared me for this moment," Holmes said. "I've prepared for it every day. Me and Myah are competing for that spot, and that's just what it is."
In their season debuts, sophomore guard Bre'Amber Scott, freshmen guard Xaria Wiggins and center Jessika Carter added a total of 15 points.
In 28 minutes, McCowan momentum didn't waver. Her efficiency continued to change the game for the team while working the post. Her contributions led her to a team-high 24 points plus 17 rebounds, and just shy of a triple double with seven blocks.
The Bulldogs showed their dominance in different areas, but patience is a virtue for a complete Mississippi State product. Schaefer sees the depth as a luxury but also as a possible disadvantage, if not balanced well. He looks to build offensive efficiency throughout the roster.
"It's always a bonus," Schaefer said. "Our depth is young but it's got to play. Those kids have got to play. It's nice to have depth but I need my depth to play well. When you substitute, sometimes it falls off. The key is continuity through substitutions and it's hard to do that."
Next, Mississippi State face a big challenge on the road. The team travels to Charlottesville, Virginia for a November 8 against the Virginia Cavaliers. The game will be aired on ACC Extra.