Mississippi State displays depth in 97-56 exhibition win over DII Central Missouri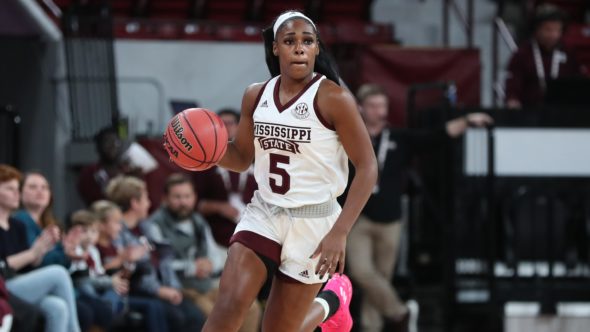 STARKVILLE – The Mississippi State Bulldogs won their annual exhibition game, a 97-56 victory against reigning the DII national champions, the Central Missouri Jennies.
"I think this was really good for us," said head coach Vic Schaefer said. "I thought [Central Missouri] played really hard and teams will have a tough time against the DII defending national champions. Their coach has done a tremendous job. Those kids came in and executed."
Redshirt junior Zion Campbell started at center in place of senior Teaira McCowan Turnovers stopped momentum for the Bulldogs. Central Missouri found pacing in the first ten minutes, as Jennie guard Paige Redmond led all scorers with five points. Her team led the Bulldogs 17-13 at the end of the first quarter. Mississippi State wasn't able to finish at the rim going 2-of-6 at the free throw line. Rhythm didn't start flowing until the second quarter for the Bulldogs.
"I was really disappointed in our inability to defend in the first quarter," Schaefer said. "As the game went on, we did some good things and I was glad to see us get out in transition."
MSU knocked the rust off with a fast-pace play from Myah Taylor and Anriel Howard helped hold Central Missouri. Jessika Carter's jumper gave Mississippi State their first lead at 25-23 with 3:27 left in the second quarter. Strong defensive efforts from Xaria Wiggins, Howard and Carter led to consistent opportunities on the offense.
The Bulldogs' momentum continued into the third quarter. The team's fast-paced tempo lifted their efficiency for a 31-point quarter. Two double-digit runs helped the Bulldogs extend their lead to 66-45 at the end of the third quarter. Mississippi State's dominance over Central Missouri continued in their final quarter, as the Bulldogs poured in another 31 points.
"We played a lot of kids with a lot minutes," Schafer said on his team's depth. "We played everything double figured minutes. I played 12 kids no less than 14 minutes. Everybody got their feet wet and it was a chance to get comfortable."
Howard earned a team-high double-double of 23 points and 11 rebounds. McCowan, though she only played just one half, contributed 16 points and six rebounds. Six Bulldogs scored in double digits to lift the team. The Howard-McCowan backcourt duo found 70 points in the paint.
"I feel that this team has forced me to be more comfortable offensively and helping me expose my versatility more than just rebounding." Howard said on her two-way success.
Mississippi State kicks off their season November 6 against Southeastern Missouri State. The game will air on the SEC Network+ at 7 p.m. CT.