Cal triumphs in overtime thriller at Saint Mary's, 81-78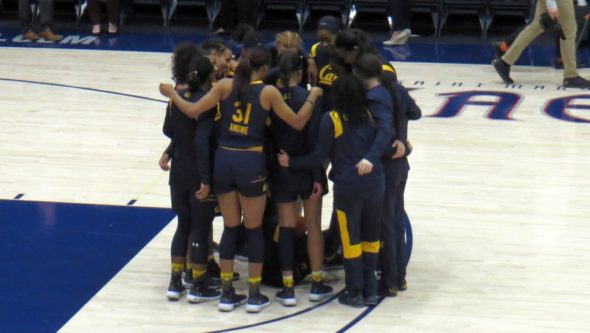 MORAGA, Calif. – California (8-0) remains undefeated after surviving an overtime thriller at Saint Mary's ( (5-3) Saturday afternoon, 81-78. Ranked at No. 14 in the STI/Hoopfeed poll and No. 13 in the Associated Press poll, it took the Bears an extra period to put away a talented Gaels squad.
1st Quarter – Saint Mary's 25, Cal 22
Cal senior center Kristine Anigwe won the tip, but sophomore guard Kianna Smith missed a three-point jumper and Saint Mary's earned the defensive rebound.
Saint Mary's senior forward Megan McKay began the scoring with a layup. Later, after her team made a run, she sent the Gaels into double digits with a layup at 5:29 for a 10-5 lead.
The Gaels lead by as much as eight three times in the quarter.
Cal got within one point with a minute to go in the period but a three-point jumper from SMC freshman guard Taycee Wedin widened the gap again.
The quarter ended after a made free throw from Anigwe.
Both Saint Mary's and Cal shot 50 percent from beyond the arc in the first ten minutes.
McKay led all scorers with eight points.
2nd Quarter – Saint Mary's 41, Cal 41
Cal outscored Saint Mary's 9-4 in the first 4.5 minutes of the second quarter to tie the game and then take a two-point lead at 5:29.
Cal senior guard Asha Thomas made two free throws at 5:29 to give her team the slight edge.
There were four ties in the second quarter. Anigwe's layup with four seconds left in the period led to the last tie as the teams went into halftime tied at 41 all.
Three players finished the half in double figures. For Saint Mary's sophomore guard Emily Codding had 11 points. For Cal, Anigwe and graduate transfer guard Receé Caldwell had 10 points each.
3rd Quarter – Saint Mary's 62, Cal 55
Saint Mary's raced out of the half on a 17-2 run to earn its biggest lead of the game.
The run by the Gaels began with the home team scoring 13 straight points as Cal missed shot after shot for zero points.
Cal missed eight shots and two free throws during the Gaels' third quarter opening run. The Bears did not score until 6:37 in the period courtesy of a layup from Anigwe.
Codding surpassed her career-high points mark in the third quarter.
Cal began to retaliate late in the third quarter to close the gap and go into the fourth quarter down by seven points.
Overall, Saint Mary's outscored Cal 21-14 in the third quarter. Codding added 10 points to SMC's third period total.
4th Quarter – Cal 73, Saint Mary's 73
Asha Thomas began Cal's comeback effort with a drive to the basket at 9:45.
After a 7-2 run, Cal only trailed by two points. Saint Mary's attempted to pull away but a balanced scoring effort from the Bears led to them getting within one point with 56 seconds left in the period.
Wedin had a chance to put the game out of reach for Cal with 10.5 seconds left when she went to the free throw line to shoot two. However, she missed both and her team only had a 73-71 lead with plenty of time for Cal to make a comeback in the last ten seconds.
Cal outscored Saint Mary's 18-11 in the fourth quarter to tie the game up at the end of regulation.
The shot that sent the game into overtime was a layup from Kristine Anigwe with two seconds left that came after a Cal timeout. Thomas flawlessly directed her team in a play that left Anigwe open under the basket.
After Anigwe's shot, Saint Mary's called a timeout and came out of it giving senior forward Sydney Raggio an opportunity to shoot a trey. She missed, and the game went into overtime.
Overtime – Cal 8, Saint Mary's 5
Cal's Smith made a trey to put Cal up, 76-73, at the outset. In contrast, Smith was scoreless in the second half.
Saint Mary's responded to Smith with a layup but Smith was right back in the mix with a jumper to counter.
The overtime period came down to free throws as Saint Mary's missed key free shots while Cal mades most of theirs
The Bears never trailed in OT.
Top Performers:
Cal: Kristine Anigwe led Cal with 24 points, 12 rebounds, three assists, and three blocked shots, her eighth double-double of the season. Graduate transfer Receé Caldwell had a season-high of 20 points plus four assists. CJ West came off the bench for 12 points and a career-high 15 rebounds. It was also the first double-double in her college career. Smith had 12 points plus four assists and three rebounds. Thomas added 11 points plus a season-best eight rebounds
Saint Mary's: Emily Codding led the Saint Mary's offense with a career-high 26 points on 9-12 shooting while forward Sydney Raggio added 13 points and 17 rebounds in the loss.
Notes
The contest was Cal's first overtime game since Jan. 1, 2017 against ASU
Saturday's win marks Cal's largest come-from-behind victory since January 25, 2013, when the Bears erased a 16-point deficit to defeat Colorado, 59-56. Cal went on to reach the Final Four that season.
Up Next
Saint Mary's heads to UC Davis on Monday, December 17 for a 6 p.m. PT matchup.
Cal hosts UC Santa Barbara Sunday, December 16 at 2 p.m. PT.
Stats