Gearing up for tough competition, Mississippi State survives talented Marquette 87-82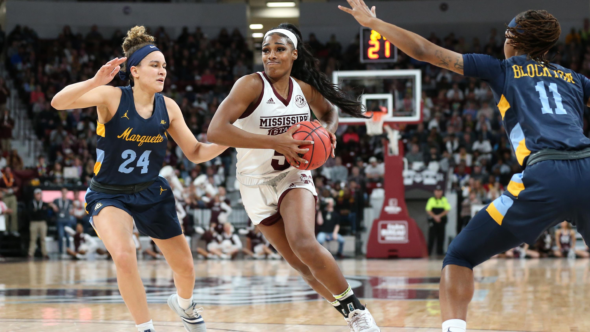 STARKVILLE – No. 18 Marquette visited No. 6 Mississippi State for a ranked out-of-conference matchup  87-82 on Thursday in front of 7,273 fans at Humphrey Coliseum. Marquette (6-2) head coach Carolyn Kieger made sure her team came prepared. The Golden Eagles played in a loud practice all week to imitate Mississippi State's nationally praised, ear-blistering home court atmosphere a second thought.
.@ckieger reacts following a hard fought game against No. 6 @HailStateWBK in a tough environment in Starkville. #WeAreMarquette pic.twitter.com/EvfBLjYIqN

— Marquette WBB (@MarquetteWBB) December 7, 2018
Their biggest problem, however, was crossing out Mississippi State's (9-0) and one of the nation's best frontcourt duos. Senior center Teaira McCowan and graduate student forward Anriel Howard earned double-doubles as they survived a nail-biting win over Marquette.
"Just proud we were able to find a way at the end," Mississippi State head coach Vic Schaefer said. "To get enough plays at the end, get enough rebounds at the end, get enough stops at the end. They are really good. That is a very, very talented and well coached Marquette team. The bad news is we have to go up there next year."
Marquette played Mississippi State into their own game. They set themselves into a quick transition game while McCowan was still set up in the paint. As Marquette clogged the perimeter and subtracted McCowan out, Howard was able to show her mobility to create scoring opportunities. She left the first quarter with ten points. McCowan was still effective with seven points. Marquette shot 71 percent from the floor in the first quarter.
Marquette played to Mississippi State's standard of high pace energy and aggressive defense. Foul trouble put Marquette in jeopardy of their 9-0 run, accompanied with 3:36 without a field goal. Marquette did just enough to lead Mississippi State 23-22 at the end of the first quarter.
Mississippi State left the first half on a 12-2 run as Howard led with 17 points and eight rebounds. Marquette senior guards Natisha Hiedeman and Allazia Blockton had ten points each at the half. Mississippi State had a small 42-38 lead over Marquette heading into halftime.
The Golden Eagles began the second half on a 7-0 as they were able to find guards senior Danielle King and Heideman before Mississippi State completed a 7-0 run on their own. Marquette made more adjustments over McCowan and Howard to edge Mississippi State in the third quarter, outscoring them 24-21 in the period.
Momentum seesawed, but solid performances from the monster duo kept Marquette at bay. McCowan finished a perfect 6-of-6 at the free throw line. Other Bulldogs came in clutch down the stretch. Sophomore guard Bre'Amber Scott relieved some pressure from the Bulldogs as she came up with a three late in the fourth quarter and guarded Marquette's Blockton.
Senior guard Jordan Danberry added 13 points while fellow senior guard Jazzmun Holmes dished out a career-high tie of 13 assists. Marquette played until the end as sophomore forward Chloe Bibby blocked the potential game-tying shot from Heideman.
Mississippi State found 54 points in the paint. Howard finished with the team-high 29 points and 12 rebounds with McCowan not far behind with 24 points and 18 rebounds.
"I know that my shooting hasn't been the best the past couple games," Howard said. "So the coaches and I got in the gym today, and we had to work on some things that I wasn't executing previously. I just have to keep getting better."
Keiger said versatile Howard created an unexpected matchup for each team. The in-depth scouting report left out Howard's three-point weapon and attacking the basket.
"Everything she said we were countering, so that's a sign of a great player and an All-American." Keiger said.
Schaefer said he sees the game as exposure to how Marquette's 21 in-the-paint points are definite clean ups for Mississippi State while the team is still finding solid identity. The persistence of Mississippi State continues to get better as the Howard-McCowan frontcourt duo has become an asset.
"I have been trying to tell you, we are a long way from being a finished team and a finished product. I think tonight we had some rough edges that were exposed. That gives us something to work on and improve on."
In their failed upset bit, Marquette dropped to 6-2. Four Golden Eagles scored double-digit figures while King finished with a team high 27 points and four assists. Senior guard Amani Wilborn collected ten points and ten rebounds to notch a double-double.
"I couldn't be prouder of the effort we gave tonight," Keiger said. "We talked in the locker room that this has got to be a springboard for us. We gotta understand that we can play with anybody in the country when we put our mind to it."
Tough Opponents Up Next
Marquette will travel to Northwestern Sunday at 1 p.m. C.T before the conference play. Mississippi State will return to the hard floor Friday, Dec. 14 to battle against in-state foe Southern Miss in Hattiesburg before beginning a two-game road stretch against Pac-12 teams. The Bulldogs face No. 3 Oregon on Dec. 18 and head to Seattle to play Washington on Dec. 20. The Oregon game will be televised on ESPN2. The Washington game will be a free live stream on Pac-12.com.