Minnesota heads into Big Ten play with the best start in 15 years; Whalen confident about team's offensive efficiency
Undefeated Minnesota heads into Big Ten play with the best start in 15 years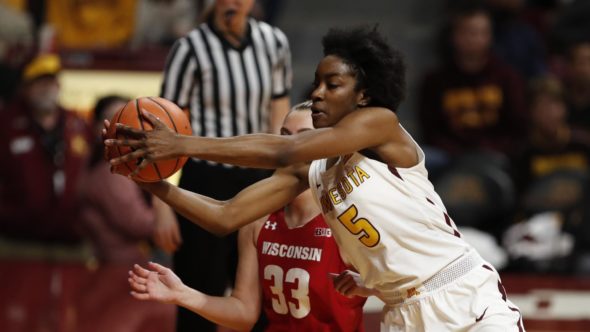 MINNEAPOLIS — Minnesota's 11-0 start to the 2018-19 season is the best since 2003-04 (15-0) and 200203 (12-0).  As one of nine teams in the country still undefeated, the Gophers' real test now comes when Big Ten play begins with hosting Wisconsin Dec. 28 (8 p.m. local time).
Minnesota was picked in the media preseason poll to finish behind Maryland and Iowa as third in the Big Ten.
"It will be fun.  I am excited," head coach Lindsay Whalen said of the Big Ten campaign.  "It's great to have a nice non-conference record. Now it really starts in the Big Ten."
Thus far, Minnesota has been tested only twice during non-league action, games in which they imposed their will and wore down opponents: a 13-0 fourth-quarter rally in the game's last three minutes knocked off then No. 12 Syracuse 72-68 on Nov. 29, and a 77-69 road win at Boston College on Dec. 9.
"When you have leadership and you play defense, and some good offense, we will give ourselves a chance," Whalen continues.  The first-year coach also likes her team's way of accepting challenges. "We have responded," she noted. "They really enjoy being around each other.  They are a close team, and this is fun. From 1 to 12, we are selfless and play the game the right way."
At the outset, along with the coaching change, an air of freedom and renewal swirled around the Gopher program. Last season the team mainly tried to outscore its opponents, but defense this season is emphasized more. Minnesota is second in the Big Ten and 10th in the nation in scoring defense (allowing 51.3 ppg a game) – last season the Gophers allowed nearly 75 points a contest and finished 335th in the country.
The players this season are playing more freely, not fearing mistakes will banish them to the bench.  "We got a good coaching staff behind us to keep us positive," senior guard Kenisha Bell said.  "They see the strengths and weaknesses that we have.   The coaching staff has been a good impact on our team."
Juniors Taiye Bello and Jasmine Brunson are two examples – both have started every game so far, posting career highs in almost every category this season.
The 6-2 Bello might be the Big Ten's most improved rebounder, almost seven more caroms than last season; a +6.9 difference that leads the conference.  She is the only player in the country to have four games with at least 18 rebounds, and have recorded six double-doubles this season.
"She's been a double-double more often than not," Whalen said of Bello.  "Her rebounding and her play is one of the reasons we won the Syracuse game, and at Boston College (she) made some big plays."
Bello is third in the country in total rebounds and offensive rebounds per game, and fourth in total rebounds; 21st nationally in defensive rebounds per game and 25th in double-doubles.
Brunson, a 5-8 guard from Queens, NY had just 15 starts in her first two years but this year as a full-time starter leads the team with a 2.00 assist-to-turnover ratio.
"She (Whalen) told me that I would have a bigger role on this team.  It's Lindsay Whalen, one of the best guards I ever seen in my life and for now to have her as a coach, and for her to have so much confidence in me, you have no choice but to play hard," Brunson reported.
"We are more confident" from last year, Bell reaffirmed.  "I think we got a lot of confidence right now."
As for the 5-9 Bell from Minneapolis, she finally has been fully recognized as the face of the program.  "Kee being from here and people from here like their Minnesotans but I think that no matter what, people from Minnesota gravitate toward people who play the game the right way," her coach stressed.
Nonetheless some lingering questions still need answers:  Such as a reliable third scorer.  A trusting bench? Can Bello maintain her board work against stronger conference players?  Can Brunson handle pressure from the Big Ten stronger guards?  Can Bell knock down with consistency her mid-range jumper to complement her well-known explosiveness and make her a hard-to-stop double threat?
And can Whalen effectively match her inaugural coaching mettle against the conference's more seasoned veterans on the sidelines?
"I think our offensive efficiency is going to be big for us," Whalen pointed out. "We got to be able to keep people from what they want to do.  But we really have to score the ball at a high rate. We need to keep working at both ends of the ball."
The Gophers' conference opener, the first half of the annual Minnesota-Wisconsin Border Battle will be the pudding test.
"Having a group that played in the Big Ten and made a really nice run last year is big for us," Whalen concluded.  "I've been through the rigors (as a player) and I know the ups and downs.  We got to understand that it is a long season, and the Big Ten is tough.  Every night there's a team that is coming to beat you.  We got to make sure to stay focused and locked into the game plan, and be ready every night."