Mississippi State and Texas prepare for top ten matchup during SEC/Big 12 Challenge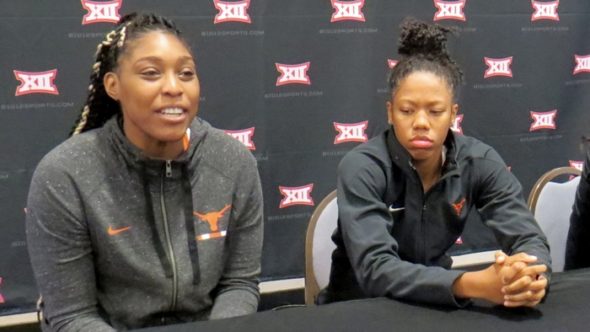 December usually marks yearly reflection but in collegiate basketball, it's a time for evolution as conference play inches closer. The first Sunday of the month marks the first top ten matchup for both the No. 6 Mississippi State Bulldogs and the No. 10 Texas Longhorns at the Frank Erwin Center.
This will be the fifth meeting between the teams. Mississippi State won the last battle in Humphrey Coliseum, November 20, 2016, a 79-68 victory on a Sunday afternoon. Mississippi State enters with a 43-game nonconference winning streak that, ironically, began after a loss to the Longhorns December 2, 2015.
MSU is a program familiar with the Lone Star state in various ways. Schaefer left Texas A&M under Gary Blair for his first head coaching position at MSU in 2012. Center Teaira McCowan, a fantastic out-of-state grab for Schaefer, grew up nearly 40 miles away in Brenham, Texas.
Graduate transfer Anriel Howard played her undergrad career at Texas A&M. She also faces former teammate and close friend Danni Williams.
"She's like a sister to me but I'm really excited to play against her," Howard said of the Texas guard who is also a graduate student. "It'll be fun and ready to compete against her. I think this will show whatever we need to work and what we're ready for. We'll see how these practices go and how we'll come out."
McCowan and Howard team up for a dominant front court. The duo combines for a third of the team's total points and 40 percent of rebounds collected this season.
Sophomore guard Chloe Bibby, who has started in all seven games, has became a solid piece of the perimeter. She notched her career high against Furman with 21 points, finishing 5-of-6 from three-point range. Against Little Rock, Bibby had another excellent good beyond the arc going 3-of-5 for 15 overall points accompanied with eight rebounds.
"When you've got 15 [rebounds from McCowan], nine [from Howard], and Chloe had eight," 32 rebounds through 3 three players, that's pretty good," Schaefer said on the Little Rock matchup. "We've got kids who can step up and score the ball and do it in many different ways."
Their consistency will be important against Texas. After a 14-13 first quarter start against Little Rock then a 30-point quarter, cohesiveness is a necessity as Mississippi State prepares for their first top ten test.
"They'll be at home in front of their crowd Sunday afternoon at one. I'm hoping everyone goes to 12 o'clock service and doesn't make it 'til halftime," Schaefer joked about the game that starts at 1 p.m. CT.
Texas head coach Karen Aston and the Longhorns look to tip the scale and lead the matchup with Mississippi as they test their team after the hardships. They lost some depth at the perimeter as they continue the season without senior guard Lashann Higgs, who tore her ACL during Texas' matchup in the Gulf Coast Showcase against Quinnipiac.
In seven games, Higgs conjured up an impactful 13 points and five rebounds. Playing without Higgs will require a shift in on-court roles as Mississippi State visits on full throttle with a healthy, active roster. The matchup will be a gut-check scenario for the Longhorns, as Schaefer and the Bulldogs face the Higgins-less team.
"We've already begun the healing process of losing Lashann," Aston said. "We were forced to deal with it pretty quickly in Florida. Other players will step up. That's what they came here to and we will attack this with a team approach."
Even as roles shift, the remaining active Longhorns must find their rhythm early on in the season. Texas will rely on a streaking senior center Jatarie White, who has put up double-digits points in all seven games this season and transfer Williams fresh off her season-high 22-point game over Quinnipiac. Guard Sug Sutton enters the game with a conference-high of 6.4 assists this season.
For now, the Big 12 leads the challenge with two wins over the SEC. The matchups took place Thursday, as Kansas defeated LSU 68-61 and TCU defeated Ole Miss 55-50. Seven other remaining challenges will take place Sunday. The top-ten matchup is the perfect marker of progress for Schaefer and Aston's benchmark for her progressing, shifting team.
"It isn't a final exam," Aston said. "It's a test to see where we are. We will take it and learn what our strengths and weaknesses are and it will make us better."
The game will be aired on FS1 and streamed via Fox Sports Go. The start time it set for 1 p.m. CT.