UConn comes out on top in battle against Cal in Berkeley, 76-66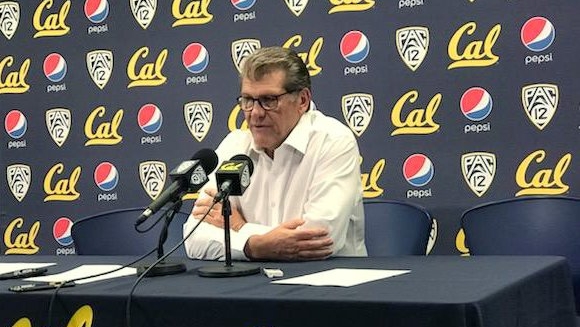 Stats || Postgame video: Geno Auriemma || Lindsay Gottlieb
BERKELEY, Calif. – A record crowd of 10,818 fans filed into Haas Pavilion and witnessed a thriller between the top-ranked UConn Huskies (11-0) and the Hoopfeed No. 13/AP No. 14 California (9-1) Saturday Afternoon that ended with the visitors earning a 76-66 victory. The Huskies handed the Bears their first loss of the season.
"I'm really proud of our team. Proud of how they handled this week of preparation. I'm proud of how they handled the media craziness, with all the questions about UConn," Cal coach Lindsay Gottlieb said postgame. "I think we made UConn have to beat us."
UConn senior guard/forward Katie Lou Samuelson demonstrated why she was voted a preseason All-American, notching a double-double, 20 points and 11 rebounds, helping keep her team undefeated.
"That kid has become a hell of a basketball player. There is not a time ever when I think she's ever going to miss a shot, UConn coach Geno Auriemma said about Samuelson's improvement over her college career.
The Bears came out with no fear, shooting 6-of-10 from beyond the arc, with senior guard Asha Thomas (22 point, five rebounds), and graduate student guard Reece Caldwell (11 points), knocking down three apiece, during the initial 10 minutes of the contest. Despite the rain of threes, the Huskies managed to lead 23-20 after one quarter.
At the halfway mark of the game, UConn doubled their advantage over the home team, 38-32, and led by as much as 10 points in the second quarter. UConn increased their advantage in the third period, outscoring Cal 23-14.
In the final stanza, the Huskies led by as much as 17 near the 6:30 mark, and appeared in total control, but the Bears, feeding off the raucous crowd, refused to go down without a fight. They trimmed the lead to six with a little over a minute left in regulation, by earning 11 points in less than six minutes. The run was also assisted by a technical foul given to Connecticut's bench.
"They're a good team," said Auriemma about Cal. "They're bigger than they look on film, they're longer than they look on film. They play hard, they compete. I thought [Kristine Anigwe] passed the ball better tonight than I've seen here pass it in a long time. That really changes their team when she's passing the ball like that."
When it came to UConn's scoring, Samuelson received help from the other four starters, as they all scored in double-digits. Senior forward Napheesa Collier finished with 16 points and six rebounds; Junior guard Crystal Dangerfield added 15 points and four assists; freshman guard Christyn Williams scored 13 points and earned four rebounds; and finally, sophomore guard/forward Megan Walker had 12 points plus five rebounds.
Cal senior center/forward, Kristine Anigwe also earned a double-double (10 points plus 14 rebounds), which also put her in elite company as she hit the 1,000 rebound career mark with her sixth carom of the game. She is just the fifth player in program history to earn at least 1,000 rebounds and only the third Bear with 2,000 points and 1,000 rebounds, male or female.
Caldwell added four rebounds and four assists to go along with her 11 points while sophomore guard Kianna Smith contributed 10 points.
Saturday's game was the second in a four-year series between Cal and UConn. The programs are set to meet again next season back on the East Coast.
Friday night, on the eve of the game, Cal's Gottlieb moderated a discussion between Auriemma and coach of the NBA's Golden State Warriors, Steve Kerr on a variety of topics.
Cal finishes non-conference play hosting Harvard on Sunday, December 30. UConn travels to Texas to take on Baylor on Thursday, January 3, 2019.
Team Comparison