Cal hosted a fun and informative chat between Geno Auriemma and Steve Kerr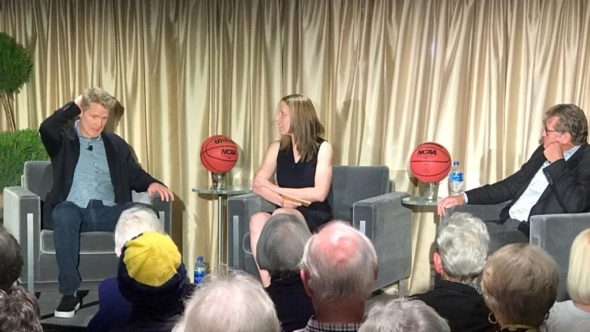 BERKELEY, Calif. – A meeting of the basketball champion minds, with a combined total of 19 titles, came together at Memorial Stadium, on the University of California campus, Friday night.
Golden State Warriors head coach Steve Kerr, an eight-time NBA champion (five as a player, three as coach) and UConn women's basketball head coach Geno Auriemma, an 11-time NCAA championship coach, sat down together on the stage at the home of the Golden Bears football.
Cal's women's basketball head coach Lindsay Gottlieb, moderated the high level chat session, while admittedly trying to emulate her idol, TV mogul and host, Oprah Winfrey.
Gottlieb hosted the event on the eve before a noontime battle with Connecticut, and threw in a few humorous jabs preceding the matchup of the two undefeated teams. She presented several scenarios and asked questions that were more than just about X's & O's.
Gottlieb had a funny exchange with Auriemma when she inquired about his strategy on a hypothetical situation on the court:
"Down by three, with 25 seconds left and the ball, are you going for three, or a quick two and the foul?"
"Two and foul," Auriemma answered.
"That's good to know for tomorrow," Gottlieb snickered.
Auriemma responded, "I have to preface that by saying: 'We're almost never in that situation.'"
Both multiple championship coaches also had non-championship years, and elaborated on the sad moments.
While Kerr and the Warriors have won the last two seasons, Auriemma's Huskies have suffered shocking upsets in the past two Final Fours.  Mississippi State upset them in 2017 and Notre Dame defeated them last year.
Geno was praised on his humility during defeat, even by Kerr, but admitted that his mood may have been different if it were five years in a row.
During the tetralogy between the Warriors and the Cleveland Cavaliers, Kerr's team has won three of the four Finals. However, the Game 7 loss in 2016 on Kyrie Irving's game/series winning three-pointer, and LeBron James' magnificent blocked shot still haunts the former sharp shooting guard.
Warriors general Manager, Bob Myers, according to Kerr, told the ball boys to give the nets from the game to the Cavaliers organization as a gesture of good will and sportsmanship.
"It's the classiest thing I've ever heard anybody do in the heat of the moment, and it made me really proud," Kerr said. "As much as we want to win — and we all should do everything we can to win — losing with some grace and dignity is really important."
Since the fundraising event was held on a historic campus known for political activism, it was apropos that Gottlieb brought up the topic of athletes and politics.
Kerr, 53, stated that the Vietnam War was a pivotal moment, and when he became aware of politics and protest. He praised the African-American athletes who put their careers on the line in the 1960s, and commented that today's players have no responsibility to do the same, but they definitely right to do so.
"Athletes are going to show up when it's needed," Kerr said.
Auriemma felt many of the athletes on his level are too young to really know what's going on, but does respect the college-aged students of the 60's.
"Today kids just want to make statements; they really don't want to put their lives on the line." Auriemma said. "To me that's two different things."
The issue of women in sports came into the dialogue, and both men felt it is still a difficult task for women to break through into men's sports.
Kerr feels it will take a leap of faith for a team to hire a woman to coach men, while Auriemma indicated he thinks it's nearly impossible for women to transition from female sports to male, due to politics.
Auriemma also sees the double-standard in college sports when UConn's women's basketball dynasty is considered the ruination of college basketball, but Alabama doesn't receive the same scrutiny for its dominance in football.
Gottlieb asked both men to give advice to each other on venturing into their own genres.
Kerr was selected to be an assistant coach on the 2020 Olympic team in Tokyo; since Geno coached in the 2012 and 2016 Olympiads, he could advise the younger coach.
He simply suggested, "Bring three of your players."
If Auriemma wanted to coach in the NBA, Kerr advises, "It's not about knowing the game.  Know the job you're taking." He also added good players and a strong organization really helps.
Both male coaches were asked by the Gottlieb, if they could coach someone in each other's world, who would it be?
Kerr selected Auriemma's former player, Diana Taurasi, while Auriemma went old school, with NBA Hall of Famer, Walt Frazier.
Overall, the estimated nearly 200 donors were entertained and informed by the basketball coaching trio, and at a reported $250 per ticket, the women's basketball team will reap the benefits of a successful chat.