Around the SEC: How the 14 teams are looking as the conference slate begins?
Mississippi State leads the SEC in several categories heading into conference play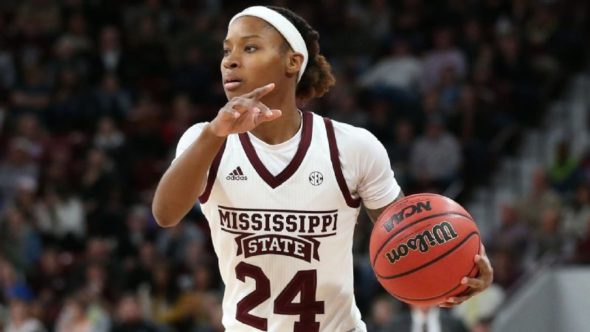 The Southeastern Conference made a lot of history in the past few years. Two teams made it to the National Championship game in 2017. Mississippi State returned to the title match in 2018. Several top players in the WNBA hail from the SEC.
Beginning in early November, teams worked on perfecting their craft against nonconference foes, honing their style of play and solidifying identities before facing fellow SEC teams. Now, the time has come for these teams to prepare for the SEC and marches into postseason. The first match is on January 3, as Mississippi State visits Arkansas and Tennessee takes a trip to Auburn. Both matchups are at 6 p.m. CT.
Alabama
Predicted to Finish: 10th
Notable Games: Nov.15 SMU (W 62-61 OT), Dec. 20 Virginia (W 64-52)
Head coach Kristy Curry high hopes keep surging before the conference slate begins. She earned her 400th win of her coaching career over Northwestern State. Alabama is sitting budding momentum even after the loss to Miami entering conference play. The final game, Johnson notched her career-high 27 points.
In addition to Jordan Lewis, Jasmine Walker and Shaqera Wade, Curry looks to the freshman class to bring versatility and rich high school experiment. This is the best recruitment class in Alabama history. All six freshman have participating or won a state championship. Different shooters emerged game by game.
Arkansas
Predicted to Finish: 11th
Notable Games: Nov. 18 Arizona State (L 85-88), Dec. 18 Nebraska (W 84-80)
This will be Mike Neighbor's second season as the Arkansas head coach. The Razorbacks have an understanding on improving themselves year by year. They improved to 11-3 in nonconference battles. The only freshman on the roster is guard Rokia Doumbia from IMG Academy in Florida.
So far, Chelsea Dungee, who averages 17 points per game, and Monk with 12 points have shown promise and presence on their court as Arkansas' consistent top scorers.
Guard/forwards Bailey Zimmerman and Keiryn Swenson have potential to be centerpieces and add depth to Arkansas' floor. Arkansas is eighth in the SEC with an average of 70 points per game. They'll will need their four senior guards to raise productivity on the court to survive in the SEC.
Auburn
Predicted to finish: 8th
Notable Games: Nov. 11 New Mexico (W 79-76), Dec. 2 Oklahoma (W 95-79) Dec. 20 North Carolina (W 86-81 OT)
TheAuburn Tigers only dropped one close game against Iowa State 67-64. Since then, they've been on a roll with a nine-game winning streak entering conference play with an 11-1 record. Seventh year head coach Terri Williams-Flournoy brings an excellent resume of coaching and experience to Auburn while veteran players meet her standard.
Senior guard Janiah McKay is becoming the star the Tigers need to advance their preseason eighth place pick. McKay is averaging 15 points per game while sixth in assists, second in steals and led her team in scoring four games in a row. Her efficiency and two-way play kept Auburn as the third scoring offense in the SEC at 82 points per game with an 18 point margin.
Florida
Predicted to Finish: 12th
Notable Games: Nov. 18 Northwestern (L 74-83 OT), Dec. 2 Texas Tech (W 72-67), Dec. 21 UNLV (L, 53-56)
The Gators have had a rough start for the worst record in the SEC at 3-9, but a three-game winning streak showed their capability to spread the ball, win and keep momentum pumping on the court.
Senior guard Funda Nakkasoglu is the most dominant Gator on the floor. She's the third overall scorer in the SEC, averaging 18 points per game and has the most three pointers at 37 threes in 11 games.
In her absence, Zada Williams stepped up in Nakkasoglu's absence for 16 points in the 62-38 win over FAMU. Her career high of 18 points over Charleston Southern is a sign of another offensive piece emerging in Florida's identity.
Florida is last in the SEC scoring and free throws.
Georgia
Predicted to Finish: 4th
Notable Games: Nov. 28 Mercer (W 67-60), Dec. 2 Charleston Southern (W 83-75)
The Georgia Bulldogs have been fighting to be a prominent program in the SEC for years. They finished nonconference play third place with an impressive 12-4 record.
Georgia takes a three game winning streak into SEC play. So far, they're 8-0 at home and hope to take some home court momentum on the road. The four games they've loss have been on the road.
Three Bulldogs make a prominent impact on the court. Caliya Robinson leads the Bulldogs with 13 points and eight rebounds. Gabby Connally isn't far behind Robinson as she pitches in 12 points and two rebounds. Louisville transfer guard Taja Cole is making her impact into the program early as her minutes continue to rise before the SEC.
Georgia will need to form for an involved and spread out offense. They have a chance to establish themselves again in the tough conference as new pieces have been added to give them an edge.
Kentucky Wildcats
Predicted to Finish: 7th
Notable Game: Nov. 23 UCLA (W 75-74 OT), Nov. 24 North Carolina (W 85-75), Dec. 9 Louisville (L 75-80),
Kentucky finished with a nonconference record of 13-1, the best record in the SEC. They're on the road to becoming a top contender in the SEC. Nothing about these Wildcats say they'll finish in the middle of the SEC. The only reason behind their seventh-place preseason finish was three-time SEC Freshman of the Week Rhyne Howard had yet to step on the floor. Howard has changed the program immediately to help Kentucky become a dominant force in the SEC.
She averages 17 points per game as her current season-high of 29 points against Southern University. The freshman gets it done on both sides of the ball with three double-doubles. Howard grabbed 15 rebounds with seven points in the final nonconference matchup against Sacred Heart.
Prominent veteran and guard Maci Morris averages 16 points alongside Howard. While Howard brings a quick shot and strong defense, Morris brings her veteran experience and efficiency. They're teaming up for a versatile guard depth during SEC play. Kentucky is shooting 40 percent from the field and have best free throw percentage in the SEC. They're need to work on making a strong defensive presence for a successful SEC slate.
LSU
Predicted to Finish: 9th
Notable Game: Nov. 11 Northern Colorado (W 62-57) Nov. 15 Tulane (L, 54-56), Nov. 29 Kansas ( L, 61-68)
LSU enters the conference with a young team as five junior and six sophomores fill the roster. Junior forward Ayanna Mitchell has found her tempo early to make contributions on both sides of the ball. She's the fourth leading rebounder in the SEC and averages a 13 point, ten rebound double-double.
Lone senior Shanice Norton will need to lead her team in their conference journey. Currently, she has seven point and four rebounds. Norton's best game was against Nicholls State on December 18 with 16 points in the 76-44 win.
With a combination of improvement and veteran experience, Norton's presence will impact the Tigers for successful conference time for her final season. Mitchell's senior status will help her lead with experience as the young team has trouble scoring. LSU is 12th in the scoring offense and last in made free throws.
Ole Miss
Predicted to Finish: 14th
Notable Games: Nov. 18 Western Michigan (W, 69-66), Nov. 29 TCU (L, 50-55), Dec. 28 North Florida (82-59)
Yolett McPhee-McCuin departed from Jacksonville University to lead Ole Miss' head coaching last year. She enters SEC play after crossing the 100-win milestone in her coaching career with a 82-69 win over North Florida. She awaits her first conference slate of her career, she'll have veterans to help prepare with her. Ole Miss will need to shape up defensive efforts while getting more consistent offensive pieces.
Five straight losses to close out the nonconference games anchored down the Rebels but players are beginning to find their rhythm. Graduate transfer Crystal Allen left nonconference with a career-high of 34 points and averages 18 points per game.
Shandricka Sessom is active again tearing her ACL against Middle Tennessee last season. She earned an injury waiver after playing just seven game before the season-ending injury. Sessom playing the 18-19 season as her redshirt senior season. The SEC Second-Team Preseason Pick is making the best of her redemption season. So far, she's averaged 10 points and six rebounds.
Emerging freshman Mimi Reid looks to become a more prominent piece to. She recorded her first double-double against Louisiana-Lafayette with 14 points and 11 assists.
Mississippi State:
Predicted to Finish: 1st
Notable Games: Dec. 6 Marquette (W, 85-82), Dec. 18 Oregon (L, 82-74) Dec. 30 Louisiana-Lafayette (W, 104-36)
Vic Schaefer enters his seventh season as the Mississippi State head coach. He's done groundbreaking work in Starkville and has no signs of slowing down. The preseason SEC Champs pick have a nonconference resume that matches their hype. Going 12-1, they only dropped one game and against PAC 12 frontrunners Oregon Ducks.
The game showed the importance of preseason SEC Player of the Year Teaira McCowan and the need to improve at the guard positions while MSU's young guards are still finding their range beyond the arc.
In the frontcourt, transfer graduate forward Anriel Howard and McCowan team up for a dominant duo who continues to wreck havoc on teams. Respective SEC defensive leaders last year, they team up for nearly while juggling team-highs in points and rebounds during the nonconference.
Mississippi State leads the SEC in scoring offensive (91.7 ppg), field goal percentage (51 percent), and assists. Senior guard Jazzmun Holmes leads the nation with her assist and turnover ratio. Bre'Amber Scott notched a career high of 21 points before the end of nonconference.
Schaefer continues to present a thunderous defensive effort as the high pace, efficient offense can still improve on the perimeter and make more use of the seven guards. Mississippi State will continue their dominance for an SEC title if the Bulldogs can continue working toward their offense
Missouri:
Predicted to Finish: 5th
Notable Games: Nov. 13 Missouri State (65-61), Nov. 16 Green Bay (L, 56-49), Nov. 25 Duke (W, 62-54),
Missouri head coach Robin Pingeton look forward to leading the Tigers to their fourth-straight NCAA Tournament appearance and come out on top in the SEC.
After being stunned by Green Bay and dropping a contest against Michigan, Missouri was able to win five straight games before a loss against South Dakota to end 11-3 in nonconference play.
Missouri is led by gritty senior guard Sophie Cunningham who has become one of the best guards during her time as a Tiger. She averages 15 points per game while creating a tough defensive act to play over.
Senior Cierra Porter returned to the team after medically retiring last season. Missouri called on Amber Smith, who was able to improve in Porter's absence. She's stepped up in becoming a viable scoring option with 14 points and seven rebounds.
The Tigers welcomed Porter back right before the SEC begins. She was able to get her feet wet with four points, two rebounds and two steals against Arkansas State to close out a 70-50 win before conference play. Porter also gained her career milestone of 1000 points as a Tiger. Cierra Porter and Sophia Cunningham have led Missouri, but as more parts of the team emerge they'll continue to grow and overcome underdog status in the SEC.
South Carolina
Predicted to Finish: 2nd
Notable Games: Nov. 23 Oregon State (L, 70-68), Nov. 28 Dayton (W, 65-55), Dec. 16 Purdue ( 82-73, W 2OT)
Though pinged as one of the SEC's best in preseason, troubles halted the usual dominance of the Gameocks. South Carolina had trouble fulfilling the post that 2018's SEC Player of the Year A'ja Wilson left. The current Las Vegas Aces player averaged 17 points and eight rebounds last season.
Add-on Te'a Cooper helps South Carolina transition from relying on Wilson. Cooper sat out last year because of NCAA transfer regulations, but her dominance is still prominent. She leads with an average of 12 points and two rebounds. She recorded her season high of 31 point against Drake and 22 points in a close 70-68 loss against Oregon State. Cooper is a dominant defensive piece for South Carolina and could be the difference maker once pieces come together.
Senior forward Alexis Jennings has done her best while their inside game is still solidifying. She's averaged ten points and five rebounds in her contributions. Senior guard Tyasha Harris is another piece guard averaging 10 points a game. South Carolina will need to produce a successful offensive as they sit fifth in scoring with an average of 79 points.
Tennessee:
Predicted to Finish: 3rd
Notable Games: Nov. 24 UAB (W, 73-69), Dec. 2 (76-63) Oklahoma State, Dec. 18 (L, 95-85) Stanford
Head coach Holly Warlick looks to establish Tennessee as a top squad in the SEC. She's done a great job each year but has troubles finding ways to create deep runs in the NCAA Tournament. The Lady Vols work on a big three scale for a powerhouse of guards with Warlick's defensive efforts.
Sophomore guard Westbrook is one of Tennessee's explosive weapons with a powerful shot and strong defense. She leads the Volunteers averages 16 points per game. The young guard sparks Tennessee with her momentum and shifty performance.
Rennia Davis is a guard and forward who adds the same great offensive piece as Westbrook but brings a defensive piece that keeps defenders on their toes. Davis does the little things right that help separates Tennessee from their opponents. She leads the team in rebounding, free throw percentages and three-point shooting.
Meme Jackson adds another shooting dynamic to the Tennessee. She was able to show her potential to grow into her shot. The senior had a season-high of 33 points against Texas during the SEC/Big 12 Challenge.
Tennessee need to evolve in their game schemes and it's something Warlick has been able to do each year. The Vols will need to strengthen their perimeter defense.
Texas A&M
Predicted to Finish: 6th
Notable Games: Nov. 29, Lamar (L, 74-68), Dec. 15 Oregon State (W, 76-70), Nov. 7 Rice (W, 65-54)
Women's Basketball Hall of Famer and head coach Gary Blair looks to get Texas A&M back to the national championship status from 2011. The Aggies have the best scorer in the SEC, sophomore Chennedy Carter who averages 21 points per game. She's shown her importance after she sat out during the Lamar matchup. Texas A&M dropped the matchup 74-68 where guard Chastadie Barrs and Miya Crump combined for 5-of-7 from the perimeter.
The Aggies have taken that game was a lesson and turning point as they've went on to win seven straight to enter in SEC play 11-2. Now, their identity is becoming more apparent. Texas A&M's power comes from the perimeter and sophomore class.
Sophomores Kayla Wells,Cierra Johnson and Aaliyah Wilson all contribute to how to Texas A&M operates offensively. Guards Wells and Wilson average 13 points apiece to lift Texas A&M against opponents. Center Cierra Johnson adds 12 points while forward N'dea Jones averages 11 rebounds and seven points.
This sophomore group continues to dominate opponents from the perimeter while making adjustments. Texas A&M will keep the momentum and blueprint while keeping molding into their team identity as role players continue to emerge in SEC play.
Vanderbilt:'
Predicted to Finish: 13th
Notable Games: Nov. 6 Alabama (L, 71-74), Nov. 12 Austin Peay (W, 99-70),
Dec. 28 Samford (W, 77-52)
Redshirt junior Mariella Fasoula transferred from Boston College and immediately made an impact for the Commodores. She notched a season-high 26 points against Samford to help snap the three-game losing streak. She finished nonconference as the fifth scorer in the SEC, averaging 18 points per game and looking to make an even better impact in January.
Chelsie Hall looks to improve from her freshman season of averaging 11 points and four rebounds. Currently, Hall kept her average of 11 points but needs to improve from three-point range and step up defensively. Junior guard Cierra Walker also averaging 11 points and just three rebounds.
Vanderbilt needs to improve their all-around game. They have trouble defending the perimeter as they sit at the bottom of the SEC at 3-point defense. The Commodores only average 66 points per game and are tenth in scoring.
Conference Leaders
Scoring: Chennedy Carter (G-Texas A&M) 21 ppg
Rebounding: Teaira McCowan (C-Mississippi State) 15 rbg
Field Goal Pct: Teaira McCowan (37 made/ 73 attempted) – 70 percent
Three Point Fg Pct: Funda Nakkasoglu (G-Florida) – 50 percent
Assists: Taja Cole (G-Georgia) 87 assists (6.7 apg)
Steals: Taylor Murray (G-Kentucky) 50 steals (3.6 spg)