From losing to Stanford to taking down UConn: Baylor's road to beating the No. 1 team
Baylor takes down a No. 1 for the first time in program history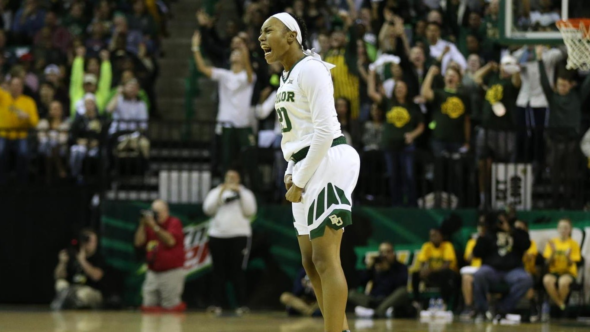 Notes || Team Statistical Comparison
WACO, Texas – No. 8 Baylor's hot shooting kept fans from freezing last night as the Bears dismantled No. 1 UConn, 68-57. The sold-out crowd braved near below freezing temperatures to witness a program first, defeating a No. 1-ranked opponent. Baylor accomplished what many before them couldn't during the regular season against the Huskies: UConn's astonishing 126-game regular season win streak came to an end, first regulation loss in 209 straight games, and first road loss in regulation since 2011.
"Our kids played so hard, they guarded, they defended, they listened to the scouting report," Baylor head coach Kim Mulkey said. "The Stanford loss woke us up."
Baylor's lone loss against No. 6 Stanford in mid-December felt like a thing of the past after the upset. The Bears adjusted accordingly against UConn, scoring 52 points in the paint while limiting UConn to just 10. Against Stanford, Baylor had 22 points in the paint and allowed the Cardinal 18 points.
"Our defense was outstanding, our size affected their shots penetrating," Baylor senior center Kalani Brown said. When a reporter complimented the Bears on their "block party", Brown responded with a less than emphatic, "too bad they were all calls."
Brown spoke about how the Stanford loss impacted their performance against UConn. "She (Mulkey) got on us. Me and Lauren [Cox] took it upon ourselves to respond. That's what we did tonight. It's not really normal for us both to have a bad game like that. We just wanted to redeem ourselves."
Offensively Baylor drastically improved in second chance points with 14 points; Stanford held the Bears to a mere three second-chance points.
Brown lead all scorers with a double-double, 22 points and a whooping 17 rebounds. Three of her Baylor teammates also scored in double figures: freshman forward NaLyssa Smith (12), graduate student guard Chloe Jackson (11), and junior guard Juicy Landrum (11).
The balanced attack was necessary to conquer UConn given Baylor only had two players score in double figures against Stanford; Jackson (15) and Smith (15).
"I don't think our transition game was any good," UConn head coach Geno Auriemma said. "I thought we were too content to just come down and try to run our offense. When you don't make shots, it exposes a lot of things."
Against Stanford, Baylor and their opponent relied heavily on bench play, Stanford's bench poured in 19 points while Baylor contributed 25 points. However, bench play went down drastically versus UConn, 12 points, while UConn had zero bench points for the contest.
Baylor knew they would have to would have to have a near perfect game defensively. Despite Brown and junior forward Cox picking up fouls quickly in the first half, the Bears adjusted to hold UConn to their lowest-in-20-seasons 29.4 percent shooting; Cox led with five blocks. Baylor sophomore guard DiDi Richards shut down UConn's preseason player of the year, limiting senior guard/forward Katie Lou Samuelson to just 12 points for the night, below her average of 20 points per contest.
"That kid defended Samuelson with every ounce of energy she had," Mulkey said. "She has the length, she's active, she makes Samuelson work for every shot."
The Bears also held UConn senior forward Napheesa Collier to 6-of-18 from the field. Defensively, Baylor improved in points off turnovers, 12 points versus nine points against Stanford.
As the Bears celebrated their win, Mulkey took in an ESPN interview while holding her newborn grandson as he attended his second game. Mulkey's team now focuses on a Sunday matchup against Texas Tech as they continue to stay atop the Big 12 and improve in the polls.
Connecticut stays on the road, playing at Houston on the same day.
Notes
Baylor moved to 549-99 under 19th-year head coach Kim Mulkey, improving to 3-4 all-time vs. UConn and 43-61 vs. American Athletic Conference teams.
Baylor's 30-29 halftime lead over the Huskies was the first time a Lady Bear team took a lead into the break over UConn and the first time in Mulkey's tenure the Lady Bears led a No. 1 team at the first half intermission.
Baylor's win over the Huskies marks the fourth time in Big 12 history that a conference team has topped a No. 1 opponent and just the second time vs. a non-conference No. 1 opponent.
The game marked the first home sellout for the program since Feb. 29, 2016 vs. Texas.
Team Statistical Comparison