UCLA looks to continue Bay area success at No. 6 Stanford
UCLA and Stanford both on winning streaks as they meet in Maples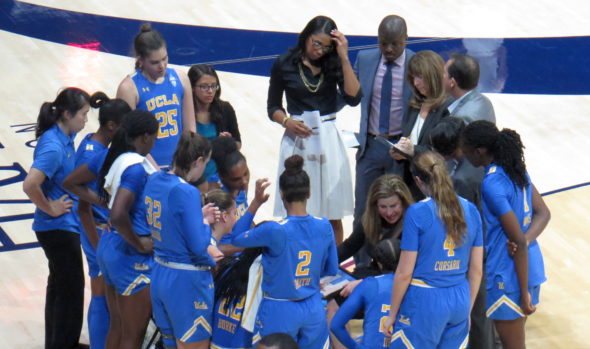 UCLA (9-5, 2-0) at No. 6 Stanford (11-1, 1-0)
1 p.m. PT/4 p.m. ET
TV: Pac-12 Network, Pac-12 Bay Area, Pac-12 Los Angeles (Anne Marie Anderson and Layshia Clarendon)
Streaming: Pac-12.com (Cable subscriber log in required)
Series: Stanford leads the series 60-25
STANFORD, Calif. – While UCLA started the season with a stunning loss to West Coast Conference and crosstown foe Loyola Marymount then suffered a four-game losing streak in late November through December 2, the Bruins came into the Bay Area this week and upset No. 19 Cal Friday night in an overtime thriller.
"I thought down the stretch it was about rebounding and free throws. We were able to come up with some of those," head coach Cori Close said about the keys to winning against a talented Cal squad.
While beating a ranked team was a nice way to start their trip to Northern California with sophomore Michaela Onyenwere putting up a career-high tying 29 points in Berkeley, UCLA will have to dig even deeper as the team faces a battle-tested No. 6 Stanford Cardinal Sunday afternoon.
With only one loss under their belt, the Cardinal come into the matchup with a win over Southern California on Friday and signature wins against Tennessee and Baylor during nonconference play.
What is the key factor in UCLA's success after early disappointments? Close cites her team's work ethic in continuing to work hard despite the letdowns: "Doing the right think over and over again, even when you don't get rewarded, that's when you're ready to do the work in the big moments. The work done in the dark always gets revealed in the light."
In addition, her team not wavered from their efforts to improve on a consistent basis as the season progresses.
"One of the things I really respect about this group of young women is that they have let me keep them focused on just getting better that day and I think that's what helped us weather the storms early and learned from those situations."
UCLA is now on a six-game winning streak as they head into Maples Pavilion at Stanford. In the last game between the two teams, the Bruins won at UCLA on Jan. 21, 2018, 64-53.
UCLA improved to 18-15 in overtime games with an 84-79 triumph over No. 18 Cal on Jan. 4.
The Bruins lead the Pac-12 and rank fourth nationally in offensive rebounds per game (18.3).
UCLA's rebound margin of 10.1 ranks second in the Pac-12 and 15th nationally.
UCLA is shooting 78 percent (117-for-150) from the free throw line in the last eight games.
The Bruins are third in the Pac-12 in blocks per game (4.6).
Stanford entered conference play with a 10-1 record (.909), its best 11-game start since it began the 2013-14 season 22-1.
The Cardinal started the year with six consecutive victories, something it hadn't done since winning its first 11 games in 2012-13.
This is the first season since 2013-14 that Stanford suffered just one nonconference defeat.
Stanford is in the midst of a 17-game winning streak in Maples Pavilion