Third-quarter offensive spree propels No. 6 Stanford over UCLA, 86-80
Stanford comes back from a double-digit deficit to beat UCLA
Notes || Stats || Social Media Recap
STANFORD, Calif. – No. 6 Stanford held off a tenacious UCLA squad on a rainy Sunday afternoon at Maples Pavilion, 86-80. The win was impressive as the Cardinal played without the inside presence of 6-3 junior forward Nadia Fingall who is out for rest of the season after tearing her ACL Friday in a game vs. USC. She was averaging 8.0 points and 4.9 rebounds per game. Sophomore forward Maya Dodson, who averages 9.0 points and 4.2 rebounds per game, is also out indefinitely with a foot injury.
Given the injuries and the talent of UCLA, Stanford head coach Tara VanDerveer said "it took everything that we had to guard them and pull out the win."
"We were able to do that I think because first of all, the people on my left and right, Alanna [Smith] and Di [Carrington], really came to play. They scored, they played defense, they rebounded, the really led the way for everybody. They're two captains, they're doing a great job of being leaders by their example on the floor. And for the most part, played the whole game."
The Bruins came into Maples with high hopes after defeating top-20 California on Friday in across the Bay in Berkeley. They displayed their confidence early on by racing out to a 14-6 lead over Stanford by midway through the first quarter fueled by treys from senior guard Japreece Dean.
The Cardinal fell behind by 11 points before recovering to initiate a run to end the period. UCLA went into the second quarter with a 24-23 edge.
At the outset it appeared Stanford was firmly back on the comeback trail in the second period as sophomore guard Kiana Williams opened with a layup and a free throw to put Stanford in the lead 26-24. However, in a quarter where the Bruins did the most damage, UCLA went on a 9-0 run led by Dean plus Lindsey Corsaro and Ahlana Smith helping out by draining treys. UCLA outscored Stanford 21-15 in the second period and went into halftime ahead 45-38.
Stanford ramped up the defensive pressure in the third quarter to overtake UCLA, scoring 26 points compared to 12 by the Bruins. The effort was a deliberate attempt to shutdown UCLA's prolific scorers.
VanDerveer on her team's strategy in the second half and her message to them during the break:
"Just play defense…let's tighten up our defense. We had to get punched in the face before we started to fight, we can't play that way."
Cardinal senior forward Alanna Smith also increased her offensive output, scoring 15 points in the period with a diverse array of shots. Her teammate Williams put a bookend on the quarter with a steal in the last seconds and raced down the court for a layup. Stanford entered the fourth quarter leading 64-57.
UCLA couldn't make free throws down the stretch which hurt their chances of overtaking their opponent. The Bruins were 46.7 percent from the line (7-of-15) compared to 82.4 percent by Stanford (14-of-17).
In addition, throughout the game, both teams went on spurts of attempting three-point shots. However, for UCLA, the trey fest was not the best idea according to their head coach.
"We should not be shooting the same amount of threes as Stanford," said Cori Close. "They are better at that than we are."
While UCLA bested the Cardinal 23-22 in the scoring column in the last period it wasn't enough to eke out a win.
Junior guard DiJonai Carrington led Stanford with 30 points plus nine rebounds while Smith tallied a double-double of 24 points, 11 rebounds plus five blocks. Williams also had a double-double with 21 points and 10 assists.
Four UCLA players earned double-digits: Dean (22 points), freshman guard Lindsey Corsaro (14 points, four rebounds), sophomore forward Michaela Onyenwere (11 points, 12 rebounds), and senior guard Kennedy Burke (11 points, eight rebounds).
Stanford heads on the road to face Arizona State on Fri. Jan. 11 and Arizona on Sun. Jan. 13. UCLA goes home to host Oregon State on Friday and Oregon Sunday.
Stanford's postgame festivities started with a somber note as the Cardinal honored the lives of loyal fan Marian Cortesi and 30-year women's basketball office manager Dee Dee Zawaydeh-Johnson. Both passed away recently.
Team Stats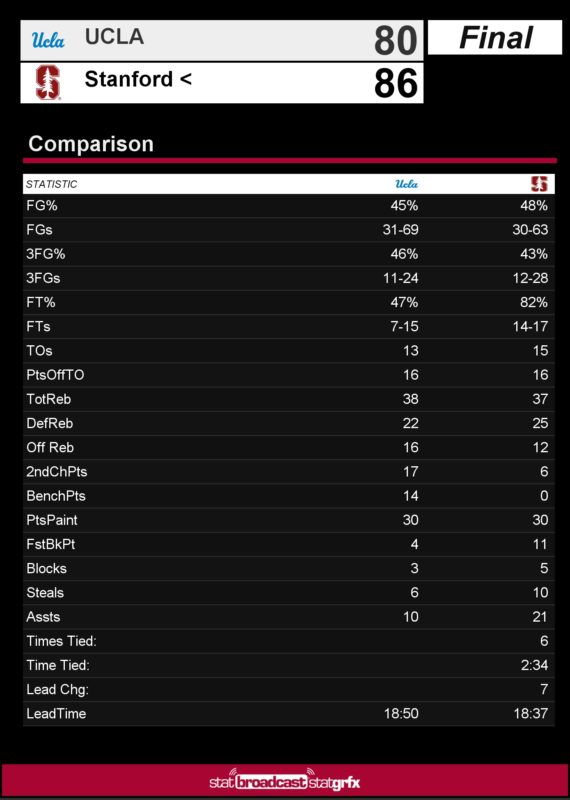 Stanford starters: Alyssa Jerome, Alanna Smith, DiJonai Carrington, Kiana Williams. Alyssa Jerome's 2nd career start (had 1 as a frosh last year)

UCLA starters: Lindsey Corsaro, Lajahna Drummer, Michaela Onyenwere, Kennedy Burke, Japreece Dean

— Kevin Danna (@kevo408) January 6, 2019
Lehhhgo! @UCLAWBB at @StanfordWBB #ncaaw pic.twitter.com/OixqXqXNBI

— Hoopfeed.com ? (@hoopfeed) January 6, 2019
Kennedy Burke with the take! ? pic.twitter.com/Z0oGHUhJZT

— UCLA W. Basketball (@UCLAWBB) January 6, 2019
Nothin' but net for Kiana Williams. ??@StanfordWBB on top.

Watch #Pac12WBB: https://t.co/KKey88mgj5 pic.twitter.com/Tby3FAVPs2

— Pac-12 Network (@Pac12Network) January 6, 2019
After back-to-back treys and layup from Japreece Dean, @UCLAWBB takes a 14-6 lead over Stanford halfway through 1Q #ncaaw

— Hoopfeed.com ? (@hoopfeed) January 6, 2019
.@japreece24 from deep! ? pic.twitter.com/cWMiYsqWkG

— UCLA W. Basketball (@UCLAWBB) January 6, 2019
4:24 Q1 | Bruins put together a 13-0 run. UCLA, 26% from deep on the year, is 3-of-4 to start.

?: 6
?: 17#GoStanford

— Stanford Women's Basketball (@StanfordWBB) January 6, 2019
A 10-0 run by @UCLAWBB.

Japreece Dean keepin' it going.

Watch #Pac12WBB live: https://t.co/KKey88mgj5 pic.twitter.com/xuwPWfC2s1

— Pac-12 Network (@Pac12Network) January 6, 2019
UCLA roars out of the gates to a 17-6 lead w/ 4:24 to go 1st qtr. Bruins getting 8 from Japreece Dean and 7 from Kennedy Burke. UCLA 26% 3fg for season (last Pac-12) but 3-4 3fg to start (small sample size today obvi)

Good to see Alyssa Jerome hit a 3 on her first touch

— Kevin Danna (@kevo408) January 6, 2019
Bruins are on a 13-0 run and have a 17-6 lead early! ?

4:24 left in the first frame! pic.twitter.com/AO3Vm6rPqg

— UCLA W. Basketball (@UCLAWBB) January 6, 2019
Japreece Dean is on fire for @UCLAWBB , 8pts so far in 1Q including 2 treys, the Bruins lead the Cardinal 17-6 at 4:24. Media timeout. Pac-12 ain't no joke! #ncaaw

— Hoopfeed.com ? (@hoopfeed) January 6, 2019
2:53 Q1 | @DijonaiVictoria with Stanford's last eight points, including a pair of triples.

?: 14
?: 20#GoStanford pic.twitter.com/jIJUowcGDn

— Stanford Women's Basketball (@StanfordWBB) January 6, 2019
3-point shooting is contagious! ?@laurynmiller__ from distance! pic.twitter.com/lCPZztlfTn

— UCLA W. Basketball (@UCLAWBB) January 6, 2019
It's become a three-point shootout after the timeout, 2 from Stanford's DiJonai Carrington and one from UCLA's Lauryn Miller. After a layup from Bruins guard Chantel Horvat, UCLA leads 22-14, about 2 minutes left in 1Q #ncaaw

— Hoopfeed.com ? (@hoopfeed) January 6, 2019
END Q1: UCLA 24, Stanford 23
Great end to the qtr for the Card. 6-0 spurt over the last 47 seconds, capped by 2 Carrington FTs. DiJonai's got 12 to lead all scorers.
UCLA running into a bit of foul trouble- Kennedy Burke has 2, Lauryn Miller has 3.

— Kevin Danna (@kevo408) January 6, 2019
End of 1Q: UCLA 24, Stanford 23 #ncaaw Stanford ends quarter on a 6-0 run after being down by 11 pic.twitter.com/XuZ2j8Tv4I

— Hoopfeed.com ? (@hoopfeed) January 6, 2019
.@Kiana__W Williams makes a layup and a free throw to put Stanford in the lead over UCLA to start 2Q, 26-24 #ncaaw

— Hoopfeed.com ? (@hoopfeed) January 6, 2019
6:56 Q2 | UCLA 9-0 run puts the Bruins back in front.

?: 26
?: 33#GoStanford

— Stanford Women's Basketball (@StanfordWBB) January 6, 2019
6:09 Q2 | @DijonaiVictoria came ready. Wing 3-pointer ends a 12-0 UCLA run. She has 15.

?: 29
?: 36#GoStanford pic.twitter.com/fw6JoZt9Fi

— Stanford Women's Basketball (@StanfordWBB) January 6, 2019
UCLA is shooting 62% from the field and 6-7 from downtown to get out to a 40-29 lead w/ 5:20 to go 2nd qtr on the heels of a 16-3 run. Ahlana Smith of UCLA has had an impressive start, scoring off the dribble, pull-up jumper, also hitting a 3. She good (7pts on 3-4fg)

— Kevin Danna (@kevo408) January 6, 2019
Ahlana Smith has come off the bench to score 7 straight points and UCLA has a 40-29 lead with 5:20 left in the first half! pic.twitter.com/7vZlC4OPcn

— UCLA W. Basketball (@UCLAWBB) January 6, 2019
UCLA has outscored Stanford 16-8 so far in 2Q, the spurt initialized by Kiana Williams at the outset of the quarter fizzled until after a timeout when DiJonai Carrington made a layup. 40-31 UCLA at 3:15 #ncaaw

— Hoopfeed.com ? (@hoopfeed) January 6, 2019
1:36 Q2 | Dare we say Tennessee-like for @DijonaiVictoria? Converts through traffic and she's up to 21 points in 17 minutes.

?: 38
?: 45#GoStanford

— Stanford Women's Basketball (@StanfordWBB) January 6, 2019
Halftime: @UCLAWBB 45, Stanford 38
Balanced scoring from the Bruins, Japreece Dean leads UCLA with 12pts. For Stanford, DiJonai Carrington with 21pts/5rebs. pic.twitter.com/ABZAaMnuFm

— Hoopfeed.com ? (@hoopfeed) January 6, 2019
UCLA shoots 77.8 percent (7-for-9) from deep and force 9 turnovers in the opening 20 minutes to take a 45-38 lead over No. 6 Stanford! ??#GoBruins pic.twitter.com/Bnbs554wIy

— UCLA W. Basketball (@UCLAWBB) January 6, 2019
9:33 Q3 | Guess who? Her again. @DijonaiVictoria gets three again.

?: 41
?: 47#GoStanford pic.twitter.com/2PjKS7xCiJ

— Stanford Women's Basketball (@StanfordWBB) January 6, 2019
Stanford is on a 10-3 run and playing inspired ball, trailing UCLA 50-48 w/ 7:40 to go 3rd qtr. Carrington is up to 24pts, Kiana Williams has 12. UCLA hit another 3, now 8-11 3fg for the game

— Kevin Danna (@kevo408) January 6, 2019
Propelled by DiJonai Carrington, Kiana Williams and Alanna Smith, @StanfordWBB starts 3Q on a 10-5 run to get within 2. UCLA with slight 50-48 lead calls a timeout at 7:40.#ncaaw

— Hoopfeed.com ? (@hoopfeed) January 6, 2019
Alanna Smith with 5 straight points puts Stanford up 53-50 over UCLA at 6:39 in 3Q #ncaaw

— Hoopfeed.com ? (@hoopfeed) January 6, 2019
ALANNA SMITH FOR THREEEEEE! The Cardinal have a 6pt lead now over UCLA, the largest advantage so far for Stanford. 6:06 left in 3Q.

— Hoopfeed.com ? (@hoopfeed) January 6, 2019
Alanna Smith hits back-to-back 3s to give Stanford a 56-50 lead w/ 6:06 to go 3rd qtr as Cori Close has to burn another timeout. Smith up to 14pts 8reb now as the Card is on a 13-0 run and 18-3 dating back to UCLA's 47-38 lead

— Kevin Danna (@kevo408) January 6, 2019
Stanford's defense is really impressive in the third quarter, working hard to deny all of UCLA's offensive weapons on the floor right now, inside and out. Cardinal lead 62-54, 1:38 left in the period. #ncaaw

— Hoopfeed.com ? (@hoopfeed) January 6, 2019
END Q3: Stanford 64, UCLA 57
2nd straight game Stanford gets a steal-and-score to end the 3rd (Lacie Hull vs. USC on Friday).
Carrington 26pts 8reb
Alanna Smith 18pts 10reb for her 2nd straight double-double, 3rd of season and 13th of career
Japreece Dean w/ 16 to lead UCLA

— Kevin Danna (@kevo408) January 6, 2019
15pts in 3rd qtr for Alanna Smith

— Kevin Danna (@kevo408) January 6, 2019
End of 3Q: @Stanford 64, UCLA 57
Stanford's Kiana Williams like a wily thief with a steal to bookend the third quarter, finishing all alone with a layup. pic.twitter.com/G5c1jgR4Hj

— Hoopfeed.com ? (@hoopfeed) January 6, 2019
Stanford leads UCLA 75-69 w/ 4:41 to go in the 4th. Alanna Smith w/ 22pts 10reb, DiJonai 26pts 9reb, Kiana 17pts 8ast

— Kevin Danna (@kevo408) January 6, 2019
UCLA trying to make up ground late in 4Q, trail by 4. 75-71 Stanford at 2:34 in 4Q #ncaaw

— Hoopfeed.com ? (@hoopfeed) January 6, 2019
UCLA got within 2 after free throws from Michaela Onyenwere but Kiana Williams counters with a trey. Japreece Dean working hard for the Bruins though, her jumper puts them back within three. Stanford leads 78-75 at 1:20 in 4Q #ncaaw

— Hoopfeed.com ? (@hoopfeed) January 6, 2019
Alyssa Jerome for three. UCLA's Lindsey Corsaro with one right after, 81-78 Cardinal as secs wind down….DiJonai Carrington comes through for Stanford with a jumper. 83-78 now, 15.2 secs left. Timeout as Stanford looks to pull out a win over an impressive unranked UCLA.

— Hoopfeed.com ? (@hoopfeed) January 6, 2019
UCLA timeout after free throws from Stanford's Alanna Smith, 12.5 secs left. Stanford leads 85-78 #ncaaw

— Hoopfeed.com ? (@hoopfeed) January 6, 2019
Kennedy Burke comes out of the timeout with a layup for UCLA, Bruins down 85-80. Stanford ball, 6.1 secs left.

— Hoopfeed.com ? (@hoopfeed) January 6, 2019
Final: @StanfordWBB 86, UCLA 80 #ncaaw Stanford outlasts a feisty UCLA squad, Bruins missed key free throws down the stretch that helped to doom them at Maples.

— Hoopfeed.com ? (@hoopfeed) January 6, 2019
Final team stats: DiJonai Carrington 30pts/9rebs, Alanna Smith 24pts/11 rebs/5blks, Kiana Williams 21pts/10asts/3stls pic.twitter.com/dXQ7DZuee4

— Hoopfeed.com ? (@hoopfeed) January 6, 2019
UCLA coach Cori Close on the loss to Stanford: "They were better at getting the ball to their go-to players…"
She also mentioned the trey battle between the teams: "We should not be shooting the same amount of 3s as Stanford, they are better at that than we are." #ncaaw

— Hoopfeed.com ? (@hoopfeed) January 6, 2019
.@StanfordWBB coach Tara VanDerveer on the halftime message to her team when they were down by 7 vs. UCLA: "Just play defense…let's tighten up our defense. We had to get punched in the face before we started to fight, we can't play that way." #ncaaw

— Hoopfeed.com ? (@hoopfeed) January 6, 2019
"@DijonaiVictoria is a workhorse. She doesn't stop."

Alanna had effusive praise for all of her teammates in her postgame chat with @kevo408.#GoStanford https://t.co/i4rOcGOi4e

— Stanford Women's Basketball (@StanfordWBB) January 7, 2019