Cal looks to sweep 2019 Battle of the Bay, Stanford aims to play better defense vs. the Bears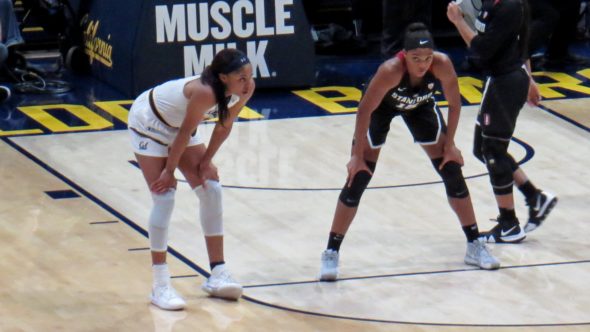 The 2019 version of the Battle of the Bay series between California (14-6, 5-4) and No. 8 Stanford (17-3, 7-2) began with a bang Thursday night at Haas Pavilion in Berkeley complete with raucous fans and dueling bands. With a drive and a finish in the last seconds of the contest, Cal senior point guard Asha Thomas propelled her team to an 81-80 victory over the visiting Cardinal.
"Any win against Stanford feels extra special because of how good they are, how well prepared they are, their consistency, their playmaking," Cal head coach Lindsay Gottlieb said in her postgame opening remarks. "It makes everything more meaningful."
With time running out on the clock, Thomas managed to run some time off with an array of dribble moves before heading to the paint for an acrobatic walk-off layup from the hip.
Her feat was all the more amazing because it was her very first field goal of the game. But given the swagger Thomas displayed in the waning moments, it was clear that the field goal deficit was a non-factor.
Gottlieb was a catalyst in Thomas' effectiveness as she gave her star guard the go-ahead in the last timeout of the game to take control as the team's All-American double-double machine, Kristine Anigwe, fouled out with seven seconds left in the game before Stanford took an 80-79 lead after free throws from junior guard DiJonai Carrington.
"I just felt so confident to put the ball in her hands, and say 'you're gonna have to make a play,'" Gottlieb said. "I just couldn't script it better."
After hearing her coach recount the moment, Thomas was soft-spoken yet emphatic in her belief in herself as a leader than can take over a game.
"You like that as a player, to have your coach trust you," Thomas said. "I like big moments. I like having the ball in my hands with a chance to make a play for myself or others."
Overall, the game was a topsy turvy affair as neither team could muster a lead bigger than six points. The contest included 18 lead changes and 13 ties. Cal led for 23 minutes while Stanford had the advantage for about eight minutes.
While Cal earned an early lead and led after one quarter 22-20, Stanford was on their heels and evened up the score. The teams went into halftime tied at 38 each. No Stanford player was in double figures at the break but Cal had two: Anigwe with 11 points plus seven rebounds and junior guard/forward Jaelyn Brown with 15 points.
By the end of the game, Anigwe had earned her 21st consecutive double-double with 25 points and a whopping 24 rebounds. Late in the game, as players from both teams began to show signs of fatigue, reacting a second or two late to rebounds, Anigwe was spry and outpaced everyone in the air to grab as many rebounds as possible like a human Ms. Pac-man.
Brown finished with 18 points and sophomore guard Kianna Smith, who was prolific from beyond the arc, added 16 points including four treys. Grad transfer guard Receé Caldwell, who came alive in the third quarter with three consecutive 3-pointers, added 18 points.
Carrington led Stanford with 23 points and 12 rebounds while Smith scored 21 points and pulled down nine rebounds.
Even though Smith matched her averages for points and rebounds, Cal was satisfied in their defense on her because, according to Gottlieb, they didn't give her "easy looks."
"We did a pretty good job on not letting her get the easy ones," Gottlieb said. She also said that Cal made Smith uncomfortable. However, she was less than thrilled about Carrington's production. "We have to do a better job on DiJonai."
The win gives Cal an edge in confidence heading into the latter part of the season series on Saturday.
"This gives us a chance to get a sweep," Gottlieb said in previewing the upcoming game.
While Stanford head coach Tara VanDerveer complimented her team even after losing, a sweep will not be in her plans for Saturday.
"Both teams played really hard," VanDerveer said. "I'm really proud of our team, how we battled and it came down to one play….We didn't get a stop when we needed to down the stretch. I think that one of the big things. We didn't knock down threes and we gave them too many threes and that was something that was disappointing."
VanDerveer also mentioned offensive rebounding and containing Anigwe as points of emphasis for Saturday.
"It's tough, Anigwe is a very aggressive player inside. You have pick your poison," VanDerveer said in discussing the Cal center's multi-faceted game. "We have to play better defense. We have to get out on them. We have to, I think, be more aggressive defensively. We'll get another chance on Saturday."
After losing to Utah on Jan. 27, Stanford has now dropped two consecutive conference games for the first time since 2015.
Washington Mystics assistant coach Marianne Stanley was in attendance at the game. She said she enjoyed the contest because "it was competitive from start to finish."
Part two of the series is set for 4 p.m. PT on Saturday at Maples Pavilion. The game will be aired on the Pac-12 Network with Kate Scott and Mary Murphy on the call.