Jordan Danberry shines as Mississippi State hands Tennessee worst loss in SEC play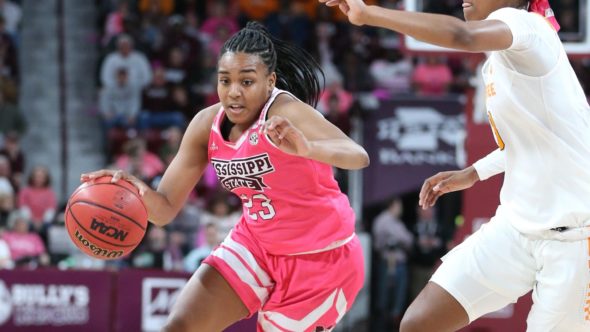 STARKVILLE, Miss – Mississippi State's head coach Vic Schaefer complained about his team's toughness effort during his Friday press conference, a prominent pillar of Mississippi State's defensive-minded identity.
After returning a week-long break, his players did the opposite of what he complained about in a 91-63 rout of Tennessee Sunday afternoon.
"Man, they were special today," Schaefer said, praising his team. "Our kids turned it up and locked in on defense and rebounds."
Schaefer got Sunday churchgoers into a different praise and worship, filling 10,021 seats in the Hump for the seventh largest crowd in program history. Before the game, Tennessee announced sophomore guard Evina Westbrook would not be playing due to team rule violations.
Westbrook's absence gave Tennessee freshman guard Jazmine Massengill her first start of the season. The Chattanooga native came in handy to help the Lady Vols keep up with the Bulldogs' quick pace.
Tennessee's stifling defense and shooting offset big runs by Mississippi State. Scoring droughts from the Bulldogs put them in jeopardy.
MSU's 64 percent shooting in the first quarter plummeted to 29 percent in the second period. The Bulldogs squandered an 11-point lead and allowed Tennessee to stay in range leading 40-34 at halftime.
Senior guard Jordan Danberry won Schaefer's toughness test. Her eight first-half points kept Mississippi State afloat. It became Danberry's game during the third quarter as her performance was the center of the team's momentum and created opportunities for other scorers as well. Her mid-range jumper and attacking drives to the basket gave MSU the edge in the second half.
A former track champion, Danberry's speed combined with efficiency, pressure and dominance helped Mississippi State stretched the floor, cranking up the speed to outscore Tennessee 30-14 in the final quarter. Her complete game helped MSU run away and give Tennessee its worst loss in SEC play.
"Jo is as good today as she's been in her career," Schaefer said. "And the kid averaged two points a game ago. I knew she could do this. I knew it when I tried to get her out of high school the first time and she's really playing well. She's another point guard, she sees the floor well and I just love her attack mode right now."
Sophomore guard Andra Espinoza-Hunter scored 11 points and senior guard Jazzmun Holmes added seven points and eight assists. Sophomore guard Bre'Amber Scott returned from concussion protocol after sustaining a concussion in the Alabama matchup last Sunday. She came off the bench for 13 points and four rebounds.
Though guard play stood out, senior center Teiara McCowan's dominance helped seal the win. She earned a double-double of 24 points and 15 rebounds, her ninth game scoring at least 20 points this season.
"All their guards, they bring difficulty because they're super quick penetrators," Tennessee head coach Holly Warlick said about MSU. "It's really difficult when you can shoot the three and that's what [Bre'Amber Scott] did today."
With a mid-range shot selection and viable two front court options, MSU notched 50 points in the paint compared to Tennessee's 30.
Tennessee senior guard Rennia Davis' performance included a season- and game-high of 29 points plus six rebounds. In her first career start, Massengill recorded six points and three rebounds.
Schaefer was hesitant to call the 28-point win the most complete game of the season so far. His pet peeves of MSU letting opponents score on buzzer beaters irked him.
"I haven't done a good job and it's happened to us several times this year," Schaefer said. "You take it away and this is as good as we've played in a long time. To answer your question, maybe. I'm just proud of our kids."
The Bulldogs stay at home to host the Missouri Tigers on Thursday. Tennessee heads home to face Auburn on the same day.