Oregon routs Stanford 88-48, worst loss at Maples Pavilion for the Cardinal since 1983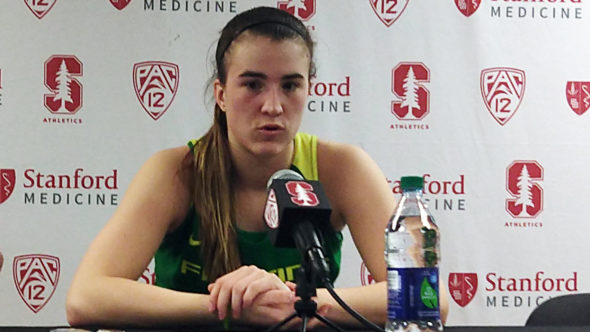 STANFORD, Calif. – No. 3 Oregon (23-1, 12-0 Pac-12) completed a sweep of the Bay Area's Pac-12 schools over the weekend with an 88-48 rout of No. 11 Stanford Sunday afternoon at Maples Pavilion. With the win, the Ducks remain undefeated in Pac-12 play at 12-0.
Led by junior guard Sabrina Ionescu, Oregon handed Stanford head coach Tara VanDerveer the worst loss in her career at Maples Pavilion. Overall, the worst loss in program history occurred in 1983 against Long Beach State, three seasons before VanDerveer arrived at Stanford. The win for Oregon also marked their first win at Maples since 1987.
Ionescu, who said she did not expect her team to beat the Cardinal by such a wide margin, expressed her thoughts on being undefeated at this point in the season in a conference with five top 25 teams.
"We take it one game at a time," she said. "So, 12-0 is great and all but we've got a game Friday that we have to take care of. We're honestly focused on ourselves and continuing to try get better individually and collectively."
The Ducks shot 57.1 percent from the field compared to Stanford's 31.7 percent. Oregon was also 75 percent from beyond the arc, making 12 of their 16 attempts, while Stanford was 22.7 percent (5-22).
Stanford (19-4, 9-3) started well, scoring the first four points on layups from senior forward Alanna Smith and sophomore guard Kiana Williams. However, Oregon responded right away, going on a 14-0 run to take the lead for good and ended the quarter leading 20-11. Stanford never recovered.
With a balanced attacked from their starters, the Ducks launched an effective offensive attack and kept the Cardinal in the rear view with lockdown defense. The second quarter was a dire affair for Stanford as the Ducks outscored the home team 24-9.
It was an uncharacteristically slow game on offense for Stanford as no one from the home team scored more than six points in the first half. On the other hand, Ionescu had 17 points plus six rebounds at halftime while her teammate, junior forward Ruthy Hebard, contributed 10 points plus four rebounds.
At the break, the Ducks led 44-20. With a 24-point deficit heading into the third quarter, Stanford had a mountain to climb to have any chance of winning. However, for head coach Tara VanDerveer, the game proceeded like watching "a train going down the tracks really fast, it was really disappointing."
The second half of the game was equally as unpleasant for her team as they ended the third period in a 30-point hole that ballooned in the last ten minutes.
Ionescu, the nation's triple-double leader, nearly earned another one in Maples as she finished with 27 points, nine rebounds and eight assists. She left the game at 3:10 in the fourth quarter as reserves came in to give the starters a rest. Ionescu, who has been the subject of speculation as to whether she will enter the WNBA Draft at the end of the season, was mum when asked about the subject.
"I have absolutely no idea," she responded, adding that she was "100 percent dialed in" to her team. "I'm focusing on what we're building here and this year."
Four other Ducks were in double figures: Hebard (18 points, eight rebounds); redshirt sophomore forward Erin Boley (12 points, six rebounds); and Satou Sabally (11 points, four rebounds).
Junior guard DiJonai Carrington led Stanford with 13 points plus five rebounds. Senior forward Alanna Smith was held to just six points and four rebounds. well below her season average of 20.7 points per game and 8.0 rebounds per game. Smith, who is expected to be a high first-round pick in the WNBA draft, was a focus of Oregon's defense.
"She's one of the best players in the country and we knew that coming in," Ionescu said. "We tried to…take her out of her game and I think we did a great job….It shows that we can defend and we can take good players out."
With wins over California and Stanford under their belt, Oregon heads home to face in-state rival No. 7 Oregon State on Friday. The Beavers came from behind to beat Cal on Sunday, 82-74.
Stanford goes on the road to face the Pac-12's Los Angeles schools: UCLA on Friday and USC on Monday.
Stats