After 22 years of hosting NCAA tournament games, Stanford has a rich history of fascinating women's basketball connections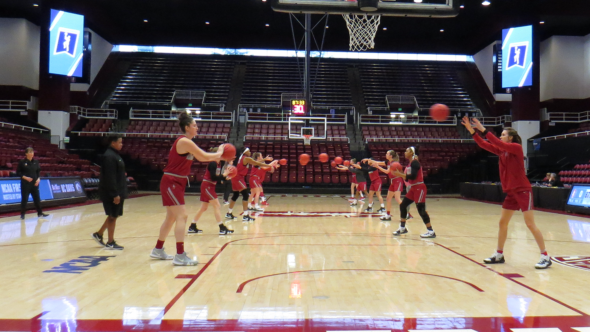 STANFORD, Calif. – Hosting the first two rounds of the NCAA tournament comes with a plethora of benefits. For Stanford head coach Tara VanDerveer, having those perks is a hard-earned bonus for being in the top 16 of the tournament seedings.
This year's tournament marks the 22nd time that Stanford gets to be a subregional host. The total could be 23 but Maples Pavilion was not available in 2017 due to a scheduling conflict with a Pac-12 gymnastics meet.
In 2015, the NCAA returned to the practice of bestowing the top 16 seeded teams with subregional hosting privileges. Previously, from 2003-2014, predetermined sites hosted the early games.
Regardless of the process of earning a hosting site, the home team has the advantage of having fans in the area who can pack the stands and give their team a sixth man boost.
"Well, the way that women's basketball tournament is now, hosting is a reward for being in the top 16 and you don't have to travel and for our fans, I think it's great because maybe a lot of our fans can't go to the next spot," VanDerveer remarked about hosting during a press conference Friday.
Student-athletes also realize the advantages of playing at home to start the tournament.
"I think that hosting is a very exciting opportunity," senior center Shannon Coffee said about the opportunity. "What kind of sticks out is when we weren't able to host two years ago when we went to the Final Four, there was a gymnastics meet here so we weren't able to host and that just kind of emphasized to me how exciting hosting the first round is."
For Coffee, hosting brings a "game changer mentality" not just for athletes but for "our fans here and it just kind of gets us hyped, gets us more excited to compete in this tournament, so I think that hosting kind of brings a whole another dynamic to the start of the tournament."
With Stanford's long history of hosting subregionals comes the accumulation of history and serendipitous moments that provide fans with opportunities to witness fascinating moments in women's basketball.
In Stanford's case, with Auburn, UC Davis and BYU playing in the subregional, there are connections that go back nearly 30 years. In 1990, VanDerveer's 12th year as the Cardinal head coach, Stanford defeated Auburn 88-81 to win the program's first-ever national championship.
Years later, VanDerveer coach the gold-medal winning 1996 USA senior women's national team with a roster that included Auburn great and basketball legend Ruthie Bolton.
In addition, the older sister of former Stanford player and Indiana Fever forward Erica "Bird" McCall is Phoenix Mercury forward DeWanna Bonner, Auburn's all-time leading scorer.
"Well, obviously, we played Auburn to win a national championship," VanDerveer said. "I haven't forgotten that. But also, my connection with Auburn is through Ruthie Bolton and Ruthie will be at the game tomorrow and she's an Auburn grad and took their team to the championship three times. So, I think it's, there's going to be a lot of kind of history in the building, which is great.
More recently, UC Davis and Stanford developed a relationship born out of VanDerveer's request to Aggie head coach Jennifer Gross for help in learning and implementing the Princeton offense.
"I don't know if people are aware of this, but their coaches are my tutors," VanDerveer said after her team defeated UC Davis 71-43 in Stanford's season opener back in November. "They taught us how to run Princeton. Jen and Joe [Teramoto] and their staff came down three times for hours and hours and hours to teach us how to run stuff. They are incredible people, tremendous coaches. I think I learned from the best.'"
Current Cardinal players treasure the connections developed over decades between Stanford and other programs.
"I think in terms of relationships with other teams, Tara is a Hall of Fame coach and I think what's really special about Tara as a coach is that she makes connections with other coaches and keeps them," senior forward Alanna Smith said. "So it's really cool that we're able to play other teams that Tara has relationships with, especially a team that Bird's sister played on in the past and a superstar player. We're really excited that Auburn is able to play here and we're really excited that we have made connections with those teams in the past."
Auburn plays BYU in the first game of the Stanford subregional on Saturday at 12:30 p.m. PT. It will be the first-ever meeting between the teams.
UC Davis and the Cardinal play in the second game of the day. Stanford leads the all-time series 12-7. The last time the Aggies beat the Cardinal was February 7, 1978.