Starkville action: South Dakota and Clemson set to battle while No.1 seed Mississippi State takes on Southern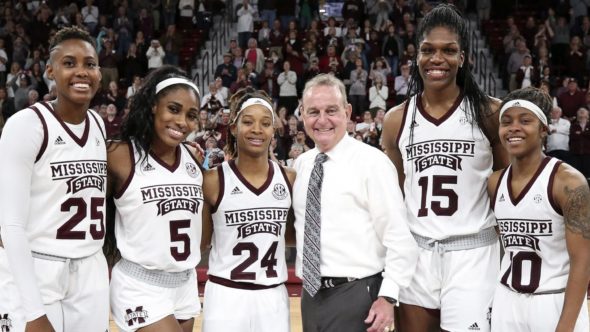 STARKVILLE, Miss. – Cool breezes, suffocating pollen and exciting basketball are in the air as 64 teams get ready for a battle to become national champions in the 2019 NCAA Tournament. While ESPN mistakenly unveiled the full tournament bracket hours prior to Monday's "Selection Show, possibly ruining the national excitement and anticipation of the reveal, things didn't change in Starkville, Mississippi.
For the fourth year in a row, Mississippi State earned the regional bid to host the opening two rounds of the tournament. Games include No. 8 South Dakota facing No. 9 Clemson and No. 1 Mississippi State against No. 16 Southern.
No. 8 South Dakota
This is South Dakota's second appearance in the NCAA tournament since 2015 after four consecutive trips to the WNIT tournament from 2015 to 2018. Lone senior and Summit League Player of the Year Allison Arens looks to cap her collegiate career with success. The Coyotes finished as the Summit League tournament runner-up with an 83-71 loss against South Dakota State.
"I think for all of us, it has been a really great experience," Arens, a guard, said Thursday during a press conference when discussing the season. "I know, for me, we've been really close to it as well as the juniors and its been a great ride. We all stayed very motivated. It's kind of a dream come true."
Head coach Dawn Plitzuweit is set for her second appearance in the tournament. After four years of success in the WNIT with the Coyotes, she looks to carry that momentum into a gritty battle against No. 9 Clemson Friday night. She expects Clemson to bring their tenacious defense as they rank in the top ten nationwide for steals.
"We've seen teams pressure us in different ways," Plitzuweit said of Clemson. "[We've seen] their athleticism in a couple of teams we've played with a couple of their players. What Clemson shows us is a different look that all five players are those type of players for them and they come off the bench with some more really, really good athletes."
South Dakota expresses their depth on the bench with redshirt sophomore center Hannah Sjerven adding for 12 points per game this season. At 6-2 with height and quickness, she gives the Coyotes a unique front-court presence. Sjerven's most notable performance came during a game against North Dakota on Feb. 24 when she scored 24 points and pulled down five rebounds. The freshness of the tournament keeps South Dakota excited about the Friday night matchup against the Tigers.
"They're a team that has played in those difficult situations and environments as well," Plitzuweit said. "We look forward to that battle. We look forward to two completely different styles of basketball and see what our young ladies can do."
No. 9 Seed Clemson
Amanda Butler returned to coaching after being dismissed by Florida in 2017 followed by a year-long hiatus. She came back stronger than ever at Clemson, bringing high standards and energy along with ideologies of hard work, grit and passion. Voters selected Clemson to finish dead last in the ACC's 2018-2019 preseason polls.
A 90-80 loss to Davidson on December 16 that gave the Tigers a 7-4 record sparked a conversation amongst the team. When Butler asked the Tigers what they wanted, junior forward Kobi Thornton responded: "I want to go to the NCAA Tournament."
Butler led Clemson to the quarterfinals of the ACC Tournament against tournament runner-up Louisville, finishing with a 19-12 season record overall. She won the ACC Coach of the Year in her debut season with the Tigers for her efforts. Four double-digit scorers pace Clemson. Thornton leads the pack averaging 15 points and 7 rebounds per game.
Aside from Thornton, graduate guard Simone Westbrook's appearance into the NCAA tournament has been a long journey. She is the first women's player in D1 history granted a seventh year of eligibility.
The Tigers return to the the NCAAs for the first time since 2002, searching for their first tournament win since 2001. They begin their journey against South Dakota Friday night at 6 p.m. CT. A deep run in the tournament would be icing on the cake for Clemson's successful season.
No. 16 Southern
SWAC Coach of the Year and Southern head coach Carlos Funchess had two goals for the Jaguars in his debut season: Become regular season championships and take the tournament championship as well. With both items checked off the list, the Jaguars entered the NCAA Tournament for the first time since 2010.
Southern first appeared in the NCAA Tournament on March 22, 2002. Now, 17 years later to the date, the Jaguars return to the Big Dance. They punched their ticket after a SWAC tournament championship win over Jackson State.
This is the Jaguars sixth NCAA tournament appearance in program history. Funchess found success with his senior group Skylar O'Bear, Danayea Charles, Rishonti Cowart and Courtney Parson. Out the four, O'Bear creates the most offensive impact averaging nine points. Facing No. 1 seed Mississippi State, Southern will pick their poison and stick to their team identities of shot limitations and post presence.
"We can't take quick shots," Funchess said. "We're gonna have to come down and move the basketball around with the shot clock. We have to bring [Teaira] McCowan out the paint. It's a challenge overall."
The Jaguars have weapons like SWAC Tournament MVP sophomore guard Alyric Scott. She was the top rebounder in 12-of-30 games and helped sealed the tournament championship win with a career-high 15 rebounds along with 14 points. Funchess and three Jaguars are Mississippi natives and return home to take on top-seeded Mississippi State. Game time is set for 8:30 p.m. CT.
"Just to play in the NCAA Tournament is a great honor," Funchess continued. "This is gonna be great for them to play in front of their families."
No. 1 Mississippi State
With an impressive regular-season resume that led to a 30-2 record, Mississippi State earned a No. 1 seed in the Portland region. This is MSU's fourth consecutive tournament appearance and their second-straight No. 1 seed. The historic seeding came after capturing the SEC tournament title champions on March 10.
"This team has been a little bit more trepidation with me because they still had, and I still have too a little bit, some insecurity with them," head coach Vic Schaefer explained. "Which is really not fair because they are 30-2 and they've played really well. But I think my trepidation with them is that I keep fighting every day to get them better because I think they can get better. They still, to me, could really become this difficult team for teams to handle."
Senior center Teaira McCowan has a knack for cranking up her performances for tournament time. Schaefer also credited senior guards Jazzmun Holmes and Jordan Danberry as reliable players leading into the tournament alongside the powerful duo McCowan and graduate transfer forward Anriel Howard. The high energy forward, who arrived from Texas A&M, gives Mississippi State an edge they have benefited from all season.
"I guess that's a credit to our coaches," Holmes said. "They recruit the best, credit to us for doing what we're supposed to do, and credit to our fans for making the atmosphere as good as it's been the last couple years that I've been here. It's an amazing feeling. I'm glad that we got to do this over the course of my four years. I want to go out with a bang."