Big 12 Tournament highlights: Baylor does it again, wins 10th title in rout of Iowa State, 67-49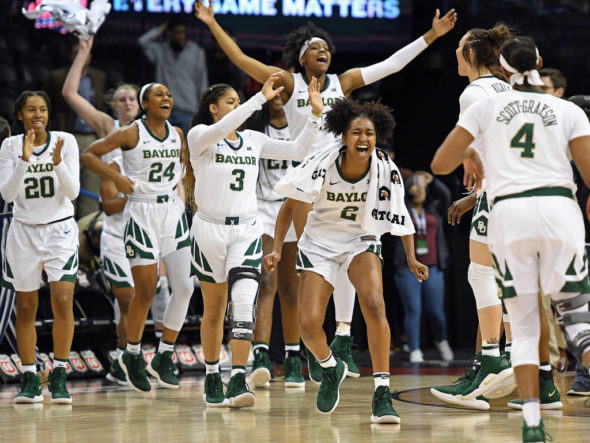 OKLAHOMA CITY—The last time Iowa State (25-8) won a Big 12 tournament title, Destiny's Child ruled the Billboard charts. The year 2001 is a distant memory with Baylor (21-3) dominating the conference with nine tournament titles in that time.
Monday night the Bears added a tenth trophy to their case after back-to-back titles. Fans in Oklahoma City did not leave disappointed as both teams fought to the end for the third time this season. ISU lost the previous contests for a combined 28 points. They lost for the third time by 18 points, 67-49.
Bears head coach Kim Mulkey now leads all Big 12 coaches for most games (51), most wins (42) and win percentage (.824) in the Championship. She has a 10-3 all-time record in the title game.
ISU swarmed junior forward Lauren Cox with a triple team, limiting her touches in the first quarter, until she picked up her first points from the line.
In the closing 1:46 of the first quarter, the Bears forged a 7-0 run before ISU charged back with a 7-0 run, cutting BU's lead to 5 points, 18-13.
ISU senior guard Alexa Middleton played with ice in her veins draining a three to tie the game at 18 in the second quarter, inspiring a 16-4 Cyclones run.
A visibly frustrated Cox sat after missing an easy bucket down low, immediately picking up her first foul on a Meredith Burkhall defensive rebound. Burkhall, a senior forward, ended an 8-0 Baylor run after picking up an and-1 with a minute left in the half. ISU finished the quarter down five points, 30-25 and had eight points off eight Baylor turnovers.
Freshman forward NaLyssa Smith came off the bench giving the Bears the boost they needed with eight points and three rebounds in the first half.
"It's not just tonight. NaLyssa Smith started the season," Mulkey said. "We don't win against Arizona State and Connecticut without NaLyssa Smith."
Cox ended the night with 14 points, 8 rebounds, ISU making her fight for every point. Eventually she found her rhythm in the third quarter.
"I think we were missing easy shots," Cox said. "We were letting them be physical with us, and I think that got us a little tired. But we pushed through that and our shots eventually started falling."
Junior guard Juicy Landrum provided a spark offensively for Baylor. Her speed and vision allowed her to pick up easy buckets when ISU overplayed defensively.
"It's a good feeling, because the momentum is with us," said Brown, who was voted most outstanding player of the tournament. "We have all the energy and we play with high energy…You just start having fun with it after that and I think that's what we did in the fourth quarter."
Down the stretch, Baylor's stifling defense, patience, and control of the clock took ISU out of the game. The Cyclones came into the contest averaging 84 points, Baylor held them to 49.
"Obviously their defense is really good," ISU head coach Bill Fennelly said. "When Kristin Scott got in foul trouble, I knew we were in trouble. We had no spacing. We can't create space against their big guys. They do such a good job of that."
Middleton led all scorers with 18 points and 3 assists. Senior guard Bridget Carleton had 13 points including 25 career steals at the championship (fourth-most all-time).
"This is the best practice, obviously we're disappointed we lost the game, but I can't imagine anyone being that physical at both ends of the floor that we're going to see," Fennelly commented.
Highlights (Provided by Big 12)
This was the ninth time that the No. 1 and No. 2 seeds have met in the finals. No. 1 seeds have never lost to a No. 2 seed in the championship game.
No. 1 seeds are 15-3 all-time in the final game, while No. 2 seeds are 2-9.
Baylor is 10-0 in championship games when leading at the half. The team leading at the half is 20-3 all-time in the Big 12 Women's Championship game.
Individual and Team Notes
The Lady Bears held the Cyclones to five points in the fourth quarter, the lowest-ever in a quarter in a championship game.
Baylor senior Kalani Brown was named Most Outstanding Player for the second-straight year. BU has had a player win the accolade 10 times, including six different players, and three Lady Bears have won it in back-to-back seasons.
Brown was the leading scorer at this year's Championship with 55 points over three games, while Baylor's Lauren Cox was this year's leading rebounder with 29.
Brown has scored 213 career points at the Championship, securing sixth place all-time. She has also grabbed 91 career rebounds at the tournament and moved into sixth place on the all-time leaderboard.
Middleton tied for the most assists (17) at this year's Championship (Kayla Goth, Kansas State).
Iowa State head coach Bill Fennelly is 2-4 in the finals of the Big 12 Women's Championship.
The Cyclones defense kept Baylor to 12 points in the second quarter, which tied for the lowest amount of points the Lady Bears scored in a quarter at the Big 12 Women's Championship. They were also held to 12 points against Kansas State in the fourth quarter of this year's semifinals in the fourth quarter.