2019 Final Four: What the teams are saying about each other ahead of the games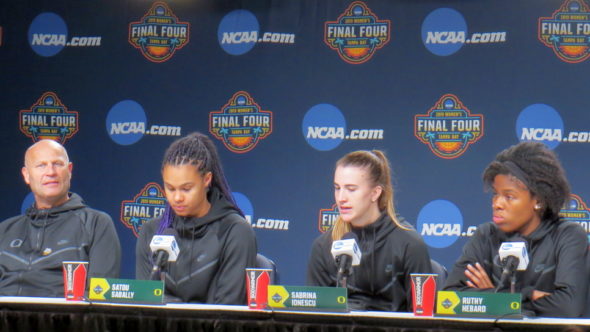 TAMPA, Fla. – In the week of the Final Four, coaches participate in an NCAA media teleconference the morning after the last Elite Eight game.
A few days later, teams meet with members of the press at the Final Four venue. In fact, the day before the semifinals is a media whirlwind as players go from pressers to locker room interviews to radio interviews to TV appearances. It is a wonder that they have enough energy left to play after all the activities that include autograph sessions, scheduling time with family, a formal dinner and more.
Below are some interesting tidbits from the press conferences.
Baylor on Oregon
Kim Mulkey
Oregon is an unbelievably talented team.
On facing a team like Oregon that shoots a lot of threes
We actually have seen teams that shoot the three a lot. We see it in our league. We also have seen it because of our height advantage inside. We've seen teams change their approach when they play us that they do shoot more threes than they normally would. It's not going to be uncommon or uncomfortable for us to expect that and to see that.
On Oregon's offensive prowess
I will tell you that it all starts with Sabrina. What a talent. What a joy to watch. If you're not having to play against her….The thing that I love more than her talent is I love the way she competes. She's got that umph in her. She makes everybody around her better. She's just a special, special talent….All those kids know she makes them better. She'll get the ball to them in spots where it makes them look good. She certainly is not the only great player on that team but it starts and stops with her.
Oregon on Baylor
Satou Sabally
I just think that both teams are going to be really aggressive and appreciative of where they are. We're not going to take it for granted that we made it to the Final Four. We've come a long way and worked all the season hard for it. The same thing applies to Baylor. They're going to be thankful and aggressive in the game.
Kelly Graves
Well, I think they're more than just the two [Kalani Brown and Lauren Cox]. Those two are very similar to Ruthy and Sabrina for us. There are other really good parts. I think Chloe Jackson, man, she is terrific. I remember watching her at LSU a few times.

But they're long, they're athletic, they can run a whole bunch of different players at you, change styles if they need to. They shoot it, they're not a prolific three-point shooting team, but a really good shooting team, especially from the midrange.

I think defensively they create a lot. They're so good in transition. I mean, if I keep talking like this, I'm going to psych myself out. There's a reason they're the No. 1 overall seed. They seem to be determined this year, as well. They've added that.
On the overall game plan to try and beat Baylor
Stanford is the only one that figured out that puzzle this year. We're hoping to be the second.
UConn on Notre Dame
Geno Auriemma
I think mainly tomorrow's game is more about two really good teams that are playing. I don't think the other 49 times we played them really has any significance in tomorrow's game. It's just that in the last number of years, every time we've played them it's been a lot at stake, even a stupid regular season game like in December, it's 1 versus 2. One of us is 1, the other one is close to being 1. It's a big game. That version of game of the year, game of the century.

I think that's cool because, you know, sports needs that kind of rivalry. We used to have that with Tennessee. Now we have it with Notre Dame. I think it's cool.

Of course, it's exciting and it means a lot. But I don't think tomorrow's game has any more significance whether you want to win or not just because it's Notre Dame. Just because we beat them in December doesn't have anything to do with tomorrow night.

Same thing with Louisville beating us. It didn't really affect the outcome of that game. I just think tomorrow's game is a completely different game. I always tell our players whenever we win a big game in December, I say, Listen, we're going to have to get a lot better fast. I'm assuming the teams we play against, they're getting a lot better. And Notre Dame is a lot better today than they were in December, no doubt in my mind. I mean, I think they're the best team in the country. I don't think anybody else is even close. Baylor. But I don't think anybody else, I think, can match Notre Dame when they're playing their A game. They just overwhelm you, man, at every position.
Notre Dame on UConn
On lessons learned since facing UConn in December
Brianna Turner
For the first game, I think we just learned a lot about ourselves, how we need to focus on our defense, not get too riled up, making sure we're staying focused throughout the 40 minutes, not letting up no matter who the opponent may be or what's happening during the course of the game.
Arike Ogunbowale
I think definitely just after that game we really learned how to play with each other. Marina was injured for most of the games before that, that was our first game as a starting five. Definitely just it's a process to be able to learn how to play with five All Americans.

I think over the course of the season, that game really helped us.
Jessica Shephard
Yeah, I agree. I think just developing team chemistry since that game's happened. I think just kind of refocusing as a team
Muffet McGraw
I think any time you lose, you go back and you look at absolutely everything that went on in the game, offense, defense. What did we do wrong, substitutions, man, zone, what did we play. You break down the whole game, try to find some things.

That's why you play those games early in the year, because you want to know what your weaknesses are, how teams are going to attack you. You learn a lot from them.

We did some good things. We did some good things at both ends of the floor. We just didn't do enough good things. I think we didn't take advantage sometimes of the mismatches that we had. So we were able to work on that. Our defense was not as good as I thought. We've actually been working on that for the rest of the year. I think you take away little things like that.

[Christyn] Williams had a huge game. We probably weren't as prepared for that. So now we're aware of what she can do. I think we learned a lot. Same as we did for the other two losses we had.
On the rivalry with UConn
I think it's very competitive and intense. I think it is the best rivalry in women's college basketball. I think it's one the fans and teams all look forward to.