New York Liberty rookie Han Xu's WNBA debut viewed by millions in China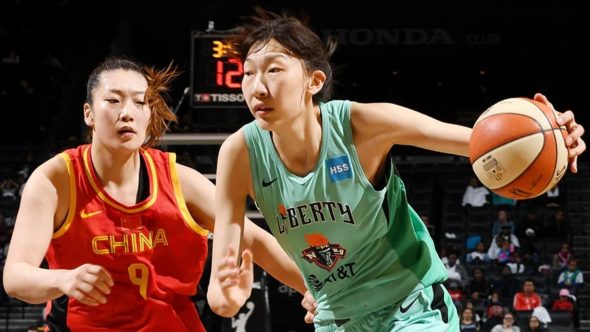 The WNBA sent out a release today touting the Chinese viewership of the New York Liberty's first preseason contest last Thursday. In the game, Chinese phenom and 19-year-old rookie Han Xu scored 19 points and pulled down five points against her her colleagues on the Chinese Women's National Team.
From the league:
"New York Liberty rookie and China-native Han Xu's recent WNBA debut generated 1.2 million viewers across Tencent, Youku, Migu and Xigua, and another 6.3 million total video views on social media platforms in China, including behind-the-scenes coverage of the game and an interview with new Liberty owner Joe Tsai.

Han Xu, the first graduate of the NBA Academy program to be drafted into the NBA or WNBA, made her WNBA debut in an exhibition game at Barclays Center in Brooklyn, NY on Thursday, May 9 against the Chinese Women's National Team."
The Liberty used their first pick in the 2019 WNBA draft (sixth overall) to add the rookie to their roster.  The team's new owner, Joseph Tsai, was courtside at Barclays Center to watch a game that was celebrated as an event to help grow basketball in China.
New York is back in action on May 13 and 14 when the team travels to Connecticut for a two-day event at Mohegan Sun Arena hosted by the Connecticut Sun. New York finishes preseason with a game against the Sun on May 19 at 2:30 p.m. Eastern Time at the Times Union Center.