New York Liberty tops Chinese National Team 89-71 in exhibition at Barclays Center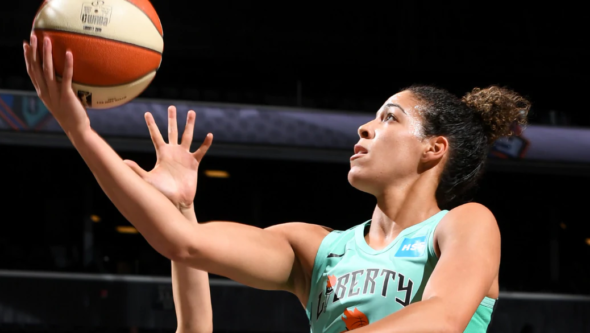 In the first game of the WNBA preseason Thursday, the New York Liberty downed the Chinese National Team 89-71 at Barclays Center in Brooklyn. It was the first game for the Liberty under new owner, Joe Tsai, who is also a part owner of the NBA Brooklyn Nets. Tsai, a Yale graduate, sat courtside as did Yale women's basketball coach Allison Guth and the school's athletic director, Vicky Chun.
"I like our team," said second-year head coach Katie Smith. "I thought everybody was aggressive and that, at the end of the day, is what we need."
New York took the early lead, with a slim 18-16 after the first quarter. Rookie center, 6-9 Han Xu, a 19-year-old phenom, scored the first points of the game with a jump shot assisted by veteran post Tina Charles.
With a balanced effort led by center Li Yueru, China fought back in the second quarter. outpacing the Liberty 26-18. At the half, the visitors led 42-36.
Guard Kia Nurse exploded for New York in third quarter earning 11 points in the period and leading her team to outscore China 25-13 in ten minutes. The Liberty continued to dominate on offense in the fourth quarter with a 28-16 effort over the Chinese team.
Han and Nurse finished with 19 points each. Han also pulled down five rebounds. Charles added 13 points.
"I hope I can be an inspiring player and motivate people to come out and watch games, and really bring some attention to women's basketball," said Xu, New York's second-round 2019 WNBA draft pick (14th overall).
The team's first round draft pick (2nd overall), Asia Durr had six points and three rebounds in her first pro outing.
Amanda Zahui B and Reshanda Gray did not dress for the team as they returned from overseas play this week but sat behind the bench.
Chinese guard Li Meng lead her team with 15 points and five assists. Teammate Li Yueru contributed 13 while forward Wang Xuemeng chipped in 10.
According to a Liberty release hosting "the Chinese Women's National Team is a pivotal moment in the franchise's history. This historic exhibition builds on the strong ties between the NBA, WNBA and the Chinese Basketball Association, which all have a long history of working together to grow the game of basketball in China."
New York sees more preseason action on May 13 and 14 when the team travels to Connecticut for a two-day event at Mohegan Sun Arena hosted by the Connecticut Sun. New York finishes preseason with a game against the Sun on May 19 at 2:30 p.m. Eastern Time at the Times Union Center.
Stats
Points in the Paint: China National Team 4, Liberty 12
Second Chance Points: China National Team 2, Liberty 2
Fastbreak Points: China National Team 4, Liberty 2
Biggest Lead: China National Team 4, Liberty 4
Lead Changes: 6
Times Tied: 4