Seattle rallies late over protesting Washington for 74-71 win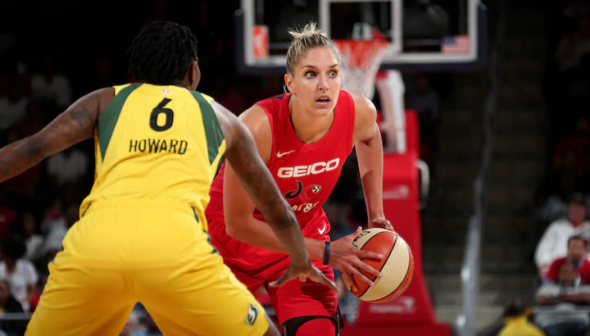 Stats || Notes || Shot Charts
WASHINGTON, D.C. – The Seattle Storm (5-3) overcame the Washington Mystics 74-71 at Entertainment and Sports Arena in a Finals rematch between the teams. In the win, the Storm held the Mystics scoreless over the last 2:36 and tied the game up at 71 all with eleven seconds left.
In the tough environment, Seattle's interim coach Gary Kloppenburg had to decide how to end the nail-biting rematch. In the last moments, Seattle forward Natasha Howard drove to the rim as Washington's players triple teamed her, but they still left Seattle guard Jewell Loyd wide open for a short jumper and the game winning bucket.
"They understand that they're never out of a game," Kloppenburg said. "I think this was probably a good example of that tonight."
"Everyone rotated to [Howard] and 'Tash found an open person," Loyd said of the last play. "I was just trying to make sure I made that shot for her, for our team."
The hostile environment didn't hinder Seattle, squeezing out a three-point victory. Washington is now 4-3 on the season after the loss, halting a 3-0 home streak.
"Credit to Seattle or hanging in," Washington head coach Mike Thibault said. "You know I think as much as anything, when you shot the ball like we did, it's hard to win a game shooting 30-something percent."
Early in the game, the Storm were hot behind the play of Howard and guard Jordin Canada. Washington looked to take charge, then Toliver earned her second technical foul with 31 seconds left in the first quarter. She was ejected, finishing with five points and four assists which came in the latter half of the quarter.
Toliver was responsible with guarding Seattle's perimeter guards Alysha Clark and Canada. Washington didn't dwell, as reserve Powers fulfilled the guard role just fine. She took over Toliver's offensive responsibility. Center LaToya Sanders only tallied two points, but her defensive work on Howard held her to just two second quarter points. She enabled the Mystics to begin a rhythmic offense, forcing Storm's offense toward their perimeter. Canada was helped off the floor with a left leg injury before halftime.
Washington dominated the second quarter, outscoring Seattle for a 46-38 halftime lead but the home team's momentum came to an abrupt stop in the fourth. Washington's 13-point lead wilted away as they went 3-of-16 from the floor. As time ticked away, Howard reemerged for an eight-point fourth quarter. Seattle outscored the Mystics 22-8 to close out the game.
Howard recorded a double-double of 19 points and 11 rebounds. Center Mercedes Russell finished with 15 points and 11 rebounds for the second double-double for Seattle. Reserve guard Blake Dietrick defended Delle Donne in the final minutes, restricting to Delle Donne with to a 1-of-6 performance in the fourth quarter. Delle Donne finished as the Washington's leading scorer with 19 points and eight rebounds.
"I think that it was just us keeping our fight [and] not getting down on ourselves," Russell said. "Just keeping that steady pace and the will to win."
There was no official comment from the Mystics about the game since they participated in a media blackout. Natasha Cloud, who scored eight points and handed out five assists, led the conversation.
Cloud's intention for the blackout was to bring awareness to Washington D.C.'s Ward 8 and its historic problems with gun violence. She mentioned D.C.'s mayor, Muriel Bowser, and Ward 8 representative Trayon White for a call to action. Cloud used her Instagram the day before game to raise awareness.
"I will be sure to my media privileges as blackout," Cloud said on her Instagram story. "And I will only discuss this topic until it's fixed."
Cloud visited the Hendley Elementary School located nearly two miles from ESA. According to Cloud, the school had to cancel their Field Day because a bullet shot through their front window. She felt representing DC in the WNBA meant being a martyr for the area's issues.
"We as a team want to only bring light to issues going on in this community and that is the violence around kids going to school," Cloud said. "We need to ensure their safety and that starts with raising awareness and bringing attention to our community."
There were questions media had for Washington, since a four-game road trip lies ahead. Washington must sidestep slow starts like their 8-of-18 first quarter shooting performance. They also started the final quarter with ten-straight empty possessions. Questions of the game's outcome also point toward Toliver's early ejection. Washington shooting an overall 35 percent along with 13 turnovers isn't ideal either.
"That was bad basketball," Thibault said. "We shot terribly, our defense wasn't awful but it wasn't great when we needed it most to be."
Washington gears up to take on the first leg of their trip against the Los Angeles Sparks June 18. Seattle continues their East coast trip to the red-hot Connecticut Sun, who currently have the league's best record at 7-1.
Stats
Points in the Paint: Storm 26, Mystics 22
Second Chance Points: Storm 13, Mystics 6
Fastbreak Points: Storm 4, Mystics 11
Biggest Lead: Storm 8, Mystics 13
Lead Changes: 6
Attendance: 3,654
Notes
Washington
Myisha Hines-Allen did not play against Seattle due to right bone bruise injury. Her timetable for return to play is unknown.
Kristi Toliver earned both of her technicals in the first quarter. The first with 7:47 remaining and the second with 31 seconds left.
Shey Peddy scored her first points in her WNBA career, sinking two free throws with 2:35 minutes left in the third quarter.
Washington's four game road trip in order: Los Angeles, Las Vegas, Atlanta and Chicago.
Seattle
Mercedes Russell recorded her first career double-double with 15 points and 11 rebounds.
Twenty turnovers is second highest season this season for Seattle, as Washington tallied 26 points from them. Twenty-two turnovers against the Los Angeles Sparks on 5/17 is the worst.
Shot Charts