Big third quarter pushes Los Angeles Sparks to 17-point win over Phoenix Mercury, 85-68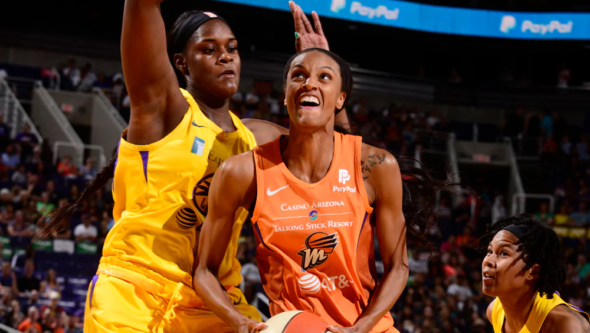 Notes || Stats || Shot Charts || Griner Dunk
PHOENIX – Chelsea Gray scored 14 of her 21 points in the first quarter, and the Los Angeles Sparks (4-2) ran away from the Phoenix Mercury in the third, en route to an 85-68 victory, on Friday night.
DeWanna Bonner, leading the WNBA with 24 points per game, scored 22 for the Mercury (2-4), while Brittney Griner established a double-double of 24 points and 13 rebounds, plus added her 11th career dunk.
"This is a team that was very physical," Mercury coach Sandy Brondello said of the Sparks. "We didn't make shots when we needed to, and we had to keep going to BG (Griner) because she was the one who we knew could actually do something. We have a lot of pride, and we're not happy with how we are playing. We need to control what we can control and that's how we'll come back to work and find that potential that we have."
The teams, playing without injured stars Diana Taurasi, Candace Parker and Alana Beard, needed contributions from role players, and perhaps the most valuable was Tierra Ruffin-Pratt. The 5-foot-11 guard, who averages five points per game for the Sparks, scored 14 on Friday with six rebounds, after recording 17 points against the Lynx in her previous game.
"My teammates give me a lot of confidence and trust me to play my game and shoot the ball," Ruffin-Pratt said. "We're taking it one game at a time, and we'll go from there."
Despite Gray being 4-of-4 from downtown, neither team went up by more than four points in the first quarter, and the score was tied at 20-20. The Sparks opened up a double-digit lead midway through the third and outscored the Mercury 24-14 during that period. Phoenix was also outscored 24-14 in the third in its most recent game, a 82-75 loss at Chicago on Tuesday.
"It's that third quarter that kills us," Griner said. "We can't let teams come out like that. We are a work in progress, under construction right now."
This was also the first time that Griner and  Kalani Brown matched up. Griner, at 6-foot-8, led Baylor to the NCAA title in 2012, while the 6-foot-7 Brown did the same two months ago. Brown scored six with five rebounds in 21 minutes.
"I was looking forward to it," Griner added of playing Brown. "She is going to be good, once she gets her feet wet in the league. She has a big body."
Los Angeles head coach Derek Fisher praised the work ethic of all of his players.
"I think we have a number of players that are playing the game with confidence as they get healthier and their conditioning continues to improve as we get into the early part of the season," he said. "I think physically they're in a good spot and the players deserve a lot of credit. Every day before practice, before games and before shoot-arounds, the players are coming in, working on their game and putting extra time in. It's starting to pay off in the games for us."
The Sparks, who also had 16 points and eight rebounds from Nneka Ogwumike on Friday, have a quick turnaround before playing at home against New York on Saturday night, while the Mercury will be at Dallas on June 20. The teams meet again in Phoenix on June 23.
Notes
The game marked the second consecutive win for the Sparks and their fourth in five games.
Chelsea Gray reached double-figures for the fourth time this season 21 points. She had a season high 9 assists. This was her third game of the season with 20 or more points.
The Sparks held the Mercury to 34.7% from the field. The Sparks shot a season best 51.5% from the field (34/66) and 47.4% on 3-pointers (9/19).
The Mercury's Yvonne Turner recorded her 100th career assist.
Stats
Points in the Paint: Sparks 42, Mercury 34
Second Chance Points: Sparks 9, Mercury 16
Fastbreak Points: Sparks 17, Mercury 2
Biggest Lead: Sparks 20, Mercury 5
Times Tied: 8
Shot Charts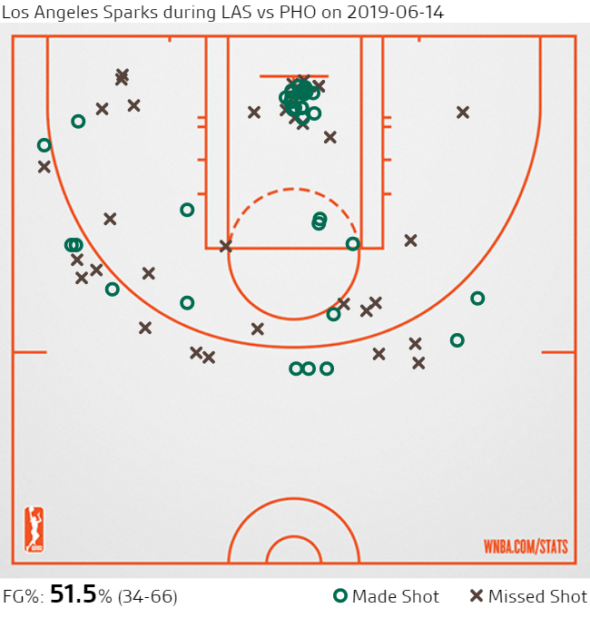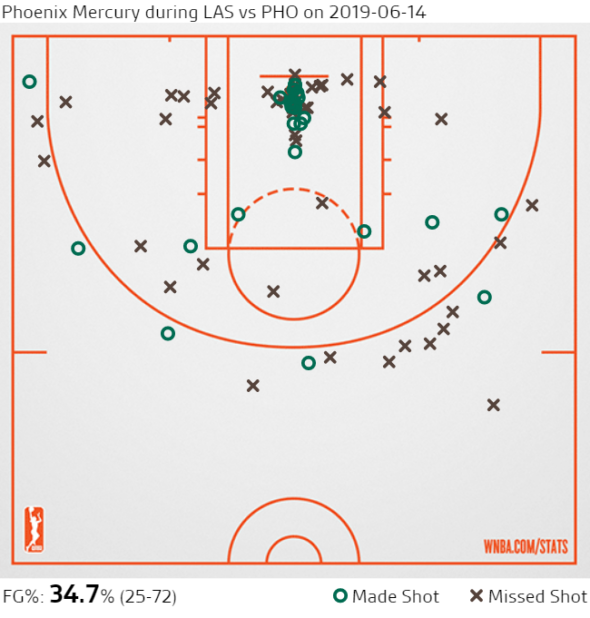 Griner Dunk