Elena Delle Donne returns to homecourt in Washington Mystics 93-65 win over Atlanta Dream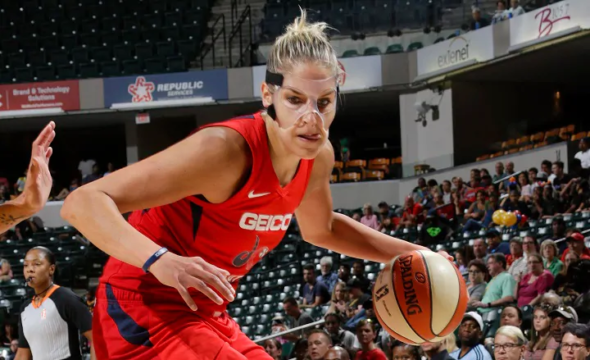 Stats || Mystics Notes || Shot Charts
WASHINGTON, D.C. – Cue those classic storylines about players dominating with masks due to facial injury. Washington forward Elena Delle Donne wore hers while leading the Washington Mystics to a 93–65 win over the Atlanta Dream at Entertainment Sports Arena Sunday afternoon.
"It felt best to get back to it," Mystics head coach Mike Thibault said. "We have a lot of people who stepped up tonight. We kind of just spread the wealth today and that's pretty fun to see."
Atlanta started well on defense at the perimeter. It took Washington starting guards Kristi Toliver and Natasha Cloud out of their usual rhythm. Shooting forward Aerial Powers returned to the starting lineup to replace guard Ariel Atkins who sat with left Achilles tendinitis. Delle Donne started her homecourt return on fire, going a perfect 5-of-5 from the floor for 12 first-quarter points.
Thibault flaunted Washington's bench depth with guard Shatori Walker-Kimbrough and forwards Tianna Hawkins and Emma Meesseman. Their big bursts of energy, height and quick athleticism gave Washington a nice jolt of energy, opening up a 45-31 lead at halftime. Delle Donne led all scorers at the half with 18 points.
"With Ariel Atkins out, [Atlanta] played bigger and [Nia] Coffey was at the three," Thibault explained of his first quarter substitutions. "It helps with matchups to do [sub them in]. It helps our rebounding and against this team, rebounding is a big deal and I thought that helped us a little bit."
Delle Donne's dominance put the Mystics on cruise control for the win over Atlanta. She showcased her role as Washington's major scoring asset. She finished a perfect four-of-four from three and the free throw line while scoring 28 points in back-to-back contests.
The Mystics dug quite the hole without her. They went 0-3 in Delle Donne's absence, knocking them down to third place after capturing the top spot June 29 against the Connecticut Sun. She also finished with eight rebounds.
All active players on the Mystics roster contributed for the 28-point win over Atlanta. Powers scored 17 points in her start. Meesseman dished six assists, six rebounds, and two points. Hawkins added 13 points and three rebounds. They added 29 points and two turnovers in the win.
"We've been together for a while now so when we put in the big lineup, I think we did pretty well," Hawkins said. "We come together before every game and reiterate, 'Be that spark, be that energy of the bench. And be ready when your number is called.'"
Thibault can adjust his team to particular matchups presented to Washington. That's the kind of edge Washington needs as they start the climb back to first place.
"It's something we have in our back pocket to use against certain teams," Thibault said. "It's hard though because you're leaving somebody else off the floor. The hardest part for me some nights is going to be choosing who plays down the stretch. We're going to do some experiments so we can see which groups were best toward the end of the season."
Toliver earned her fifth technical foul of the season at the 5:03 minute mark of the second quarter. The league rescinded a tech issued to Toliver during a June 20 game at Las Vegas.
Four players scored in double figures for Atlanta. Center Elizabeth Williams recorded the team-high of 14 points. Guard Tiffany Hayes did not play in the game due to "coach's decision" per the box score.
Guard Nia Coffey scored 13 points off the bench. Forward Brittany Sykes, who committed a flagrant-1 foul at 1:43 mark in the third quarter, contributed 11 points.
"Our bench was fantastic," head coach Nikki Collen said. "I thought that Nia Coffey was really aggressive coming off the bench for the second game in a row. The second unit played with a lot of energy two rebounds."
New WNBA commissioner Cathy Engelbert attended the Washington-Atlanta matchup. She started her new position last Wednesday.
The Mystics heads to Minnesota for an afternoon matchup against the Minnesota Lynx July 24. Atlanta will host the Los Angeles Sparks later that day before the All-Star break.
Stats
Points in the Paint: Dream 30, Mystics 24
Second Chance Points: Dream 14, Mystics 12
Fastbreak Points: Dream 0, Mystics 7
Biggest Lead: Dream 2, Mystics 30
Times Tied: 5
Attendance: 4,200 (Sellout)
Mystics Notes
The Washington Mystics (11-6) swept the three-game season series against the Atlanta Dream (5-14), with a 93-65 win at the Entertainment and Sports Arena.
Mystics forward Elena Delle Donne led all players in scoring, recording 28 points for the second consecutive game. This is her third game this season scoring 28 points. She also grabbed eight rebounds.
Mystics guard Kristi Toliver led the team in assists with seven and added four points. This the ninth game this season Toliver has tallied at least six assists.
In her first start this season, Mystics forward Aerial Powers scored in double figures for the sixth time this season with 17 points, two steals, and four rebounds.
Mystics forward Tianna Hawkins came off the bench to score 13 points and tallied three rebounds.
Mystics guard Natasha Cloud scored six point and six assists.
Washington shot 46.3% from the field, and 46.3 % from the three-point line for 12 threes, one shy of their season high and as a team had 24 assists
Shot Charts