Los Angeles Sparks top Dallas Wings 69-64 in biggest comeback of the season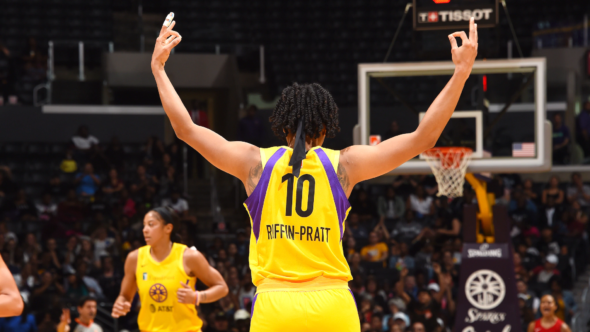 Stats || Shot Charts
LOS ANGELES – With 2:41 remaining in the second quarter of Thursday's day game between the Los Angeles Sparks and Dallas Wings, center Imani McGee-Stafford found herself open near the hoop, and laid the ball in. It gave Dallas a 39-23 lead, and encapsulated the first 17 minutes of the game.
The Sparks had no answer for the Wings' length, and were bullied on both sides of the court. Dallas found holes in the Sparks defense on nearly every possession, and stagnated Los Angeles' offense with a swarming attack.
And then the flip switched for the shorthanded Sparks, who were without Alana Beard (hamstring), Alexis Jones (knee), Candace Parker (ankle), Maria Vadeeva (knee), and Riquna Williams (league suspension).
Following McGee-Stafford's layup, Los Angeles went on a 33-12 run. A 16-point deficit turned into a five-point lead to end the third quarter, which paved the way for a 69-64 Sparks win in front of a sold-out Staples Center crowd of 14,050. It was their largest comeback of the season.
"I think our players just kind of responded to the force that Dallas plays with, which I think caught them off guard, and caught us off guard when we played Dallas in Dallas the first time," Sparks coach Derek Fisher said. "They're a strong team, physically. They compete really hard…I just think our players kind of responded to the force that they felt Dallas playing with, and realized that if they don't bring or match that, things are not gonna go well. So I thought that defensively our energy, our intensity really elevated in the third quarter, once they realized that they were gonna have to play that hard just to have a chance to win."
The game was certainly won on the defensive end, where the Sparks held the Wings to a nine-point third quarter, on just 3-for 16 shooting. Los Angeles forced five turnovers in the frame, with crisp defensive rotations that led to shot clock violations and offensive turnovers. That, in turn, led to offensive opportunities that helped the offense find its groove.
"We wanted to make them earn their buckets in the second half," said forward Nneka Ogwumike, who led all scorers with 22 points, to go along with seven rebounds and three assists. "And also, kind of give ourselves that energy that we needed going into offense. I think our defense really fueled our offense in the second half….A lot of times you're expending energy when it's a shot clock violation, because you have to play defense for the whole shot clock. But I think it also contributes to the frustrations that another team would feel. And in those moments when we're feeling a little tired, if we get a shot clock violation then we don't feel like we've got to push the ball up. We can get set, we can run our offense, we can execute, and almost take a breather on offense."
Los Angeles essentially played only seven players, due to their myriad injuries and Williams, who sat for the first game of a ten-game suspension due to a domestic violence incident. Karlie Samuelson, who was added on a seven-day contract to be the team's eighth active player, saw the court for a mere ten seconds.
Isabelle Harrison led the way for Dallas with 14 points and nine rebounds, but it wasn't enough to propel the team to victory in coach Brian Agler's return to Los Angeles. Agler coached the Sparks for four years, including to the 2016 WNBA title, before abruptly resigning last fall.
The Sparks (10-7) now hit the road, and visit the New York Liberty on Saturday. The Wings (5-13), will host the Phoenix Mercury on Saturday.
Stats
Points in the Paint: Wings 28, Sparks 28
Second Chance Points: Wings 9, Sparks 11
Fastbreak Points: Wings 8, Sparks 6
Biggest Lead: Wings 16, Sparks 8
Times Tied: 3
Attendance: 14,050 (Sellout)
Shot Charts