Washington survives Phoenix 99-93, Elena Delle Donne drops season-high 33 points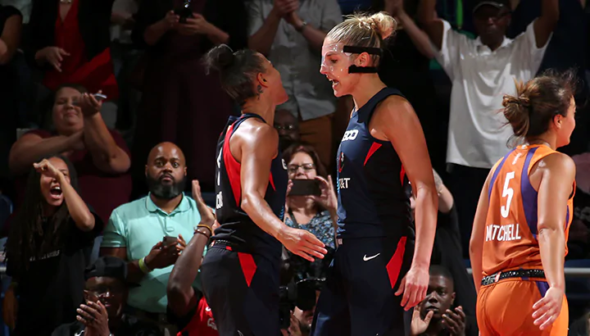 Video || Stats || Shot Charts
WASHINGTON, D.C. – The Washington Mystics (13-6) prevailed in a 99-93 nail biter over the Phoenix Mercury (10-9) Tuesday night at Entertainment and Sports Arena.
"Our two stars made huge shots…and then we got hustle plays," Mystics head coach Mike Thibault said. "We hung in and our bench did a great job and especially in the first half that got our momentum going."
Washington took a "defense first, shoot later" approach to their first game after All-Star break. Equal ingredients of confidence, efficiency and hustle helped the Mystics execute a strong defensive performance against the Mercury. It did a number on Phoenix's guards, but center Brittney Griner went off for 18 points in the first half. With the exception of Griner, the Mercury fizzled out and the Mystics led 48-38 at halftime.
"Defense was really good aside Griner making shots," Thibault said. "It was good for a half." Washington's leading margin was a green light for their offensive abilities to take center stage. The Mystics opened the second half on a 9-0 run. A great start made way for a 30-point third quarter, 15 of which came from forward Elena Delle Donne.
While the Mystics offense peaked in the third quarter, the Mercury played better defense in the fourth. The game went to the wire after the Mystics did not adapt to the change. Griner kept all the attention and got the ball to guard Leilani Mitchell.
"We made some mistakes on Leilani Mitchell," Thibault said. "We got caught in screens twice, we helped off her one time when we weren't supposed to help. Why did we help after she made three in a row? I'm not sure. She got hot and that allowed space for Bonner and Griner to operate."
Mitchell's trey with 1:21 left in the game shaved Phoenix's deficit to just two points. The Mercury outscored the Mystics 32-21 in the final quarter. Mitchell scored 12 of those points herself. She recorded her season high of 28 points, going 7-of-8 from three in the second half and 8-of-12 overall in the comeback attempt. Her eight made three-pointers matched the WNBA record for most in one game.
"The team needed me to score and the way they were double off [Griner], people were open," Mitchell said on her performance. "My teammates did a great job of finding me."
Griner's early work helped her to an unstoppable 14-of-18 from the floor for 30 points. She also grabbed nine rebounds. It was her third 30-point game this season and it marked her 200th game with the Phoenix Mercury.
Less than three games separate the WNBA's first and last spot and the Mystics showcased their ability to be a defensive powerhouse.
Delle Donne finished with a season high of 33 points plus six rebounds. Guard Kristi Toliver added 25 points and four assists. Forward Aerial Powers scored 13 points and pulled down eight rebounds while guard Natasha Cloud added 12 points.
"We know we're a really offensive team, so we've been focusing a bunch on defense during practices," Delle Donne said. "All we really do is work on our defensive schemes and rotations so it's something we really need to improve and lock in on while we get playoffs."
The Mystics are currently in third place behind the Las Vegas Aces and the Connecticut Sun who are tied in first place. Washington goes on the road for a matchup against the Seattle Storm Friday at 10 p.m. E.T. Phoenix stays on the East coast visiting the Connecticut Sun Thursday night.
Video
Stats
Points in the Paint: Mercury 34, Mystics 42
Second Chance Points: Mercury 13, Mystics 13
Fastbreak Points: Mercury 4, Mystics 6
Biggest Lead: Mercury 0, Mystics 23
Times Tied: 1
Attendance: 3,819
Shot Chart