Los Angeles Sparks outpace Las Vegas Aces in second half for 76-68 victory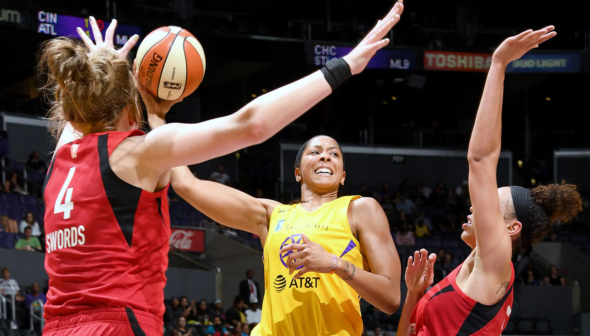 Video || Stats || Shot Charts
LOS ANGELES – Less than two minutes into Thursday night's heavily anticipated, nationally televised game between the Las Vegas Aces and the Los Angeles Sparks, Aces All-Star center Liz Cambage picked up her second offensive foul. It forced coach Bill Laimbeer to bench Cambage, leaving the Aces without their star-studded front court, as fellow All-Star A'ja Wilson did not play due to an ankle injury.
That was all the Sparks needed. Los Angeles jumped out to a quick 11-4 victory as Cambage watched from the sideline, and the lead was pushed to 24-15 by the end of the first quarter. Cambage returned for the entirety of the second quarter and helped the Aces into a 40-40 tie at the half. But as the Sparks slowly built a lead in the late third quarter, and carried it through the fourth to a 76-68 victory, it was apparent that the game could have gone in a much different direction if Cambage hadn't been held under 25 minutes of play.
Los Angeles was also without a center, as Chiney Ogwumike was a gameday scratch due to a jaw injury. The Sparks, however, welcomed back Candace Parker, who played in just her eighth game of the year, and her first since spraining her ankle on July 9. Parker was highly efficient, shooting 5-for-9 from the field, including a perfect 3-for-3 from both the three-point and free throw lines. She finished with 16 points, seven rebounds, three assists, three steals, and three blocked shots.
The Sparks were constantly pushing the ball in the open court, and when they did so, they put the ball in Parker's hands. Los Angeles had 15 fast-break points on 7-for-11 shooting.
"My teammates trust me to make the right play," the two-time MVP said after the game. "I think in transition we're at our best. We have people who can go one-on-one, that can score, that can play, that do a good job of moving and cutting without the ball….Our defense has got to be solid, and it allows us to get out in transition."
In the Sparks first game since the All-Star break, their two All-Star selections filled up the scoreboard with a pair of double-doubles. Forward-center Nneka Ogwumike had a game-high 19 points, 11 rebounds, and two steals, while point guard Chelsea Gray had 16 points and 10 assists, dazzling the 11,692 Staples Center fans with a variety of fancy dishes, including more than one no-look pass.
Many of Gray's passes ended in the hands of Ogwumike, who repeatedly had clean looks at the rim. Together, the pair repeatedly found holes in the Las Vegas defense.
"You can talk about strategy and such, but we really have players who can just get it done," Ogwumike said. "Chelsea, she sees the court better than anyone out there. I just try my best to support her. I have to make those [shots] that she passes to me. She's already struggling so hard for her shot, getting bodied in there, usually having and-ones that are not called, so I try my best to just support her in whatever way I can, because she's having to do so much."
The Sparks also welcomed back guard Alexis Jones, who played for the first time since June 23, and forward-center Maria Vadeeva, who hadn't played since the season opener on May 26. Both played key minutes.
All-Star small forward Kayla McBride led the way for the Aces with 19 points and five assists, while Dearica Hamby continued her stellar play with 11 points and 11 rebounds. But the starting backcourt of Jackie Young and Kelsey Plum combined to shoot just 4-for-18, often settling for open jumpers that Los Angeles was more than happy to cede. It worked for the Sparks.
Los Angeles (12-8) stays home to host the Seattle Storm on Sunday. Las Vegas (14-7) goes on the road to face the Dallas Wings on Saturday.
Video
Points in the Paint: Aces 30, Sparks 34
Second Chance Points: Aces 13, Sparks 7
Fastbreak Points: Aces 14, Sparks 15
Biggest Lead: Aces 7, Sparks 11
Lead Changes: 13
Attendance: 11,692
Shot Charts