With playoff spot clinched, Mystics on a mission to improve on last year's historic run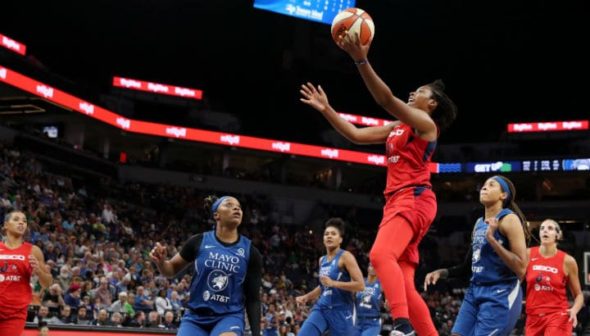 MINNEAPOLIS – Washington became the first WNBA team this season to clinch a playoff spot with a hard fought 86-79 road win at Minnesota Friday.  The Mystics (19-7) used a 30-17 fourth quarter to secure the victory.
"(Ariel) Atkins was the one," Lynx Coach Cheryl Reeve said afterwards on the second-year guard from Texas who led all scorers with 18 points, eight over her season average.  The 5-11 Atkins' floater just under the two-minute mark in the final quarter gave the winners a three point lead after Minnesota got within one that sparked a 6-0 run to distance themselves from the hosts.
"I think we found a way to corral, get together and find a way to get the win," Atkins pointed out.
Defeating a tough club like Minnesota, especially on their home court in a contest where the Lynx at one point led his club by 10 points "helps a lot," Mystics Coach Mike Thibault said to reporters afterwards. Minnesota played us tough, they didn't let allow us to get anything easy.  It was a playoff game."
Last season, Washington made their first WNBA Finals appearance and tied a franchise-best record of 22-12. The current Mystics squad has been carefully crafted over the past three seasons with smart trades (Elena Delle Donne), shrewd signings (Kristi Toliver two seasons ago), and this season matching New York's offer sheet to Natasha Cloud, who on Friday became the team's all-time assists leader). In addition, the team made a shrewd choice in drafting of Atkins in 2018. She leads the team this season in 39 made threes).
The 2018 runners–up at present look like they are on a mission to improve on last year's historic run and make the final step to the winners' circle at season's end. Washington has the league-best win margin of 19.6 points per game, averaging nearly 93 points in victories – 14 wins have been by 10 or more points, and 20 points or more in 10 triumphs as well.
Thibault, the architect who built this Mystics group after he was hired as coach and general manager in December 2012 after a successful run in Connecticut that included two WNBA Coach of the Year awards (2006, 2008) talked to Hoopfeed after his postgame media scrum.
"I think the thing that strikes me, and tonight is a good example, we had learned over the last year and a half how to play through adversity and a bad start," he admitted. "For most of the season, we have been the best first-quarter team in the league. And for the last 10 days, teams have gotten to us and we haven't had the same 25-point first quarters, and yet we still have been able to fight through that."
"We were playing from in front a lot, and in the last two weeks, we had to learn how to play from behind a little more," Thibault reiterated. "I think we are getting better at that," he concluded.
Commissioner in the House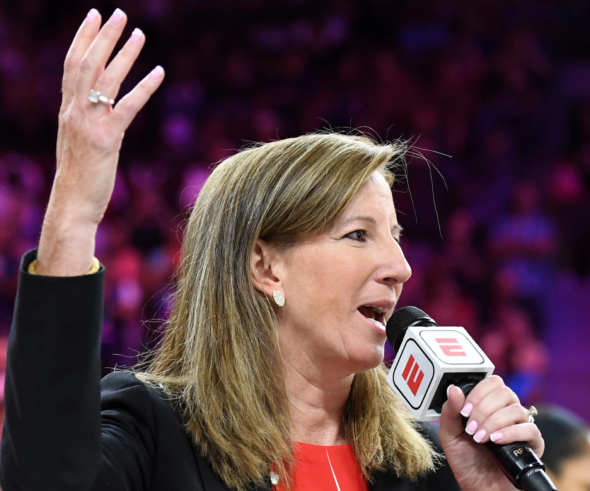 WNBA Commissioner Cathy Engelbert attended Friday's Minnesota-Washington game, her fourth in visiting all 12 WNBA cities. She is on the way to fulfilling a promise she made during All-Star Weekend in Las Vegas last month, to visit all teams before the playoffs begin.
"It's great to be here in Minneapolis. Love it. Love the environment here," Engelbert told reporters during halftime. "I'm listening, meeting with the basketball ecosystem in each city, trying to get best practices on what works, what isn't working, what the sales and marketing capabilities look like. The best part about being here too is meeting with the fan base, and you have such an amazing fan base here in Minnesota for the Lynx, and I think it's great because they've had enormous success."
Afterwards Engelbert told Hoopfeed, "I am getting a good feel, depending on arena for the fan experience.  When it is better for the fans, the fans will come back." She has received ideas and feedback "on how to attract fans, whether through group discounts, underserved communities…I've been asked about a lot – merchandise, refereeing and lots of different topics. That is a good thing."