With four straight wins, Washington back in first place with nine games remaining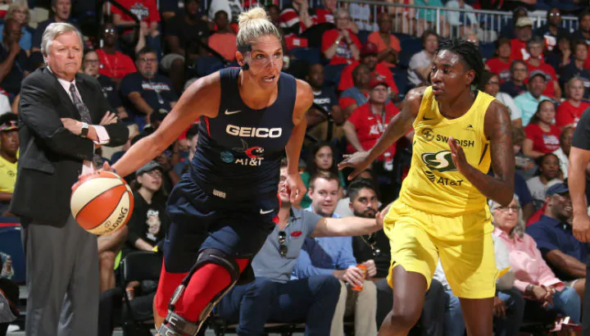 WASHINGTON D.C. – The Washington Mystics (18-7) won the season series against the Seattle Storm (14-11) with an 88-59 victory in the third matchup this season between the teams Wednesday evening at Entertainment and Sports Arena.
"As a coach, you can't ask for much better than that," Washington head coach Mike Thibault said about the game. "I mean, all these wins like that with the different lineups, mixing and matching a little bit, not knowing who's going to play. I'm really proud of them about that."
The Mystics dedicated the night to Washington forward Elena Delle Donne. The first 2,000 fans had the opportunity to grab Delle Donne bobbleheads as she grips a steady hold on the 2019 MVP ballot. Seattle center Natasha Howard and forward Mercedes Russell hijacked Delle Donne's night.
"With Elena, there's only a certain amount of time you're going to guard her effectively," Seattle Storm head coach Dan Hughes said. "She's an MVP type of player. You're happy for whatever quarters you get where she's not dominating. She eventually finished strong but she's going to do that a lot. She has that kind of year."
Seattle completely smothered her in double teams while maintaining a zone defense to throw off Washington's open players. Early perimeter attacks kept the Storm in front to lead 23-16 over the Mystics in the first period. Russell and Howard made up 20 of the Seattle's 23 first quarter points.
Washington stayed afloat, maneuvering over screens and finding success beyond the arc. Guards Aerial Powers and Natasha Cloud scored six points apiece while going 3-of-6 from three-point range. Powers is still starting in place of Kristi Toliver who is out with a right knee injury.
Thibault reset the entire floor to disrupt Seattle's plans. He called in forwards Myisha Hines-Allen, Tianna Hawkins and Emma Meesseman along with guards Ariel Atkins and Shatori Walker-Kimbrough and Emma Meesseman to run the floor. This fresher lineup pulled the Mystics out of its funk with Hawkins leading the way.
"They gave us the jolt that we needed," Thibault said. "They got the crowd into it. They got their teammates going. Tianna was sensational in the first half. Shatori was just steady the whole game. And you know, when your bench comes in and gets 30-something that gives you a huge lift and then we all kind of jumped in."
Hawkins generated a 9-2 run on her own, tying the game at 25 at 7:40 in the second quarter. She's back after taking a one-game break and resting on the injury reserves list.
Hines-Allen focused on outdoing Howard's offensive work and it was enough for the Mystics to outscore the Storm 22-12 in the second half for a 58-53 lead at the half and eventually the 88-59 win. Washington outscored Seattle 29-8 in the final quarter.
Though Delle Donne couldn't exhibit an overpowering, MVP-like performance, the Mystics added a championship-like game to their resume as the WNBA's top contender. Washington regrouped after a 10-point deficit for the victory. Six of Washington's players scored in double digits. Powers scored 36 points in two games since taking her role since Toliver's absence.
"We were able to play bully ball, attack, finish through contact and play really good defense," Delle Donne said on the team performance. "[Our bench] got us going and they were huge. We have a phenomenal bench and it has been our strength this whole season and they really stepped up."
With four straights wins, Washington is back in first place with nine games remaining in the regular season. Powers finished with 16 points. Hawkins and Delle Donne added 14 point each. Delle Donne also pulled down six rebounds while Hawkins earned four. Walker-Kimbrough was also in double figures with 11 points. Meesseman added 10 points and five rebounds.
Delle Donne found six of her points at the free throw line where she received MVP chants from the 3,917 fans present.
For Seattle, Howard finished with the game-high of 24 points plus eight rebounds and four assists. Center Russell scored 10 points and grabbed six rebounds.
Washington continues their home stand with a "Block Out Cancer" breast cancer awareness game against the Indiana Fever August 18. The Storm travels north to face the Connecticut Sun August 16.