FORWARD8: Washington Mystics host neighborhood organizations, embracing their roles in the community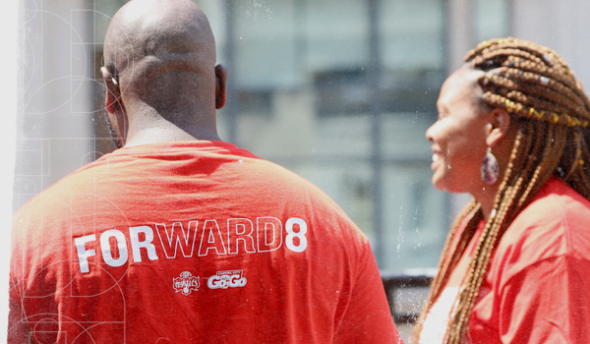 WASHINGTON D.C. – This season, the Washington Mystics moved into Entertainment and Sports Arena in Washington's Ward 8, relocating from Capital One Arena in DC's Chinatown. Recently, team owner Ted Leonsis, Monumental Sports and Entertainment (MSE), and the Mystics decided to commit a night toward community-based organizations at 110 Oak Drive. The location became an intersection of sports, community and resources, kicking off an initiative called FORWARD 8, pronounced "for Ward 8", in honor of the surrounding neighborhood.
"FORWARD8 will seek to help expand educational and economic opportunities for residents living East of the River," according to an MSE press release reads. "Platform pillars will expand STEM education for youth, revitalize community spaces to help promote fitness, promote health and nutritional wellbeing, and community outreach and support on the most critical issues facing residents."
Organizations that included After School All-Stars, Martha's Table, DC Green, and Community Training and Development Corporation, set up inside the stadium with information on their missions and work in the community. These hands-on organizations plan to use FORWARD8 as an opportunity to expand their work with the help of the WNBA. Their programs range from working towards curing food insecurity to educating Washingtonians how to enact policy reform.
"We jumped at the chance to participate," Afterschool All-Star's Patrick Gilbin said. "They explained that it was an opportunity for community organizations in Ward 8 to showcase their work and come together to network. We always take the opportunity to do that."
Green Scheme's deputy director Jerome Nesbitt attended the game as a patron, though his program aligns with FORWARD8's mission to encourage ways to uplift the community. Green Scheme focuses on urban agriculture to grow natural food despite food insecurity in the nation's capital. They also act as a learning ground for children, including Nesbitt's twin daughters Ariyah and Jordan, to understand health consciousness and the power of growing your own food.
With pro sports leagues like the WNBA covering important issues and providing an outlet for fans, it's important to have famous athletes help to shift narratives and supports ways to cure problems in Washington's wards.
"Whether it be sports or music they are influencers, [celebrities] drive the meter down," Nesbitt said. "Getting those people involved in any type of positive things can only drive the meter up. That's a big blueprint of ours is to always invite stakeholders and rappers and artists to being involved in these types of initiatives. We can only do so much."
Washington guard Natasha Cloud understands the power of her role, using her league platform to garner support for the well-being children in Washington's communities. Cloud is vocal about an epidemic that is killing DC's youth: gun violence. Her input stresses the importance of being a positive influence when you have the attention of children.
Instead the classic scarlet red warmup outfits, Cloud sports an orange "The W Wears Orange" shirt in support of gun control before games. After games, Cloud transforms her slender locker room cubby and leather black chair into a protest ground and press podium. The political ritual started June 14 when she called out city officials like Mayor Muriel Bowser to adequately address issues like gunfire near schools such as Ward 8's Henley Elementary School.
Cloud starts her postgame media availability stating facts about gun violence like such as majority of the victims of DC's gun violence  are under the age of 19 or "13 minors were killed last year in DC." Eleven-year-old and fifth grader Karon Brown was shot to death in the intersection of Naylor Road and Alabama Avenue July 18. Events like FORWARD8 may not be affiliated with Cloud directly but passing the word and encouraging a community conversation supports her overall plan to fight for Ward 8.
"We're always out here doing events in the community, especially with the kids," Cloud, a Broomall, Pennsylvania native said. "We care. That was a promise that we kept as well as overall organization and a team: That we would be out here, and we would be doing our best to better our community."
Nesbitt's has a prior connection with DC Green's community organizer Winnie Huston. She represented DC Green during FORWARD8 and is a former DC government worker that wants to walk Washingtonians through policy work. DC Green and Green Scheme share the common mission of making sure children eat healthy. As food insecurity still plagues communities, Huston believes that only true change begins when citizens approaching elected officials with fresh legislation. She spread that idea during the event, solidifying the Mystics' impactful work through FORWARD8, hopeful that the Mystics become a strong line of communication through all eight wards.
"Just having a platform to be able to talk to leadership of the Mystics about the possibilities of ways to partner is a great opportunity," Huston said. "We're really grateful to the organization particularly to have their site here in Ward 8. It's great. We're like neighbors in our farm. We're going to keep talking and see how we might be able to work together."