Connecticut Sun enter WNBA Finals motivated by underdog status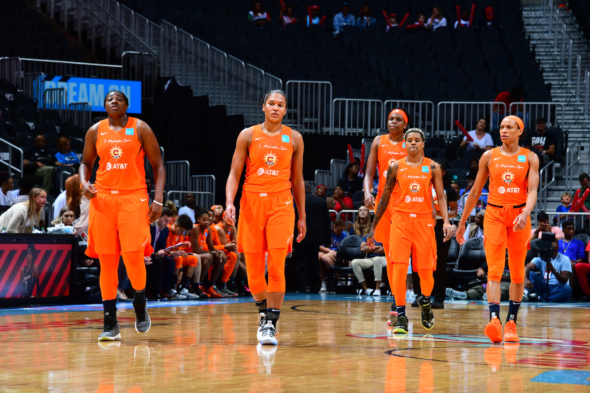 With a backdrop of a regular season where pundits continually underestimated their odds of making a championship run, the Connecticut Sun enters the Finals using the summer of what they term "DisrespeCT" as motivation in their series against the Washington Mystics. Some called the Sun a bunch of role players. Others said they had no mega stars, a puzzling observation for a team with a dominating center like Jonquel Jones and a dynamic forward like Alyssa Thomas.
After the Sun swept the Los Angeles Sparks 3-0 in the semifinals, the team posted "These Role Players are going to the WNBA Finals" on Twitter, a salvo in their war of words against critics.
The day before game one of the Finals against the top-seeded Washington Mystics, the No. 2 Sun addressed being labeled as a small-market team with no chance of making it this far into the postseason.
Head coach Curt Miller says the team has "clearly earned the right to be here" citing the confidence of his players and their regular-season success.
"At the same time, we're still the big underdogs on paper in this series. Washington, deservedly so, had a record-breaking season offensively that the league has never seen. They have the best player in the league, and you can argue that they have the deepest team. We're embracing that underdog role. Not a lot of people think we can pull this upset."
For Miller, the underdog tag has in some ways, been a good thing for the team.
"I'm proud of them and I think the chip helps us being the underdog," Millar said. "I think the chip that they feel a little bit slighted is only going to burn and help us but when the ball is tipped up it's no longer that but who will execute better and make better adjustments. Ultimately, at the end of the day, it's about who plays better."
Jones also sees the underdog label as fuel, with the odds seemingly stacked against her team.
"No one still has picked us to win. It's okay though. This is our motivation right now and we still feel like we have a lot to prove."
It's not going to be easy and starting guard Courtney Williams, who is averaging 19.0 points per game in the playoffs, knows that very well. In her words, the biggest key to success for overcoming the top team and the play of forward Elena Delle Donne, the league's MVP: "Just stay disciplined."
"We know that Washington is a great team – definitely offensively – so I think we just have to stay in plays and make sure we meet all their shots are hard shots."
The Mystics do not underestimate the Sun. Connecticut owns the regular season series between the teams, 2-1. However, Washington won the last contest, a 102-59 victory in D.C.
"We would like to get out to a fast start," Delle Donne said about facing the Mystics in the Finals. "We've had a target on our backs all season. They have their mindset and we have ours and, in the end, it doesn't matter. It will all come down to X's and O's, and who's the better team."
Best-of-Five Series (2-2-1)
Game 1: Sunday, Sept. 29, No. 2 Connecticut vs. No. 1 Washington, 3:00 p.m. ET, ESPN, Streaming: ESPN app
Game 2: Tuesday, Oct. 1, No. 2 Connecticut vs. No. 1 Washington, 8:00 p.m. ET, ESPN, Streaming: ESPN app
Game 3: Sunday, Oct. 6, No. 1 Washington vs. No. 2 Connecticut, 3:30 p.m. ET, ABC, Streaming: ESPN app
Game 4*: Tuesday, Oct. 8, No. 1 Washington vs. No. 2 Connecticut, 8:00 p.m. ET, ESPN2, Streaming: ESPN app
Game 5*: Thursday, Oct. 10, No. 2 Connecticut vs. No. 1 Washington, 8:00 p.m. ET, ESPN2, Streaming: ESPN app
The No. 1-seeded Washington Mystics and the No. 2 Connecticut Sun are set to tip off the WNBA Finals at the Entertainment and Sports Arena in Washington, D.C. Sunday, Sept. 29 at 3:00 p.m. ET in a best-of-five series.