Minnesota Lynx forward Napheesa Collier is the 2019 WNBA Rookie of the Year, headlines All-Rookie Team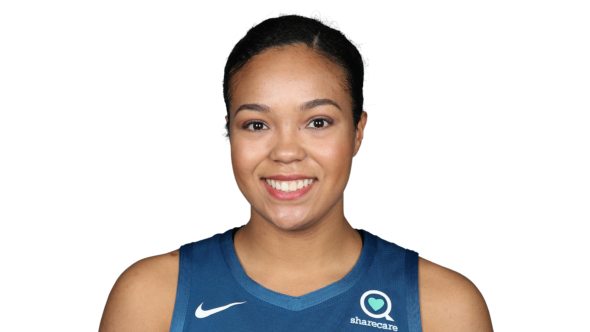 Minnesota Lynx forward Napheesa Collier is the 2019 WNBA Rookie of the Year. She is the first Minnesota player to earn the honor since Maya Moore in 2011. She received 29 votes from a national panel of 43 sportswriters and broadcasters. Dallas Wings guard Arike Ogunbowale received the other 14 votes.
"We are so proud that Napheesa was named the 2019 WNBA Rookie of the Year," Lynx head coach and general manager Cheryl Reeve said. "She recorded one of the best rookie seasons ever, boasting an incredibly efficient stat line every time she played. She was not only one of the most efficient scorers in the league, her defensive performance ranked near the top of the entire league and was one of the best seasons ever for a rookie. Napheesa's rookie campaign was a model of consistency rarely demonstrated by first-year players and simply put, we were a better team with her on the court."
In her outstanding season, Collier averaged 13.1 points, 6.6 rebounds, 2.6 assists, 1.91 steals and 0.94 blocked shots while starting all 34 regular-season games and logging a WNBA-high 33.3 minutes per game. She shot 49.0 percent from the field, 36.1 percent from three-point range and 79.2 percent from the free throw line.
Compared to other rookies, Collier ranked second in scoring, rebounding, blocks and field goal percentage and finished third in assists and three-point field goal percentage. She led rookies in steals and ranked fourth in that category among all WNBA players. She also became the fourth player in WNBA history to record at least 400 points, 200 rebounds, 75 assists, 50 steals, 25 blocks and 25 three-pointers made in a season. The other three players to reach those totals in a season are Moore, Tamika Catchings and Sheryl Swoopes.
In July, Collier became the first Minnesota rookie selected to the WNBA All-Star Game since Moore in 2011.
In honor of being named the 2019 WNBA Rookie of the Year, Collier will receive $5,000 and a specially designed trophy by Tiffany & Co.
All-Rookie Team
Collier is also one of four unanimous selections for the 2019 WNBA All-Rookie Team. Other members: Indiana Fever center Teaira McCowan, Dallas Wings guard Arike Ogunbowale, Las Vegas Aces guard Jackie Young, and Phoenix Mercury forward Brianna Turner.
Collier, McCowan, Ogunbowale and Young each received the maximum 11 votes from a panel of the league's head coaches, who each selected five players regardless of position and were not permitted to vote for players on their own team. Turner received seven votes.
McCowan ranked second in the WNBA in rebounding (9.0 rpg), fifth in field goal percentage (51.7) and 10th in blocks (1.29 bpg) – all rookie highs.
Ogunbowale ranked third in the WNBA in scoring with 19.1 points per game.  She became the first rookie to record two 35-point games.  She also made a rookie-high 57 three-pointers and finished second among rookies in assists (3.2 apg) and steals (1.06 spg).
Young, the No. 1 overall pick in the draft averaged a rookie-high 4.5 assists (ninth in the WNBA) to go with 6.6 points and 3.3 rebounds.
Turner averaged 6.9 points, 7.0 rebounds and 1.21 blocks in her final 14 games of the season.