Ahead of Game 3 Washington has a big question mark and Connecticut feels good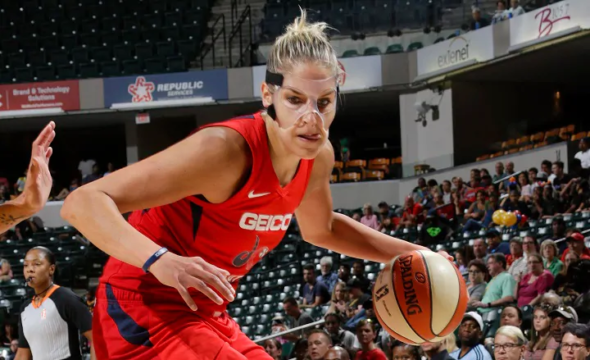 WASHINGTON D.C. – The WNBA hosted a teleconference call for media Thursday morning to discuss topics heading into game three of the 2019 Finals. The call included Connecticut's coach Curt Miller along with Sun guard Jasmine Thomas and Washington's coach Mike Thibault with Mystics guard Natasha Cloud. The series between the teams began in D.C. and is tied at 1-1. The Mystics won the first game 95-86 and the Sun took the second 99-87.
Connecticut has momentum heading to Mohegan Sun for the next two games in the best-of-five series. Earning at least a split in the series was the plan for the Sun.
There is a big question mark for the Mystics as game three approaches. Forward Elena Delle Donne left game two early due to back spasms. She has a small disc herniation injury. Her abrupt departure at the 3:28 mark of the opening quarter left the Mystics shell-shocked. When Washington went without their primary post defender and scorer, the Sun went on a 10-0 run to close the quarter which eventually gave room for Connecticut center Jonquel Jones to have her way on the floor.
"We did such a better job right from the bat in the first quarter getting her touches," Miller said about Jones. "It led to a big night on shot attempts, including her offensive rebounding production. But again, it's not just shot attempts. It's a coordination of getting her touches in different areas of the court."
Jones set scoring and rebounding records with her double-double of 32 points and 18 rebounds to steal game two. Her dominant paint presence was a constant mismatch for Washington.
As Delle Donne's appearance in Game 3 is still questionable, the burning question of the Finals is clear: How will the Mystics size up and defend against Jones?
Washington can still produce a bigger lineup against Connecticut to withstand Jones. Instead of Delle Donne, forward Tianna Hawkins can fill in with center LaToya Sanders and forward Emma Meesseman.
Ideally, this moves Meesseman into the paint instead of roaming on the court for help side defenses. This change provides the Sun a better chance to muster up another dominant paint performance, as they found 58 points in the paint, 28 second-chance points and out rebounded Washington 41-27 in game two.
"When we went through this last year, we didn't have Emma Meesseman," Thibault said. "So that helps mitigate some of what we were missing last year. I think our players have faith in each other right now. We know what offense works with that group that we have right now."
Washington showed they were completely capable of competing with Connecticut without Delle Donne. They recollected themselves during halftime, as forward Aerial Powers attacked for seven third-quarter points. Meesseman stepped into her role as Delle Donne's substitution for nine points and held Jones to just four points in the third period. Hawkins found 13 of her 16 points in the second half. Washington was electric, outscoring Connecticut 23-17 in third quarter, but Connecticut responded with a 7-0 run to close the game out.
Washington's bench provided valuable contributions to help the Mystics stay in the game adding 52 points. Starting guards Kristi Toliver's 6-of-20 shooting, Cloud's nine points and Ariel Atkins' five points are eyesores on the final stat sheet from game two. Washington only shot seven three-pointers, two below their season average.
Connecticut guards Courtney Williams and Jasmine Thomas plus forward Alyssa Thomas are sharp thorns in Washington's side. Williams and Alyssa Thomas, who is currently battling through torn labrums in both shoulders, average 20 points per game each so far this series. Though Jasmine Thomas is only averaging seven points, she's a defensive anchor plunging into Washington's offense.
"Our guard play on the other end needs to be efficient," Cloud said. "We can attack them as much as they attack us so having that [we need to] have that mindset on the offensive end."
Delle Donne's return is still unknown. She is still undergoing treatment on her back and the team will provide an update on Saturday whether she will play or travel to Connecticut with Washington.
"You still have big lineups to prepare for," Miller said. "The way that we have respect and appreciation for how talented Hawkins is, you gotta continue to prepare for her on the floor."
The Mohegan Sun Arena, a 10,000-seat venue known for its raucous environment, is already sold out for the third game. Game time 8:30 p.m. ET on Sunday. ABC, a partner network of ESPN, will air the game.
We feel good," Jasmine Thomas said. "This was our goal to seal one on their floor, and now we get to go home and play two in a row, so this is where we expected to be."