Gonzaga tops the West Coast Conference Preseason Poll for the seventh straight season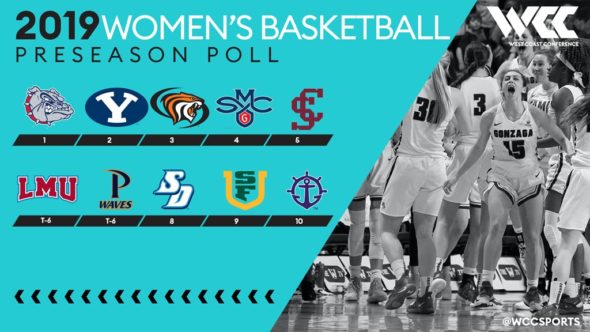 Gonzaga tops the Preseason West Coast Conference Poll for the seventh straight season. The conference's 10 head coaches voted in the annual preseason rankings tapping the Zags to repeat as WCC Champions in 2020. Gonzaga claimed seven of 10 first-place votes. Juniors Jill Townsend and Jenn Wirth were both named to the Preseason All-WCC team.
BYU, which claimed the tournament title last season, picked up the remaining three first-place votes, coming in second in the poll. Pacific earned its highest preseason placement since rejoining the conference in 2013-14. Saint Mary's claimed the fourth spot. Only one point separated fifth and sixth as Santa Clara claimed fifth with 40 points while Los Angeles area rivals LMU and Pepperdine tied for sixth with 39 points each. San Diego, San Francisco and Portland round out the poll.
2019-20 West Coast Conference Women's Basketball Preseason Poll
(First Place Votes)
1. Gonzaga (7) 78
2. BYU (3)
3. Pacific
4. Saint Mary's 59
5. Santa Clara
T6. LMU
T6. Pepperdine
8. San Diego
9. San Francisco
10. Portland
2019-20 All-WCC Preseason Team
Brenna Chase Drollinger, BYU, Sr., G
Chelsey Gipson, LMU, Jr., G
Sara Hamson, BYU, Jr., C
Tia Hay, Santa Clara, Sr., G
Valerie Higgins, Pacific, R-Jr., G
Paisley Johnson, BYU, Jr., G
Brooklyn McDavid, Pacific, Jr., F
Sam Simons, Saint Mary's, Soph., G/F
Jill Townsend, Gonzaga, Jr., G
Jenn Wirth, Gonzaga, Jr., F